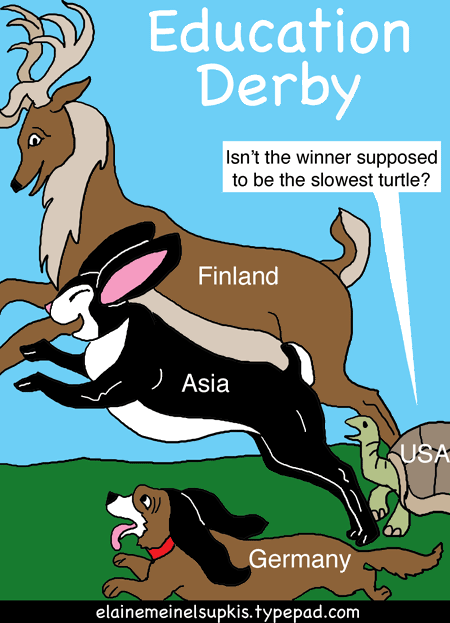 By Elaine Meinel Supkis
International tests show that socialist Finland is outstanding, they have an interesting school system and philosophy. They are leaving Germany and France in the dust. Asia, across the board, does better than nearly all of Europe and don't even ask where America is in this race. Dumpty dumpty dump. Waddling along.
Europe is falling behind Asia in terms of education and skills, according to a report by the Organisation for Economic Co-operation and Development (OECD).

It blames France and Germany which are criticised for mediocre education systems and their inherent class bias.

China and India, on the other hand, are starting to deliver "high skills at low costs and at an ever increasing pace".

South Korea and Finland are highlighted as positive examples where investment in education has taken priority.
I decided to look at the previous BBC Finland stories.
From the BBC:
Ms Haatainen, a minister in a centre-left coalition government, says that this economic imperative is best served by having a broad-based, open-access education system.
And in particular, she says the country's educational success can be attributed to the "unified" school system, which sees children staying at the same school between the ages of seven and 16, rather than having primary and secondary schools.YES! And it works! I have, over the years, adovcated just that. I founded "Save Our Schools" in Brooklyn back in the seventies and battled the school board every day. Virtually nothing changed! Worse, I spent my earlier career as a student in school, suing the school system. Trying and trying to get them to change.
The more unified the system, the better! The more humanist the system, the better! The more LIBERAL the system the better! Asia follows the old 19th century German system which was revolutionary in its day. They produced superb students back then. The American system was based on the local agricultural society which is why summer vacations are a disaster. Way, way, way too long. Tremendously long.
I come from an itellectual family that devours books and in particular, science and other skill books and methodologies so my summers were actually filled with more, not less, learning than the school year. Because we played mathematical games, memory games, strategy games (looooove them!) and in general, did biology and geology and chemistry all summer long, when school started, I would be yet another half a year ahead my contemporaries who had to waste the first two months reviewing all the stuff they stupidly forgot during the summer while I would be chewing my hair, daydreaming or angrily reading some science text in class pointedly ignoring the teacher.
After skipping grades, we made a deal that I could retreat to the library for the first two months each year.
Gads!!! I have demanded the end to summer vacation for years. I won a scholarship to go to school in Europe and it was an eye opener! I was behind everyone! Not way ahead! Behind! Gah!
I caught up by the end of the year, working furiously.
Germany, where I went to school, is collapsing because they don't care anymore. This lack of herzlichen lust is plaguing the entire German culture. America still has a culture even if it is nearly all "drop out-freak out-druggie". Heck, if we didn't have our underclass, our secondary citizens, we would have a fetus culture as the great mass of Americans roll up in a ball and suck thumb.
Asian kids have a longer school year than American. And they have cram classes. And heavy competition. And the parents lean on the kids to learn. All is not well, though. The inhuman side has casualties.
Six young Japanese were found dead from asphyxiation in a car Friday, March 10, apparently the latest victims of a surge in suicide pacts arranged over the Internet.

Authorities said they suspected the five men and a woman, all in their 20s, met online before dying together Thursday night in a forested area 50 miles northwest of Tokyo, the US Seattle Times reported on Saturday, March 11.

Japan has witnessed a rising number of suicide pacts, often arranged on Internet sites. Police reported that 91 people died in online suicides in 2005, up 65 percent from the previous year.

Japan already has the highest suicide rate in the industrialized world, with 24.1 suicides per 100,000 people each year, according to the World Health Organization.
Kids are giving up. If you fall even slightly behind, one is left behind forever. Unlike America with its robust street culture that is outside the control of the schools or the government, Japan is conformist and therefore, the only escape for many is death or locking themselves in their rooms.
Chinese students have a feeling of growing opportunity. But Japan, running a tight ship that needs to focus on the uneven/mutually destructive relationship with America, is seeing students give up, wholesale.
In America, we are going blindly, willfully and stupidly in the opposite direction from the winner, Finland. Instead of studying Finland and then ruthlessly altering our messy, EXPENSIVE (I pay high school taxes!) system, we make it worse and worse with a multiplication of school systems and study regimes and fads and...heck! Socialism can work! All it takes is this magic thing called "intelligence."