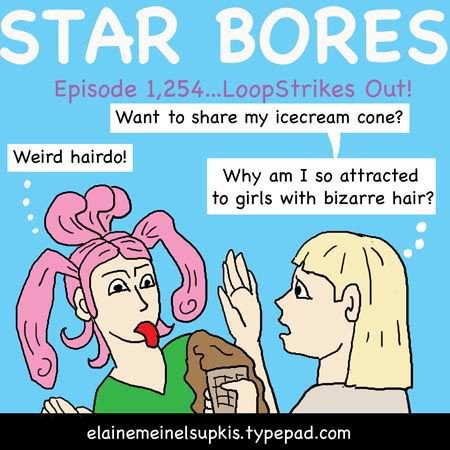 Elaine Meinel Supkis
Good news. Anyone wondering what Luke did with his aunt and uncle and their dirt farm will now have 100 hours of great drama. Here is my peek preview.
The TV series spin-off of the Stars Wars film franchise will run to at least 100 episodes, according to producer Rick McCallum.
He told BBC Radio 1 the writing team would soon be meeting to start on the project, which would begin filming in 2008 and be ready the same year.

"Hopefully if we can make it work and everybody's excited and watches it we will keep on going," said McCallum.

I'll say it is exciting! Here is a photo from episode 1,254:


The poor boy has quite a few problems! Solving them will take all the joint abilities of his army of robots he cobbled out of spare parts and a cast of thousands of bizarre aliens not to mention girls with crazy hair.


As you can see, this show will have sinister moments. Hair raising! Well, if the hair isn't already set in a baroque fashion.
A must-watch!
Won't rot the brain like soap operas.