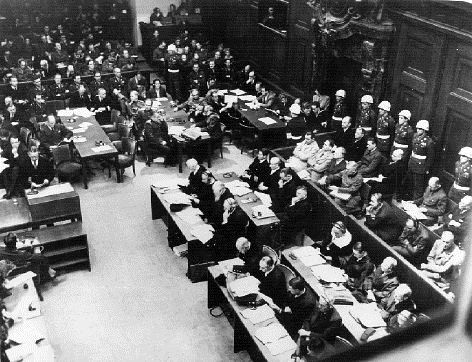 Elaine Meinel Supkis
Now we know why the USA withdrew from the Human Rights Commission! Heh. We are planning to put a bunch of third-world poor people 'on trial' only without any witnesses, few lawyers who are very intimidated and NO PRESS. These aren't going to even be Stalinist 'show trials'. These are going to be Nazi-style 'Nacht und Nebel' trials: in the dark of night and fog.

The beacon of democracy (in Cuba)!
WASHINGTON, (AP)

Reporters will be barred from hearings that begin Friday in Guantanamo Bay, Cuba, for the 14 suspected terrorists who were transferred last year from secret CIA prisons, officials said Tuesday.
Interest in the 14 is high because of their alleged links to al-Qaida. Among them is Khalid Sheikh Mohammed, the suspected mastermind of the Sept. 11 attacks. He was captured in Pakistan in March 2003.

A New York-based human rights group that represents one of the 14 men accused the Pentagon of designing "sham tribunals." The organization contended that its client, Majid Khan, has been denied access to his lawyers since October 2006 "solely to prevent his torture and abuse from becoming public" and to protect complicit foreign governments.

Well, here we are, a mere 65 after the infamous Nüremberg Trials where the triumphant winners of WWII decided people should be hung for war crimes. Including newspaper editors. We hung all the losers including newspaper editors and Europe then settled down to passing laws forbidding anyone talking about history or trials or anything connected with 'genocide' at all or they will be thrown in prison just like the poor saps in Gitmo and other torture concentration camps.

Yes, we won against the Nazis! Seig Heil! Heil, Holocaust!

Not only have we located our main concentration camp on foreign soil, in a nation we are relentlessly attacking in every possible way simply because we don't like their economic system (um, our own is probably the most pathetic on earth!)---we are going to host neo-Nazi fascist secret trials there? This is how we teach the world about democracy and freedom? And the reason for this is because we don't want anyone to testify or to SEE the results of years of vicious, Nazi-style torture?

Excuse me, my father was at the Nüremberg trials and he was one of the first officers to enter several concentration camps during March and April, 1945, and he is still alive and here we are, Nazis? Ourselves?

The liberal sphere on the internet is fascinated by the guilty verdict of that arch-conspiritor, Libby, and the firing of those government lawyers scandal. Since the Constitution was ripped up by Opus Dei-ists in our Supreme Court, we have lost all our granduer and glory as the citadel for democracy and instead, we became Barad-dur. The Dark Tower.

We know who the war criminals are. And who the newspaper editors who fed us tons of lies and swill, egging us into endless wars with Muslims on behalf of oil barons and Israelis. We know who the Krupps of this corrupt government are: Halliburton and the Vice President. Crime builds upon crime and the loss of our traditional rights wrack up one after another.

The more we fight Muslims, the less free we are and the more embarrassing our position as we readjust our bloody rags and howl like King Lear: oh, howl! To the moon. After we get more loans from the Japanese.

There is the issue of Lynne Stewart. The civil rights lawyer who was spied upon by the government because the privacy of client/lawyer has been totally blasted to hell. I still remember when confessions to priests were not allowed in court. Nor could things said to psychiatrists! These were part of the dead client/whoever privilage that includes not forcing wives and husbands to testify against each other and that other odd thing called the Fifth Amendment to that once-fine document, the 'Constitution'.

Bin Laden didn't burn that, the Supreme Court, some rather evil newspaper/TV editors/owners and of course our dear, demented politicians. Shame, oh, shame, thou traitors to the Republic! Arrest them all. (Gads, we have enough prisons for these guys.)

Click here for a historic recording of a reporter at the Nüremberg Trials:
Ernst Kaltenbrunner takes the stand at the Nuremberg Trials. CBC reporter Matthew Halton is in Germany. He describes how the accused, one of Hitler's former right-hand men, makes his defence and fights for his life. The defence thus far has mostly been the same. The accused have not denied that crimes have occurred but rather reject any accusations of responsibility. Halton reports on the tense proceedings in this CBC Radio report.

We used to make fun of the Nazis refusing to take responsibility but the USA today is the world's most irresponsible nation. For example, we invaded Iraq claiming there were hidden WMD there. There were none so that made the entire enterprise illegal.

Worse, the Plame affair was directly connected to this: Ambassador Wilson proved the documents the President used as an excuse to invade were forgeries---before the illegal invasion! This crime still stands: Libby fell on his sword to stop investigators from finding out the truth, how Bush and Cheney outed a secret WMD agent in order to defame Amb. Wilson and to shut up critics who knew there were no WMD in Iraq.

Scott Ritter was defamed, too, over sex charges. Anyone standing in the way was driven to suicide, defamed, arrested, harrassed and in various ways, silenced. Since all this was in the name of foisting an illegal invasion, this means we have committed a grave crime on the order of the Nazis in WWII!

Padilla, an American citizen arrested in America, has been cruelly tortured and will now, many years later, stand trial.
By Dan K. Thomasson
Scripps Howard News Service

Then a year ago, the government, after a storm of protest in the press and elsewhere, decided that Padilla was no longer an illegal combatant and transferred his case to the civilian courts under a conspiracy charge. But here's the rub. The charges against him suddenly had nothing to do with a dirty bomb, and federal prosecutors against all rationality have denied that he ever was tortured. Federal Judge Marcia Cook has ruled against Padilla's attorney's claims that he was so abused as to be mentally incapable now of helping in his own defense, but she did leave the door wide open as to the question of his torture. It's a ruling that ultimately could derail any trial.

How does this happen in America? How does a painfully minor figure in the scheme of things suddenly become the government's idea of a poster boy for evil? How does the Constitution permit the incarceration of a U.S. citizen for nearly four years without charging him with anything, including spitting on the sidewalk? Isn't this the kind of disgraceful example of despotic action that this nation is supposed to abhor? If not, are we no better than the cave-dwelling fanatics who would bury us all? Why should they have to actively destroy our experiment in democracy? We will do it ourselves if we're not careful.

Why Padilla? I explained in the past, the satanists running America into the ground love human sacrifices and they hate democracy which is why 322, the end of democracy in Athens, is their sacred number, and the name 'Padilla' is connected with revolts in Spain in the Middle Ages and the shield of the Padillas has Muslim signs on it, the moons and stars.

And there is much magic connected with this poor man and he was artfully selected to be the sacrifice as 'Care': in the Bohemian Grove, they pretend to kill a mock-up of this character. So they will do what they can to Padilla, he is important to them as their key to destroying all of us.

Meanwhile, the blood flows in the Middle East: it gets worse and worse each hour. Yesterday, 10 soldiers were blown up, today more, more and more. All based on lies. Lies deliberately and maliciously told. And at the Nüremberg Trials, we sat in judgement and intoned, telling lies to go to war, torturing prisoners, holding mock trials, all are grounds for EXECUTION.

Sigh. We will let the Iraqis do the honors. They are getting better at hangings.