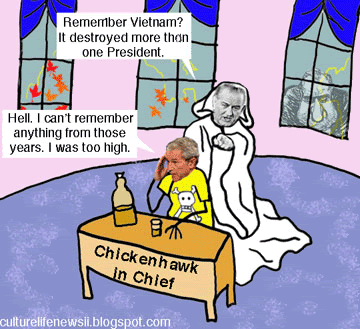 By Elaine Meinel Supkis
I have been fortunate to be able to bring together, with the help via From Yahoo.com:,Douglass Daniel of the Associated Press, via a seance with the not so quick, Bush and the dead, LBJ. Since Bush won't meet with Cindy Sheehan or with anyone who disputes anything with him, being slow of mind and all that, we circumvented him and will appeal to his undetached alter ego, Bush Chang.



OK, spirits, are you here? If yes, knock twice, if no, knock once.



*knock*knock*



*knock*



Very funny. We know you are here, under the table. Now come out and be sociable. We are here tonight to talk about the amazing parallels between the Vietnam debacle and the Iraq meltdown. According to AP, both of you made identical statements under identical conditions. Shall we review them, please?
"America is committed to the defense of South Vietnam until an honorable peace can be negotiated," Johnson told the Tennessee Legislature on March 15, 1967. Despite the obstacles to victory, the president said, "We shall stay the course.

"After 14 Marines died in a roadside bombing on Aug. 3, Bush declared: "We will stay the course, we will complete the job in Iraq. And the job is this: We'll help the Iraqis develop a democracy."
LBJ, back in the sixties, I held up signs and passed out leaflets and made speeches making fun of the entire idea of "staying the course". I compared it to ignoring "bridge out" signs while driving straight ahead. I was right, you were wrong. Worse, before Bush invaded Iraq, I warned over and over again, it would be a cul de sac and a victory for Iran aside from being illegal and unpopular. Again, I was right, both of you were totally wrong. What do you say about that?

Communists would have triumphed if we didn't fight them.

*knock*

Nixon, whose ghost lurks here, I can feel his chill, he shook hands with Mao at the height of the Cultural Revolution and he sold wheat to the USSR! So how can we call it a victory when the solution to Vietnam was to give in to two powerful communist nations?

Only Republicans can betray America to communists. This is why they have so many former communists called neo-cons, working for them now. And why they are sending jobs to China and going deeply into debt.

This reminds me, we had no debt until Vietnam. Now we are up to our eyeballs in hock to communist countries.

Hey, that reminds me, I have to call Uncle Hu in Beijing for some more money to fix Texas!

Moving on, here is another pair of quotes:
"Our nation was not born easily. There were times in those years of the 18th century when it seemed as if we might not be born at all," Johnson said in a speech on Aug. 16, 1967.

"Given that background, we ought not to be astonished that this struggle in Vietnam continues," Johnson said. "We ought not to be astonished that that nation, wracked by a war of insurgency and beset by its neighbors to the north, has not already emerged, full-blown, as a perfect model of two-party democracy."
And now here is Bush doing the same song and dance:
In his radio address on Aug. 27, Bush said: "Like our own nation's founders over two centuries ago, the Iraqis are grappling with difficult issues, such as the role of the federal government. What is important is that Iraqis are now addressing these issues through debate and discussion — not at the barrel of a gun."
Mr. Bush, isn't it bizarre to say that issues are not settled by using a gun yet you used guns and missiles and rockets against the Iraqi people in your attempt to impose foreign rule upon them. And we can clearly see, two more American soldiers were blown up today, even as your children and nephews and nieces run around, getting arrested and goofing off in America while their contemporaries die in vain in Iraq...another similarity to Nam where you went AWOL while your dad and his buddies and Nixon threw the children of the powerless into battle. Why didn't you act like a patriot and fight in Nam? What ails you?

*knock*burrrp*

A secure and free America was tied to the fight in Southeast Asia, Johnson maintained. "What happens in Vietnam is extremely important to the nation's freedom and it is extremely important to the United States' security," he said from the South Lawn of the White House on Sept. 15, 1967.
I remember those years. I got so disgusted with you, I swore I would fight you every step of the way from then on and I had to do this for years and years before America finally surrendered. The minute we surrendered, the pain stopped, the riots ended. Peace came. We were able to pick up the pieces and get on with our lives at last. Everything we touched in Asia was a mess and stayed a mess for a long time. But at least we didn't collapse like Russia.

Stay the corpse!

It is important to control the world so we can be safe. Look at 9/11.

I won the trifecta! Whoopee. My best year. It was great. Couldn't do better.

Like in Vietnam, we now have little security at home since the troops are getting restive and they are all far away and our own country is falling apart rapidly. Neither of you guys were willing to die for America. Both of you refused to bear the burden of your own choices. It is easy to send people to their deaths but if either of you really believed any of the hokum you both spat out, you would have gone to battle yourselves.
Kings in the old days did that. They always had to go to war themselves. I think this is a good idea. Keeps them from doing it for no good reason. So, Bush, are you going to make up for being AWOL?



Why can't Cindy Sheehan just get on with her life? Sheesh. Going all weepy over the death of her son. So what? I have things to do and things to screw up.



Important people should be protected totally, even in nuclear war, if everyone dies, the decision makers should live. Oh, oh. I hear the Devil that is Death laughing at me. This won't be fun, later.



Any leader who starts a nuclear war and then ducks into safety until it is over deserves eternity in hell. Speaking of eternity, here are similar quotes about dead soldiers who will stay dead forever and forever even as the leaders live on, eating and sleeping and fucking off.
"Be assured that the death of your son will have meaning," Johnson told the parents of a posthumous recipient of the Medal of Honor during a Rose Garden ceremony on April 6, 1967. "For I give you also my solemn pledge that our country will persist — and will prevail — in the cause for which your boy died."
Speaking to military families in Idaho on Aug. 24, Bush said: "These brave men and women gave their lives for a cause that is just and necessary for the security of our country, and now we will honor their sacrifice by completing their mission."
So, Mr. Bush. You never served, you went AWOL and got drunk, stoned on illegal drugs and arrested again and again and here you sit, talking about patriotism and sacrifice.
Are you willing to pay realistic taxes to support your war of choice? Are you going to make your cohorts pay taxes too? Or are you going to continue to sell us to the communist Chinese?



zzzzzzz*eh. What? It is past my beddy bye time. Where is Condi? I need to find the toilet. Condi! Help!



So much for the leaders of the Free World. Time to return to regular programming: "Mother Nature Stomps on America."