By Elaine Meinel Supkis
I'm back. Thanks to Rush, the cyber dog, this blog managed to continue the last 24 hrs. This dog puts the pundits of America all to shame, doesn't he? Certainly, he makes a perfect host.
Well, Bubble Boy was on TV tonight. No longer fearful because we saw a major port city destroyed. The degeneracy and ignorance of the mainstream media continues unabated. No one is wondering where all this money is coming from. So let's visit the Chinese at home and read what they are saying to us.
Chinese President Hu Jintao made a four-point proposal here Thursday for building a harmonious world in his speech at the United Nations Summit.

Countries could only create a harmonious world with lasting peace and common prosperity when they rally closely together to seize the opportunities and take on the challenges facing them, Hu said while elaborating his proposal before world leaders who are gathering here to mark the 60th anniversary of the establishment of the UN.

Firstly, he said multilateralism should be upheld to realize common security. "We must abandon the Cold War mentality, cultivate a new security concept featuring trust, mutual benefit, equality and cooperation, and build a fair and effective collective security mechanism aimed at preventing war and conflict and safeguarding world peace and security."

Hu said the United Nations plays an irreplaceable role in international cooperation to ensure global security. "Such a role can only be strengthened and must not in any way be weakened," he stressed.

The Chinese president also called on all nations to encourage and support efforts to settle international disputes or conflicts through consultations and negotiations.

"We should all oppose acts of encroachment on other countries' sovereignty, forceful interference in a country's internal affairs, and willful use or threat of military force," Hu said.

Secondly, he said mutually beneficial cooperation should be upheld to achieve common prosperity. As economic globalization has made countries' interests intertwined, their respective development depends more closely on global development, the Chinese president said.

"We should work actively to establish and improve a multilateral trading system that is open, fair and non-discriminatory," said Hu, who also suggested worldwide energy dialogue and cooperation be stepped up to jointly maintain energy security and energy market stability.

Developed countries should shoulder a greater responsibility for a universal, coordinated and balanced development in the world while developing countries should make fuller use of their own advantages to develop themselves, Hu said.

Thirdly, Hu said the spirit of inclusiveness must be upheld to build a world where all civilizations coexist harmoniously and accommodate each other.

"In the course of human history, all civilizations have, in their own way, made positive contributions to the overall human progress," he noted.

"Uniformity, if imposed on them, can only take away their vitality and cause them to become rigid and decline. The world's civilizations may differ in age, but none is better or more superior more others," he said.

All countries have the right to independently choose their own social systems and paths of development and this right should be respected, said the Chinese president.

"In this way, countries will go for mutual emulation instead of deliberate exclusion, for mutual learning of respective strong points instead of making fetish a particular model," he explained.
I will translate: the new world order is Pax Chinoise. Qui. Cest la vie, Amerique. German translation: Dummkopf. Du bist verloren und die Welt ist nicht mehr deine Spielzeug. Hahaha.
In other words, we are going to have our wings clipped, big time. The Chinese will be delicate about this for they don't want us to act like Iraqis and become unruly and violent. So feather by feather, they will now begin to pluck the golden goose to make their feather beds.
The World Trade Organization (WTO) director-general Pascal Lamy said Thursday that China is playing an important role in contributing to the expansion of the global economy.

China's strong growth has provided an important stimulus for export-led growth in the world during the past years as it follows through the implementation of its WTO commitments which are now in a decisive phase, Lamy said.

In his message from Geneva to the Fourth Beijing International Forum on the WTO and China and the Sixth Beijing International Business Festival, Lamy said China has achieved what many developing countries aspire to achieve, referring to a stable economic growth and an attractive base for foreign direct investment.

China has become the world's third largest trading nation behind the United States and Germany. The country's growth shows that an open economy is the best way to boost competitiveness, said Lamy.
And what exactly do we produce? Ah, that is the rub, isn't it? We are the world's number one exporter of military equipment.
China is expected to surpass the United States to become the world's second largest consumer of luxury goods in the coming decade, said a recent market research report made by Ernst & Young, one of the world's four leading CPA (certified public accountant) firms.

The consultant service provider predicted that between 2005 and 2008, the sales of luxury goods will grow by 20 percent annually, and that the rate will cool down to 10 percent in the 2009-2015 period. The sales will exceed 11.5 billion US dollars in 2015, or 29 percent of the world's total.

It seems that the rosy outlook for luxury goods consumption described by the Ernst & Young report, named China: a luxurious buying spree, is not so harmonious with the idea of building a thrifty society, which is being advocated vigorously by the Chinese Government.

Conway Lee, a partner of the Ernst & Young, explained, "In our report, the concept of 'luxury goods' refers to those providing an elegant and exquisite life style for consumers. They focus on taste and quality and target at high- and medium-end markets."

It is estimated that currently, sales of luxury goods on the Chinese mainland averages some 2 billion US dollars annually.

Conway Lee said, "By 2015, China will replace the United States to become the world's second largest luxury goods consumer, next only to Japan."
Quick quiz, where are these "luxury items" made? Take a wild guess. It ain't us.
France. Germany. Italy.
America always prided herself on creating mass goods for the good of the masses. This is why we boasted about our refrigerators. True, a lot of this stuff was annoying in quality. I raged for years about the woeful American bathroom appliances industry, wretched garbage. Gack. I hated American bath tubs and American beer and American clothes, for that matter. Hell, in Manhattan, I bought imports. Especially for the kitchen and bathrooms.
Or antiques.
Well, that industry, all of it, is dying. Shallow bathtubs with a drain next to the faucet are popular only with hotels which feature hard matresses and bed bugs.
Bubble Boy, at the UN summit, as usual, acted like himself. Ie, he was a pure disaster, the mockery of the world raining upon him like acid.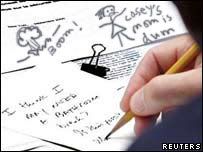 From the BBC:
But when you are the US president, at a gathering of more than 150 world leaders, it is even more tricky.

While talk at the UN world summit was focused on terrorism and internal reform, George W Bush appeared to have been caught short.

And, he is said to have turned to Secretary of State Condoleezza Rice for advice.

"I think I may need a bathroom break? Is this possible?" a Reuters news agency photographer caught him writing in a note to Ms Rice.

The photograph, and Mr Bush's apparent request for permission to pee, has been the subject of discussion on a number of satirical websites.
I'm sorry, but President Hu wouldn't be caught doing any of this. Like Bush with his open zipper in Chile, acting the fool. Getting in fisticuffs with cops. Or waving his arms in Russia or trampling the Queen's rose garden in England and running over Bobbies, Bush is one monkey antic after another, the ADD kid of diplomacy.
Reagan's Alzheimer's wasn't nearly so dangerous to America although he is the author of the first American Presidential betrayal. He sold his services to the Japanese. Just recall earlier here in this article, the JAPANESE are the number one customers for luxury goods.
Not Americans.


We are Welfare Queens using Rent-a-Sofa company products.