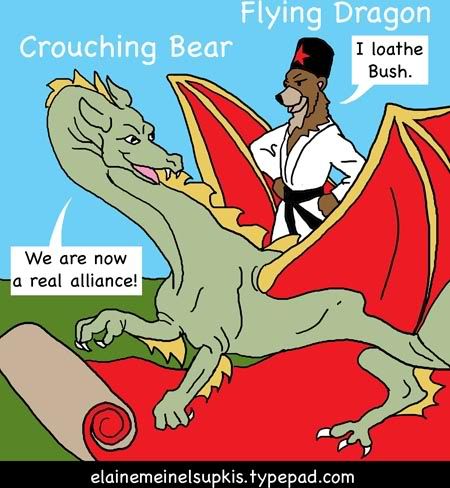 Elaine Meinel Supkis
Hu and Wen rolled out the Chinese red carpet for fellow Red, Putin. They finalized and cemented a very powerful alliance, one that destroys American hemagony. It was extremely important for us to court Russia and this failed due entirely to Bush's personal diplomacy which stinks just like all his activities. Pee U.
China's top legislator Wu Bangguo made a three-point proposal to boost parliamentary exchanges between China and Russia on Wednesday.

Wu, chairman of the Standing Committee of China's National People's Congress (NPC), made the proposal in a meeting with Russian President Vladimir Putin.

Wu suggested China's NPC and Russia's Federal Assembly enhance exchanges and cooperation in legislature.

He said the two parliaments should share their legislative experiences in safeguarding the smooth development of macro-economy, economic and national security as well as the construction of special economic zones.
Time to play the International! They are moving at light speed here! I never expected this! I knew the energy and trade deals would be signed, both parties signalled this for days and days. But this was unexpected. And very important.

Note that Putin isn't turning to our dying democracy for a model. He as well as Hu and Wen can see what happens when traitors and con artists run an empire: bankruptcy. America isn't bankrupt yet only because our creditors haven't pulled our files out and dumped them in the trash and any American who thinks this won't happen should consult with my Golden Goose who is in rather a few of my cartoons here.

Geese raised on farms live to be killed.

Same goes for turkeys and our ruler is a prime turkey. He suffers from Mad Emperor's Disease and walks in circles. He personally insulted Putin repeatedly and anyone looking at the photos of Bush and Putin together one can see, every time Bush turns his back to drunkenly mug the cameras, Putin's face takes on a very vinegarish look if not looking absolute daggers. When Bush blabbed that he nick names everyone insultingly and had a very insulting knick name for Putin, I whistled with amazement.

I grew up loving the story of Squirrel Nutkin by Beatrix Potter.
They also took with them an offering of three fat mice as a present for Old Brown, and put them down upon his door-step.

Then Twinkleberry and the other little squirrels each made a low bow, and said politely--

"Old Mr. Brown, will you favour us with permission to gather nuts upon your island?"But Nutkin was excessively impertinent in his manners. He bobbed up and down like a little red cherry, singing -

"Riddle me, riddle me, rot-tot-tote!
A little wee man in a red, red coat!
A staff in his hand, and a stone in his throat;
If you'll tell me this riddle, I'll give you a groat."

Now this riddle is as old as the hills; Mr. Brown paid no attention whatever to Nutkin.

He shut his eyes obstinately and went to sleep.

Eventually, Putin/Mr. Brown, gets pissed off and bites off Bush's/Squirrel Nutkin's tail.

The Chinese rolled out the red carpet, literally. They feted and fested Putin. They know he loves Karate and Kung Fu so they took him to the Shaolin Temple and put on a big show for him. This works, you know.

Our method of offering no political plusses, no treaties, no nothing, only insults and demands, has turned Russia into our dire enemy again. Isn't this a great thing. Russia is reviving its missile and military programs and the money for this comes from high oil prices thanks to the American invasions in the Middle East and hurricanes, and of course, money from the Chinese who have a trillion American dollars to scatter around the planet.

Note how they shuttled the American fake Senators around. Viewing them, correctly, as helpless, silly, useless cyphers, the Chinese basically treated them like the beggars and braggarts they are. The Chinese know that Walmart will discipline these whores and whatever they cough up will be buried by Bush who needs to keep the Chinese giving us money since we just voted for a trillion more debts and the spending rages onwards.

The Goose grows fat. The flying Dragon and the crouching Bear weigh it daily.