By Elaine Meinel Supkis
A Russian gas pipeline blew up today. Right on the border of Chechnya, a province Putin has laid to waste, torturing and murdering hundreds of thousands just like we are doing in Iraq. Just like the failing war in Afghanistan that is getting worse and worse and which destroyed the Soviet Union, the ongoing battle over energy and religion heats up more and more.
Two explosions have ripped through Russia's main natural gas supply pipeline to Armenia and Georgia, halting supplies to the two countries.
The blasts occurred close to the border with Georgia early on Sunday morning.

A spokesman for Russia's emergency situations ministry said officials were examining the possibility of sabotage, although it was too early to say.

Georgian energy officials say there are 24 hours worth of gas in the pipeline, as cold weather grips the country.

The daytime temperature in Tbilisi on Sunday was -7C, well below the January average, and Georgia relies on Russian natural gas for most of its heating.
The rebels, hiding in their caves and crevasses, hiding in the open cold, know what they are doing. The perfect time to strike is now and they struck.
This doesn't require huge logistics or leadership, this is classic "hit when the opportunity shows itself" which is why wars with people are dangerous. Namely, if someone wants to fight, they will, and if they have no army, navy or airforce, they use other means to fight. And if one wants the fighting to stop, one must negotiate some sort of useful peace.
But the Christian religionists want one thing: total domination of all Muslim lands so we can remove all their wealth and make ourselves fat and happy. This long range looting expedition is a turning of the historic tables when Muslims swept across the planet, doing the same thing, for themselves, back when the stirrup was invented.
It was a close fight for a long time, even up until 1500, the Turks, for example, ran right up to Vienna and besieged it unsuccessfully. Alas, for them, they suddenly became a backwater when Europeans circumvented the Great Steppes and the Middle East to sail around Africa and the discovery of gold in the New World meant all the wealth now flowed directly to Europe instead of being intercepted by the Muslim empires which stretched across all the major trade routes with India, China and the spice islands.
So the relative power of the Muslim empires sank and they rotted internally, losing industry and financing, going into debt (Hey! Does this ring a bell, America?). As they weakened, Russia, Germany, France and England all began to chew the Ottoman and other Muslim empires apart, the contest over the corpse igniting WWI and WWII. Remember, the Archduke was shot visiting lands recently wrest away from Istanbul.
Then Allah bestowed a tremendous gift on the True Believers: oil and gas. Now, the desperation to steal from Muslims shot right through the roof only the Muslim nations, no longer empires, broken up by European/American fiat, had a weapon of great potency, if they could sell the oil on their own terms, they could retake their lands and reassert their powers if they could play the aliens off of each other.
With the fall of the Soviet Union, the American/Anglo empire eagle/lion sprang upon the Middle East and sank its fangs deep.
Afghanistan, though, showed the road to victory in this jihad. And bin Laden, whose family consorts with the invaders, knew the mind and spirit of the invaders all too well, actually, exactly well, and he is the voice of the revolution sweeping Islam, for unlike the appeasers to the Christians, he waves the flag of Islam and explains how to fight back, Mao-style.
And if you don't think this man read Mao, well. Power grows out of the barrel of a gun and revolutionaries swim in the sea of the peasants. OK? And the Red Sea stretches across half the globe now, the sea of anger and fury against foreign religion/foreign invaders is extremely high and note that not one person has turned in any Jihadists we are hunting despite all the bounties we offer!
The convergence of these forces see saw the planet. Russia dearly would love to entertain the desert tribes but they are fighting Muslims themselves so they can't. China, ditto. So both play the bribery game which is remarkably like 1900 when this identical situation sprang up starting with the Crimean war on to WWI and WWII. We are the British Empire in this replay of those two dangerous wars and of course, if we think this won't end with WWIII, we are nuts.
It can and it will. 100%. This is because it isn't the Suez Canal which the French built and the British immediately wanted nor the Orient Express which Germany built to circumvent the Suez Canal's influence, the confluence of energy/trade/population pressure is so very close to the conditions which will start WWIII it is fearsome to watch.
The wild commentary today in the NYT speculating about how we should somehow ooze into Iran and make it part of our empire coupled with our military screaming every time any oil nation or nations like China buy so much as a pop gun is another sign our empire is terrified of the forces we are unleashing and hoping to control all of the military junk we unleased on the planet and this includes nukes which we and only we used on civilians already, we want it to all go away via us crushing the weapons, the people, everything in our fat path.
The jihadists sense our fear, like hunting wolves, they can smell our sweat. They listen in on us, using the internet, they know our fearful leaders who cower in deep caves and hide in public behind masses of military goon squads, fearful of their own citizens, unable to poke so much as a finger out the front door for fear some outraged citizen might snap it off, these cowardly men cowering in fear are being pushed around by virtually unarmed peasants far away. The sense of power and glory this sheds on the jihadists can't be ignored.
They are, quite frankly, triumphant. Half a billion people watch them and cheer them on and pray they succeed! Isn't that lovely? And we think we will bomb them all into submission. Putin utterly laid to waste Chechnya and since then, the fighting has gotten worse and worse and the strikes closer and closer to the heart. Putin sweats in fear at night in his bed because these wolves are hunting him just as surely as they are hunting Bush.
Time to spy on fellow Americans. Like Quakers.
McCain Frets About Oil Imports But Is Way Behind On Getting Solar Energy To Arizona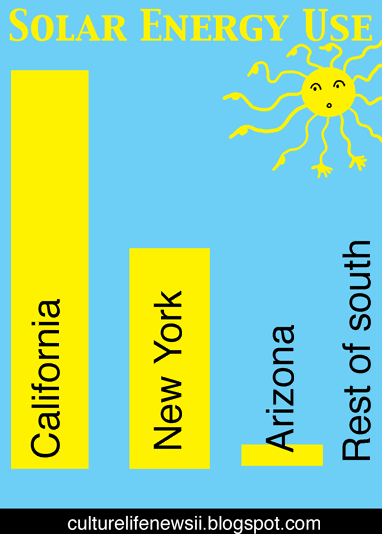 By Elaine Meinel Supkis
My parents used to lecture about solar energy while living in Arizona. They did solar energy research there. You would think Arizona would be number one on solar energy implementation but it is #45 on the national solar energy use list which is insanity and then along comes Senator McCain, baying that we need to wean ourselves off of foreign oil? Where's he been at this last 30 years?
A top Republican lawmaker said Sunday that America must explore alternate energy sources to avoid being held hostage by Iran or by "wackos" in Venezuela — an apparent reference to Hugo Chavez, Venezuela's populist president.

Sen. John McCain (news, bio, voting record), a potential presidential contender in 2008, said recent action by "Mr. Chavez" and by Iran's leaders make it clear that the United States will be vulnerable as long as it remains dependent on foreign energy.

"We've got to get quickly on a track to energy independence from foreign oil, and that means, among other things, going back to nuclear power," McCain said on Fox News Sunday.

"We better understand the vulnerabilities that our economy, and our very lives, have when we're dependent on Iranian mullahs and wackos in Venezuela," said McCain, who challenged President George W. Bush for the Republican presidential nomination in 2000.
Yeah, the "wacko" in Venezuela who is giving cheaper oil to the Bronx and Mass and other interested states? The one who is spending money from oil on the infrastructure and not on mega yachts? Eh?

At a time when energy prices and industry profits are soaring, the federal government collected little more money last year than it did five years ago from the companies that extracted more than $60 billion in oil and gas from publicly owned lands and coastal waters.
You know, Nigeria is melting down over this sort of thing, namely, thanks to Americans imposing a very corrupt government on them, the oil profits all flow to the USA, not to Nigerians.
McCain particularily steams me. My family has lectured until our faces were blue, about instituting a massive solar energy drive for Arizona which is blessed with more sunshine per year than anywhere in the USA. We got sun up the yin-yang in Arizona, nearly every day, every year. Endlessly. It is probably the most consistent thing going in Arizona!
Yet the state rates #45 on promoting solar energy use? Cloudy NY state beats Arizona? Huh?
Talk about insanity. The deep south is nearly united in refusing to invest or encourage solar energy. Instead, they burn coal, coal! This month, we see coal miners dying all over the place as they frantically dig coal, 60% of which is used to produce energy in the south for airconditioning! This is lunacy.
In the United States the current energy bill has billions of dollars in subsidies, but for every dollar in tax breaks for renewable energy like solar and wind, the U.S. Public Interest Research Group calculates there is $3 for nuclear, $3 for coal, and $8 for oil and gas. None of it is paid for, so the subsidies add to our burgeoning debt that we'll pass on to our children. In the House, Rep. Jeff Flake, calling it "corporate welfare," was the only Arizona Republican to join Democrats Ed Pastor and Raul Grijalva opposing the bill. The libertarian CATO Institute has joined the Sierra Club in arguing we'd be better off with no subsidies than this bill.
Refering to the Energy Rip-off Bill recently passed. They gave tax credits to oil companies just as they were registering record profits and their profits are shooting to the stars this week thanks to their oil buddy boy, Bush, sabre rattling.
Great.
This summer my kids and I have been biking to summer activities, while I go on to ASU and then return to get them. Despite a few hairy moments crossing busy intersections and a couple tumbles, the kids are having fun, getting some great exercise and learning to be safer cyclists.

My disappointment is that we're the only family biking to these activities, even though I'm sure other families travel less than the three miles we do.
In the sixties and seventies, there were legions of bikes on the streets in Arizona, I used my splendid 10 speed which was made specifically for my size, it fit like a glove, to careen about town. Last time I was in Arizona, I saw not one cyclist anywhere. Lots of SUVs belching around town. Phoenix is much worse, it is flat, for crying out loud, and there are no cyclists to be seen hardly anywhere and kids who rode everywhere when I was a child are missing in particular.
Unlike our competitors, the United States is far too fat in our energy use. Japan, which imports nearly all of its oil, produces more solar power than the United States and Germany combined. For each dollar of economic output, the United States consumes three times as much energy as Japan and twice as much as France and Germany. Much of their fuel efficiency and movement towards cleaner fuels are ingrained in the culture and encouraged by subsidies.
Yes, the Japanese are scared and are working hard to not only use solar power but to manufacture it. The USA seems to have forgotten what "industrial manufacturing" means. We just want things to magically appear for us.
Arizona, which is mostly a right wing, red state, thinks they might end up producing 5% of their energy use via solar panels by 2020. Gack. Talk about lax, lazy, slow poke, stupid. By then, if that sun-blessed state isn't producing at least 50% of their energy use via solar power, they might as well turn off the lights and evacuate because the place will be intolerably hot due to global warming and will have virtually no fossil fuels left except at very high prices. Try bicycling when it is 120+ outside.
I used to do that. Heh. Sweat city. But then, I didn't use airconditioners, either, so I was aclimated to the climate. No bubble for me, no sirree.
Meanwhile, I suggest to Senator McCain, wake up, dude, the cock is crowing and it ain't Clinton's.
Bush Sabre Rattling Over Iran Might Drive Oil Prices Beyond $100 A Barrel


By Elaine Meinel Supkis
Bush's sabre rattling has rattled world markets. America is trapped between a rock and a hard place of our own devising. Iran is calling our bluff and bluster making us look even more idiotic to a world which is astonished at our raging stupidity.
Meanwhile, China continues to make inroads in the Middle East, securing Chinese control of oil and refining facilities.
A surge in oil prices last week to almost $70 a barrel on concerns about the restart of Iran's nuclear program only hints at what may lie ahead.

Prices could soar past $100 a barrel, experts say, if the U.N. Security Council authorizes trade sanctions against the Middle Eastern nation, which the West accuses of trying to make nuclear bombs, and Iran curbs oil exports in retaliation. A sharp global economic slowdown could follow.

That's the dilemma the United States and European nations face as they decide whether to act. But Iran would also pay a hefty price if the petro-dollars that now represent 80 percent of export revenues are reduced, potentially stirring civil unrest in a nation with a 14 percent unemployment rate.
Never ever play chicken with a country that has a military graveyard that has a central fountain that pours out red colored water to look like blood. A country famous for suicide charges. Like North Korea.
These sorts of countries might be insane but that simply means one shouldn't poke at them to see if they will attack, right? Assuming the Iranians desire our sort of lackidasical, couch potato approach to reality is unreal. Namely, the Muslim world right now is very, very motivated and our society just wants to live inside a huge energy bubble and simply suck up all world resources in exchange for pieces of paper called "dollars".
As I have pointed out, the Chinese are intent on using their trillion dollar reserves to bid up the price of oil. They are willing to go all the way up. Here we are, deliberately driving up the world cost of oil and the only way we can buy it ourselves is to go further into debt to the Chinese. Isn't that a lovely thing? We won't nationalize our own oil companies so we can at least reap the profits for ourselves like "insane" Venezuela. Putin did this for Russia. But instead, we cut taxes on the oil companies who now enjoy massive, Midas level profits.
Japan has a trillion dollars to play with, too, and they are buying too, like the Chinese. From Associated Press:
Toshiba Corp. (6502.T) has won a bid for Westinghouse, the U.S. power plant arm of British Nuclear Fuels, for almost $5 billion, the Financial Times reported on Monday, a move that will expand its overseas operations but has raised concerns about the cost of the deal.

British Nuclear Fuels Chief Executive Mike Parker and Chairman Gordon Campbell decided to sell Westinghouse to Toshiba late on Saturday night, the FT said. Other suitors for Westinghouse included General Electric Co. (NYSE:GE - news) of the United States and Japan's Mitsubishi Heavy Industries Ltd. (7011.T).
More and more, Americans no longer own American companies. We are losing our grip on our own nation. This is being encouraged by our rulers and our political leaders who suck up masses of bribes called "campaign contributions" which means they ignore or enable or reward the destruction of American industry and American control of industry.
Ever intent on their own private Go game, China plonks down yet another significant rock right in our backyard called "Saudi Arabia". From Xinhua net:
Three Saudi companies announced last week that they are about to complete forming a joint-stock petrochemical company with a Chinese partner, Arab News reported.

The Saudi group announced that part of the $1.76 billion company's capital will be offered in an initial public offering (IPO) and the rest will be distributed among the three companies and their Chinese partner, and the three Saudi companies are MIDROC, Sara Development Co. and House of Invention (HOI) Co.

The new company is set to establish an $6 billion petrochemical complex in the Jubail Industrial City, located in Eastern Province, and is expected to create 2,500 new jobs for Saudi nationals.

The production capacity of the new complex is expected to be two million tons of basic and secondary petrochemical products annually.
The Chinese influence in oil countries continues to shoot upwards. They use the profits from all this to extend alternative energy systems in China for they know they are in a race against time, the need to secure renewable systems is a high priority item in the long run. To do this, they need to tap into the profit flow from oil so as we coast over the Hubbert Oil Peak and then head down hill, the price of oil will shoot up and they want to be there with their basket to capture the profits for themselves. They need it for China. They won't translate it to America. The American fake trade with China, funded 100% by China, will be terminated at that point since we will be bankrupt and China won't need us as customers anymore.
Americans who dream that this Chinese free trade will continue forever are insane. And stupid.
Japan's benchmark stock index fell sharply Monday morning as the market's unease continued over a criminal probe into prominent Internet company Livedoor Co.

The Nikkei 225 lost 227.27 points, or 1.45 percent, to end morning trading at 15,469.42 points. During the session, the market fell as much as 2 percent.
One can disregard most of this article. The Japanese stockmarket is sliding down hill because of the sabre rattling in America. Namely, they fear that their fake free trade will collapse when America can't buy squat diddly due to oil prices sailing to over $100 a barrel. So they have the jitters. Unlike the Chinese, they really do depend on the American/Japanese trade of goods for debts system to keep afloat since much of what they sell are very expensive items, not cheap stuff like China who can find markets all over the earth. Not everyone can buy the Japanese stuff except for the reckless, debt addicts in America.
A cold chill is blowing down GOP necks. From Newsday:
A growing number of Republican voters are frustrated by congressional spending and scandal, according to GOP leaders from across the country who worry that an "enthusiasm deficit" could cost the party control of Congress in November.

Some rank-and-file Republicans wonder what happened to the party that promised to reform Washington after taking control of Congress in 1994 for the first time in 40 years.
The GOP stronghold is in exactly those places that celebrate NASCAR driving, energy guzzling, goofy, grasshoppers hating ants culture. They thought the whoopsie doodle dandy war in Iraq would deliver cheap gas so the party could rage on, to hell with the environment! The failure of this epic theft is leaving them feeling nasty and the back to back hurricanes which are brewing yet again already! Scare them a tad but not enough to stop their own madness and sign the Kyoto Accords. They sense something scary is about to happen and clinging to Bush won't make the monster go back under the bed.
Dispirited and dejected, they now want to moon about, hoping a miracle will happen, or worse, angrily go and start WWIII by bombing Iran in a fit of final madness.
As USA Bleeds To Death In Iraq, China Cleverly Moves In To Start Taking Over The Oil Fields

By Elaine Meinel Supkis
The "shock and awe" method of doing business is proving to be a very expensive failure. The Chinese are using the more effective "a fist full of dollars" method. This means, as we retreat along a bloody trail in Iraq, the Chinese move into the vacated spaces and take over. If we try to compete, we have to borrow money from China, first.
China is keen to train Iraqi personnel working in the oil sector and other fields, a foreign ministry statement said.

The statement, faxed to the newspaper, said the Chinese were willing to provide training in the spheres of telecommunications, power generation and diplomacy as well as oil.

The pledge to provide the training came following a meeting between Foreign Minister Hoshyar Zaibari and the Chinese envoy in Baghdad.

"The (Chinese) ambassador has expressed his government's willingness to develop relations with Iraq … and provide the country with assistance in the training of Iraqi cadres," the statement said.

It said initially China would provide training for 80 Iraqi oil personnel "and donate X-ray machines" to help the country control its borders and combat violence.

"China is keen to do whatever it takes to press ahead with the Iraqi reconstruction," the statement quoted the envoy as saying.
The Chinese aren't crowing about this in Xinhua net news but then, it is probably not finished, they like to announce things after official visits but I expect that detail will be arranged soon enough.
On the giant World Go Board, this would be a very significant spot to put a Chinese stone. If you think of things with chess images, this is a Bishop parking itself catty corner to a castle. Since China has moved into Iran and occupies the entire grid, there, taking the heart of Iraq is a grand, aggressive move. No longer shy about their foreign dealings, the Chinese are no longer the inept diplomats but rather, very highly trained and quite focused.

It is amusing the Chinese will instruct Iraqis on "diplomacy". The head reels. We know what this means! Chinese diplomats will meet with and instruct Iraqi ones on the fine art of triangulation leading to strangulation. China knows that being too obvious and forwards means one becomes a target but if one trianulates, one can muffle any opponent's moves because one is playing with more than one chess piece or Go stone.
Russia is just relearning how to triangulate. Slowly, Putin has struggled to control the urge to simply dictate to others and many of his moves seem clumsy compared to the smooth Chinese operations.
But he is learning, quickly. Unlike Americans, who are led by right wing idiots working for a man who must be the stupidest world leader ever since since the Roman Empire and King George III of England. We think,bellowing like a mastadon in a tar pit and lashing out at everyone is great diplomatic skills and will make us all powerful.
This delusion is killing us, literally. Not one Chinese soldier has died in Iraq or Afghanistan. Yet the biggest winner in these wars has been China. And as I keep saying, China doesn't mind the sudden rise in world oil prices since the USA has to bleed much more red ink now due to this while China has a gigantic kitty of petrodollars to bid for oil and the only way we can bid for oil is to first go to China for loans, a win/win/WIN cycle for China and a giant loser for America.
Why our leaders want this doesn't baffle me.

Oil Companies Are Destroying Burma

By Elaine Meinel Supkis
Even as we screech at the Palestinian peasants, we exploit peasants brutally all over the globe. One place we never ever hear from, aside from Nigeria, is Burma. The military coup that runs the place are totally insane. They just moved their capital deep into the hinterlands to prevent revolutions. Oil companies kill peasants, stealing their lands, polluting their farms.
Burma's decision to shift its seat of government has left many analysts at a loss to explain the move.

After all, why go to the huge trouble and expense of relocating thousands of officials to a remote mountainous region, when there is a well-established political infrastructure in the port city of Rangoon?

Information Minister Kyaw Hsan said the site of the new capital, near the town of Pyinmana, was a more strategic location for Burma's military rulers.

"It is centrally located, and has quick access to all parts of the country," he told reporters on Monday.

But analysts outside the country were unconvinced.
The BBC has pictures of the work going on that were sneaked out of that police state. Even as America pretends to want democracy to spread so long as no one really votes or has any influence outside of our chosen Quislings, we ignore our own, self-installed dictatorships. The oil companies fear, above all things, a nationalist government in any country they are draining dry. We will assassinate, create riots in the streets, attack openly, any and all possible challenges to oil company power. The need to keep a death grip on all oil across the planet is costing us half a trillion dollars and is endangering us here at home, as we saw on 9/11. But we consume 24% of the world's oil and so, we need to be utterly ruthless and brutal.
Here is another English Newspaper, the Independent:
One of America's most powerful oil conglomerates looks likely to get its comeuppance in court over its overseas business practices after spreading a trail of misery through a small rainforest village in the Tenasserim region of Burma in November 1994.

The prospect of an avalanche of suits against big corporations has so spooked the Bush administration - always a good friend to the oil industry - that last month the Justice Department filed a brief in the Unocal case denouncing the Alien Tort Act as "an obscure provision" and arguing its application posed a direct threat to, among other things, the war on terrorism.

When the Union Oil Company of California, or Unocal, started working on a gas pipeline project there, it contracted out security operations to the Burmese military regime; and that was when the horror began.

According to court documents, Burmese soldiers entered a house in the village, broke into the rice storeroom with an axe, kicked the woman of the house and pushed her down some stairs. After a brief hunt for her husband, the soldiers came back and kicked the woman again, knocking her unconscious and pushing her into a lighted fireplace. They kicked her infant daughter into the fire too.
When the Chinese tried to bid for Unocal, they were rebuffed by puffed up American legislators who feared the Chinese would take over our oil.
We obviously have tremendous influence on Burma. We could, say, boycott all that oil. Heh. Fat chance. Instead, we point to the budding democracy in Iran (which has tremendous problems, what with the winning team acting like they are Republicans and doing all that cheating stuff!) and scream, they should be boycotted and the neo cons put in zillions of editorials screaming that we need to free the people of Iran. Meanwhile, we silently stand by, watching our stooges in Burma torment the people there!
In 2003, humanist organizations tried to strike back using lawsuits designed to force American oil companies to stop oppressing people in oil pumping countries.
What is new is the legal approach to challenge the corporations. The Alien Tort Act was first revived about 20 years ago to chase down disgraced generals and deposed despots such as Ferdinand Marcos but it was adapted in the 1990s to pursue corporations.

Rick Herz, a lawyer with Earth Rights International, said: "The principle is the same, since corporations are persons under the law.

"Aiding and abetting - that's a direct liability. Companies like Unocal argue that they are not responsible for the actions of their subsidiaries and contractors, but notions of liability through joint venture or agency are basic tort theories, common throughout the United States and the rest of the world." Another suit, against ChevronTexaco over the deaths of villagers in Nigeria who had opposed its plans for a series of oil platforms, is also close to coming to trial.

The prospect of an avalanche of suits against big corporations has so spooked the Bush administration - always a good friend to the oil industry - that last month the Justice Department filed a brief in the Unocal case denouncing the Alien Tort Act as "an obscure provision" and arguing its application posed a direct threat to, among other things, the war on terrorism.
We all know, the Justice Dept thinks not only various acts and laws are obscure and even obscene, they think the Constitution is a dirty rag to wipe their feet with.
Well, nothing much has changed since this article appeared overseas three years ago except for things to get worse and worse. The resolution to take all the oil out of the planet's crust has only accelerated. China, rebuffed from buying Unocal, has simply gone over our heads and using the fistful of a trillion dollars, is outbidding us across the planet.
The government is expected to relax controls over retail oil prices in its domestic market soon, bringing them more into line with international prices, a National Bureau of Statistics official said.

Li Deshui, head of the National Bureau of Statistics, told a media briefing in Beijing yesterday that he believes the government will allow retail oil prices to rise in response to market forces in the near future, despite the flow-on inflationary effect on the economy.
See? This is today's news in China. The ruling elites think this will work. We shall see if the Chinese people protest this. We know, Americans are getting very dicey about oil price hikes. Breathlessly, the media reports any drop in prices, no matter how minute. But the constantly escalating prices are devastating whole industries such as the auto makers here.
And here is Iran and China, drawing closer, thanks to American efforts to isolate the Iranians. From Xinhua net:
Chinese Foreign Minister Li Zhaoxing held talks here Thursday with visiting Iranian chief nuclear negotiator Ali Larijani.

They had an exchange of views mainly on Iran's nuclear issue and other related issues concerning the growth of bilateral relations.
We can kiss our "we need to go to war with Iran" goodbye. The Israelis were really nice to the Chinese for a long time, funnelling information and weapon systems from America to China. Now, that pipeline is down and China is reconsidering their relationship with Israel, namely, they don't need them anymore, they have much nicer contacts and since Israel has no oil and the Chinese have no popular demand to support the annexation of Palestinian lands such as we see in America, they are free to join forces with the Iranians or the Palestinians who are anxious for a powerful friend and who are a potential portal for all sorts of things including mischief and tying down America in futile, dangerous wars over dust.
The consolidation of influence and power on the World Go Board continue. Relentlessly, China plunks down one stone after another, right alongside ours. And they don't have to kill anyone while doing this.