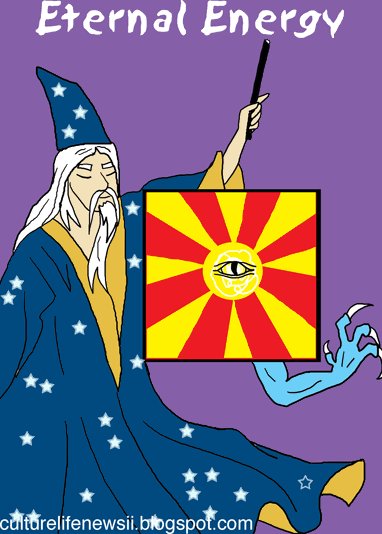 By Elaine Meinel Supkis
The Faustian quest for eternal energy continues. The Chinese have, since the death of Mao, made it a number one priority to make China self sufficient with new energy technologies. This quest for the Holy Grail is also fraught with grave dangers.
It was learned from the Hefei Institutes of Physical Science of the Chinese Academy of Sciences (CAS) that it will have completed the Experimental Advanced Superconducting Tokamak (EAST) which aims to explore infinite and clean energy resources of nuclear fusion by this March or April.

By then, Hefei will become the first institute in the world to have built an all-superconducting non-circular section nuclear fusion experiment facility, which is generally known as an artificial sun.


The energy resource crisis has begun to threaten the world, as oil, coal and other types of non-renewable energy resources will be used up in a century. Scientists recommend the extraction of deuterium from sea water and the ignition of nuclear fusion of this element in temperatures as high as 100 million degrees Celsius. In nuclear fusion, deuterium abstracted from one kilogram of sea water will be able to produce as much energy as that of 300 liters of gasoline.


Invention of a facility that can withstand the temperature of 100 million degrees Celsius and control deuterium and atomic fusion to ensure steady and continuous energy output equals to invention of an artificial sun, which can provide infinite and clean energy like the sun, as sea water is virtually inexhaustible.
The ultimate energy source is the black hole which spins at a terrific speed and all matter is crushed unbelievably. Interrupt a black hole by crashing another one into it and you get spectacular explosions that rip apart whole galaxies and sends energy tornadoes across hundreds of trillions of miles, thousands of light years. Whew.
And we are sorely tempted by the Dark Arts, the lure of eternal energy flowing, alas, this is what the Universe is all about and our fates: for if energy is eternal, then this means all will be consumed in the fiery furnace of a new Big Bang.
Aside from all that, the work on fusion isn't all that innocent. The energy we attempt to harness is truly a dangerous genie. Any interruption can cause an eruption. Malicious humans, nuclear war, meteors from space, earthquakes, sheer neglect, and of course, the unknowns that multiply as the system is made ever more complex: these are why we can't access this energy on this planet.
If we built colonies on other objects, then maybe yes, for then it wouldn't matter if the system collapses and everyone dies, it won't mean the end of all living things, a serious matter we can't ignore.
Our desire of energy is, like all gross appetites, never ending and never assauged. As soon as we build a system providing energy, our lust for more exceeds the provisions. This iron clad rule of human nature won't change if we have endless energy and of course, this merely puts off for a short while, the end of humanity.
We are a successful organism which has to either leave this planet or destroy it. If we want to live in a bubble, we can build bubbles but not on this delicate, lovely and possibly singular entity. Until we find other earths, we have to assume this is the only one and act accordingly.
Except this collides with the greatest force on earth: greed.
The New York Times Wonders If It Is OK To Bomb Nations That Aren't Attacking Us

By Elaine Meinel Supkis
Aside from the total lack of rage over Americans spying for Israel, the NYT keeps pushing hard for disarming Iran, a country that has never invaded anyone, ever. Rioting Shi'ites at Mecca isn't an invasion or otherwise European nations could bomb London because of rioting soccer fans, no?
DIPLOMATS around the world keep repeating the mantra: There is no military option when it comes to slowing, much less stopping, Iran's presumed ambitions to get the Bomb. The Europeans say so. The Chinese, who need Iran's oil, and the Russians, who make billions supplying Iran's civilian nuclear business, say so emphatically.

Even the hawks in the Bush administration make no threats. When Vice President Dick Cheney was asked Thursday, in a television interview, if the United States might ever resort to force to stop Iran, he handled the question as if it, too, were radioactive.

"No president should ever take the military option off the table," he said, carefully avoiding the kind of language he once used to warn Saddam Hussein. "Let's leave it there."
Wait! Wait! Cheney is not being coy or acting as if talking about using bombs is "ratioactive" (how fey of the Times to use that word!) but rather, just like before we attacked Iraq illegally over fake charges of WMD, he said the exact same thing: the military option is
NOT
off the table. Namely, we are going to attack if we want.
The Bush doctrine remains "shoot first, ask questions later", aka "the Hitler Doctrine".
The only thing left is to wrangle some allies in this second act of WWIII, make certain all of Europe is behind this, them being the same folks who brought us WWI and WWII. Dying empires are very stubborn, aren't they?
The problem is not that Washington lacks targets. Many of Iran's nuclear facilities, or at least those that American intelligence agencies know about, are in plain view or in underground sites whose construction was recorded by spy satellites. The problem is the global consequences of an attack to cripple them.

"The irony is that this is the opposite of Iraq," said John J. Hamre, a deputy defense secretary from 1997 to 1999. "We know a lot about what they have because the international inspectors have been there." Those inspection reports have helped Pentagon planners who, in imagining every contingency, have already mapped out Iran's most vulnerable facilities.
Arrgh. As I have pointed out in the past, even under Clinton, we used UN inspections as a Trojan horse in Iraq and now Iran to map out their facilities so we can attack them! This is why Saddam correctly kicked out the inspectors. They were spies, not inspectors! They allowed Americans to misuse the information. Once we guaranteed they were disarmed, we invaded Iraq! We knew exactly that they had nothing. When the cry began for us to find the WMD we pretended were there, we desultorily sent over some chumps to pretend to look and after unenthusiastically finding exactly nothing, we slunk away and pretended it was to bring democracy to Iraq, yup. That's why we went there. Like, invading Saudi Arabia would be evil, they might vote for bin Laden if there were an election!
All the big wigs in our imperial palaces, Democrat or Republican, are bent on sucking the world dry of all fossil fuels because this is extremely popular in the Western nations who are consuming the planet at a mad rate. This is why we are still buying and making gas guzzlers, why we are so fat, why we are unable to sign the Kyoto Accords and why we are now desperately pushing for the next stage of WWIII.
Several American officials, when promised anonymity, said they thought that in 5 or 10 years, Iran will most likely have a weapon.

"They have read us pretty well," Mr. Hamre said. "They have skated right at the edge of controlled pugnaciousness."

The debate among the West, Russia and China is whether, together, they are willing to skate to the same edge in hopes that, in a repeat of the cold war, the other side blinks first.
In other words, will they side with Iran and fight the USA in WWIII? Well, one way to find out is to stick our heads into that guillotine, right? We are the ones skating on thin ice, dragging Europe into this morass. We are the ones provoking things by constantly meddling in Iran's internal affairs. Imagine if some foreign country with resident agents went around America, corrupting politicians, stealing Pentagon secrets, removing American jobs to their home base overseas, wouldn't we want to eject them? Especially if they were getting multibillion dollar "aid" packages? And pushing us into a war we can't win?
Of course, the NYT won't talk about the Franklin affair. That would mean looking under some very ugly little rocks.