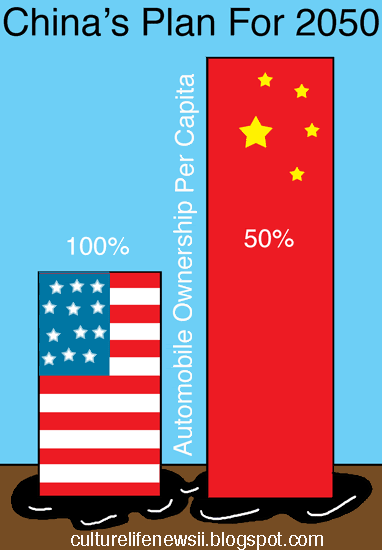 By Elaine Meinel Supkis
Exxon mulitbillionaire executives tell us we will always have to import oil. Of course, if we all drive SUVs! Meanwhile, China sets a goal of 50% car ownership by 2050. This means, if the population stays relative to the USA, they will own many more cars than we since there are four times more Chinese than Americans. This process will accelate the effects of the Hubbert Oil Peak by many magnitudes.
The United States will always rely on foreign imports of oil to feed its energy needs and should stop trying to become energy independent, a top Exxon Mobil Corp. executive said on Tuesday.

"Realistically, it is simply not feasible in any time period relevant to our discussion today," Exxon Mobil Senior Vice President Stuart McGill said, referring to what he called the "misperception" that the United States can achieve energy independence.
From Bush and his oil buddies on down, I see a peculiar form of fatalism. "We can't change our lifestyles or how we transport ourselves so we might as well relax and keep pumping that good ol' oil!" is sheer insanity. Instead of conserving the world's natural resources for important uses since it is needed to produce many medicines and paints, containers, materials, oil has many non-burning up uses and here we are, burning it up at a mad rate! This is also destroying the environment. Using oil for other purposes impacts the environment but burning it is destroying the eco-system in a number of deadly ways, the most important being the relentless rise of CO2 and ozone levels rising during summer.
Pretending we are helpless babies and can't change won't change the Hubbert Oil Peak. It will happen whether we bother to install saner transportation/heating systems. I heard yesterday that the TV pundits are telling the gullible that Saudi Arabia is going to increase oil production by 20%! Indeed. When the Golden Goose flies around the world in 80 days.
Already, just to maintain present production, Saudi Arabia has to pump tremendous amounts of seawater into the empty chambers where the oil sat for 200 million years. Ten years ago, the Saudis pumped 10 mil barrels a day, now it is 9 million. They upped it to 9.5 mil but that is still less than in 1989.
The Gwahair oil fields are the oldest "great discovery" oil fields on earth and this isn't some bottomless pit. It isn't tapping into the earth's mantle. Time to change is here. And now. And the Chinese are shoving us along with this news: From Xinhua net:
He Chuanqi, head of the research team who compiled the report, told Xinhua that to attain this goal, China should follow two stages of social transformation. It should first turn into a city-based industrialized society from the present agricultural one, and then step into a knowledge-oriented society with rural and urban areas developing at the same rate.

By 2050, 80 percent of the urbanization work in China will have been completed, the researcher said.

He added that the social transformation will also bring great changes to peoples' life-styles, as 80 percent of the population would have access to information industry services, 50 percent could afford overseas travel and 50 percent would own private cars.
We will have some serious competition for all that oil. I suspect the Chinese feel, why let the Americans suck up all the oil? We might as well party, too!
And so they shall. We set a very nasty example here, when world oil was cheap, we ran out and tried to consume as much as humanly possible. We decided, it was OK to pretend this very limited resource is unlimited. This brainless mindset set the scene for an epic destruction of the environment and a squandering of our grandchildren's patrimony.
Indeed, what we are bequeathing them is a badly designed, poorly set up society that needs very cheap energy to function and on top of this, a mountain of debts so they can't borrow money to retrofit this mess so it can be even slightly functional.
One last news tidbit: Japan just bought Westinghouse's nuclear plant division. The Chinese wanted it but failed to get it. And this all dovetails into the whole screamathon over Iran's nuclear power plants. America is losing control of everything, one itemm after another, thanks to our giant trade deficits with absolutely everyone.
And high-tech Germany has a big trade surplus with the world, too. It is socialist, isn't it, with strong unions? Heh. Unlike us, racing to end up like Bangledesh.
*************************************************************
Schott Glass of Germany To Build Hyper-heat Solar Electrical Power Plants

By Elaine Meinel Supkis
Schott Glass Werk is launching a new super-heating solar energy system that produces electricity. This is one of many possible projects that will be started in the next ten years if there is any money for it which is why I am so concerned about America running up huge debts to buy junk.
People will soon cool their homes with power from the searing desert sun, according to companies investing in a little-used solar technology.

Deserts are becoming hot spots for solar thermal power in which futuristic troughs concentrate the sun's rays and create steam to run power-producing turbines at power plants. It is a different technology than rooftop solar panels.

Tiny experimental plants built in the 1980s in California ran into problems when energy prices dropped.

But as oil, natural gas and electricity costs soar, companies are racing to build commercial solar thermal plants that are the size of conventional power plants.

"Now the industry starts again," said Burghard von Westerholt, head of thermal solar for private German specialty glass company SCHOTT.
The system is pretty simple, actually. Using tubing inside parabolic mirrors, the water heats to 400 degrees C and then is used as steam to run turbines.
Schott's homepage for this technology:
To generate these high temperatures the solar radiation is focused linearly on the SCHOTT PTR70 Receiver by means of parabolic mirrors. Thermal oil flows through the receiver and is heated to about 400°C. A 50MW power plant requires a collector field of 60km receiver length and about 360,000 m² of mirror area. As a result of the maturing of the technology and the desire for safe energy supplies, the planning and construction of solar thermal power plants is increasing throughout the world. As of 2005, three new power plants will be constructed in Spain and the USA alone.
The history of parabolic solar heating systems is very entwined with my family since astronomers at Mt. Wilson observatory first played with it way back when my mom was a child there and my grandparents spent many days up at the observatory, working.
My grandfather first worked there when transportation was via mules.
Dr. Abbot rigged up a parabolic solar hot water heater up on the mountain. As is typical of all astronomers, he loved to tinker with things and this was one of his pet projects. It was wound up every hour at the base which meant climbing up and down the steep stairs, everything on observatory mountains are steep, I spent my childhood hiking up and down zillions of stairs as well as steep mountainsides in the thin atmosphere, sucking for air. Anyway, he would trot up and down, merrily, winding up the counterweight timer. This was the sort of thing he could rig up since this is the same way older telescopes could be run so they could track with the stars they were focused on.
This set up is probably one of the first modern water heating devices of this nature, namely, that tracks the sun and uses a parabolic mirror. After Abbot retired, no one used it and the only curious people to view it in later years was my own father who asked why it wasn't used and the staff confessed, no one wanted to hike up and down the stairs to wind up the gears. Soon afterwards, the director of the observatory sold it for scrap, to my father's regret.
It is no surprise to me that Schott has worked at a similar system since the Schott business in Germany and my dad go way back, to WWII, when my father rescued the Director himself as he fled the fighting on a bicycle with his wife in tow.
My father stopped him and asked him his name and when he heard it, he said (auf deutsch)"Hop in, you are just the person I am looking for," and talked mirrors and lenses the rest of the way, ignoring the noise of battle just beyond the hills.
So when my father became enthusiastic about setting up a large parabolic mirror solar array, it was natural for Schott to find it interesting, too.
I am very happy conditons are such, a large system is now being set up! About time! It would be a horrible disaster for our great-grandchildren if we suck out all the oil and gas and waste it! So the time is now, not next century, to change. But we need more than just a series of such systems, we need an integrated hyper-structure to cope with comfortable living in the future!
This is why combining geo-thermal heating/cooling systems with Passive solar heating/cooling homes.
Whatever systems we end up using, all of them cost more than oil at $12 a barrel. The fact of life is this: the costs of this cheap oil were hidden from view, often deliberately. The downside has been terrible. Just like, in hot summer times, the ozone levels shoot up and we suffocate not to mention global warming from rising CO2 and asthma from particulate matter.
*************************************************************
Mexico's Biggest Oil Field Hits Hubbert Oil Peak, Europe Demands Russia Give Them Control Of Russian Oil And Gas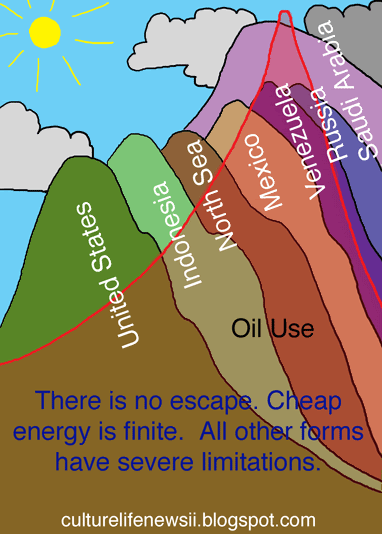 By Elaine Meinel Supkis
Already, danger signs from Mexico as their greatest oil field, Cantarell, signal the possiblity that it is not only past peak but in danger of a sudden drop off in production. Nearly all the oil there is sold to the USA which continues to guzzle gargantuan amounts of oil. In Europe, at the G8 meetings hosted by Russia, the Europeans and Americans demand Putin let them run Russia's oil and gas fields for ourselves. Putin smiles and and says 'Don't call me, I'll call you."
Mexico's huge state-owned oil company, Petroleos Mexicanos, or Pemex, may be facing a steep decline in output that would further tighten global oil supply and add to global woes over high oil prices, the online edition of the Wall Street Journal reported.

The potential decline faced by Pemex, also could undermine US efforts to reduce dependence on Middle East oil, and complicate Mexican politics and financial stability.

An internal study reviewed by The Wall Street Journal shows water and gas are encroaching more quickly than expected in Cantarell, Mexico's biggest oil field, and might cause output to drop precipitously over the next few years.

Currently, Cantarell produces 2 mln barrels of oil a day, or six of every 10 barrels produced by Mexico, and is the world's second-biggest-producing field after Saudi Arabia's Ghawar.
When the Great Permian Extinction happened, and it was, like all following extinctions, very rapid, the earth was covered by a tremendous amount of rotting biomass both in the oceans and on land. Instead of merely slowly filtering down, slowly piling up, nature usually is very thrifty and various organisms eat or dissolve whatever organic matter dies leaving relatively speaking, not much behind. And it tends to be used again by plants, for example, which grow using the fallen debrie of previous plants after worms and bacterium digest them all.
In the great catastrophe of the Permian Extinction, 90% of all living things died very quickly, the earth became very hostile and tons of mud and sand and very briny seas covered over the sad remains of a once teeming earth. This pile of dirt/salt/sand has been, over the last several hundred million years, been compressed into oil and gas and we seek them out and squeeze it all out again, leaving empty gaps which we pump water into so the salt domes won't collapse and to pressurize the oil so it comes out to the last drop.
I just got a call from a friend who tells me his TV set pundits are all saying we are going to see a world oil glut! Whoo hoo. I roll my eyes. This is the sort of lies one expects from our rulers who need to deceive everyone so we won't change now and save our skins. The plan, I assure you, is to enslave the vast majority of humans and put them to work as serfs and slaves. They know all about what is going on and pray we don't figure it out.
Mexico, like Saudi Arabia, have just announced they are upping production. This is sheer insanity. Neither country benefits from doing this in the long run. Note how Russia, flush with oil money, isn't upping production despite the pleas of the other G8 (means "Gee, we ATE everything!").
Finance ministers of world's wealthiest nations sounded the alarm over the cost of energy on Saturday and urged greater international cooperation to ensure stable supplies.

Ministers from the Group of Eight industrialized countries said in a communique that global economic expansion was strong but at risk because of high and volatile energy prices.

"We need to develop a civilized strategy which will reliably secure the world with energy at reasonable prices and with minimal damage to the environment," Russian President Vladimir Putin told the ministers.
We are all so civilized, aren't we? This is why so many oil nations are either in flames, degraded or their people in chains!
The diplomatically worded G8 communique made no reference to the Russian gas supply spat but officials said they were keen to see the Kremlin allow more foreign investment in its energy sector and loosen the grip of the monopoly supplier Gazprom.

The standoff with oil-rich Iran over uranium enrichment has also served a reminder of how vulnerable supplies can be.

Finance Minister Alexei Kudrin appeared to cede some ground when he told a post-G8 news conference Russia might eventually end state-controlled Gazprom's gas export monopoly.

"In the future, access to the export pipeline will become equal. I am not ready to say when that will happen," he said.
Don't call me, I'll call you. I think this is funny. Russia will allow us to buy their oil resources, eh? But China can't buy any American oil companies? What is this about open borders and free trade and anyone can buy anything? I see some really funny contridictions here.
The Europeans want to surround Russia with NATO bases and sneer at Russia but also want to some into Russia and insure they run the joint so they can suction off all of Russia's oil as cheap as possible. What a grand scheme, a great plan! If they could only install someone as dumb as Bush! Alas for Europe, Putin's IQ is bigger than a fence post.
I see all over the news, breathless tall tales about using "biomatter" to make fuel for cars. We can make fuel out of any biomass, that is what oil is, after all! Rotting corpses of living things! Already, we are destroying our forests by logging them, this removes much of the biomass built up by trees so the soil never gets "richer". Right now, they lop off the tops and side branches and leave them on the ground so erosion and runoff won't destroy what pitiful mulch has built up but if we need biomatter to burn as fuel for cars, they wll harvest literally everything including the weeds.
This is how we fish the oceans now with vast nets that kill everything everywhere and the biology of the seas are now collapsing and we are not stopping, we are increasing the consumption and now everything is dying rapidly, it looks like the Permian there, now!
Just as the collapse happened.
Will we suck up all biomass and burn it so we can live in bubbles and drive our fat carcasses around inside of big bubbles? We know the ending of this sorry story!
The Permian extinction tells us very clearly.
Here is yet another story, Chevron telling us, we can't be energy independent: From Ireland News;
Bush in his State of the Union address earlier this month pledged to cut US dependence on Middle East oil by 75% by 2025.

"Quite frankly, I think these comments reflect some misunderstanding of global energy supply. I believe Middle Eastern oil can and must play a certain role in the system," Robertson said. "Saudi Arabia's massive resources will continue to promote international energy security and serve as a moderating force in balancing supply and demand."

Robertson said singling out the Middle East for a reduction in US oil imports would be difficult, since oil was a commodity traded on the open market. What's more, he said, that would require more expensive oil imports from elsewhere.

"All it would end up doing is raising prices," Robertson said.

Chevron is also lobbying heavily against proposals floated in the US Congress to raise taxes on oil earnings, after oil companies made record profits as a result of skyrocketing oil prices.
Since American voters have little say with the sham elections we run these days, lobbying to shift taxes onto the backs of the voters is easy as making mud pies in a rainstorm.
"We're working very hard to make sure these don't come into law," Robertson said. "I think we'll be successful."
The billionaire oil company reps and foreign governments like Saudi Arabia openly bribe our "elected" officials who heed them much more closely than they heed us.
So long as the oil overlords can whip the religious right wing nuts into line, they will be able to loot us at their leisure and then spit us out like so many dead seeds. Spitooie. And where is McCain? Shouldn't he be denouncing oil barons who are bribing Congress?
When pigs jet overhead.