By Elaine Meinel Supkis
It didn't take even one day for the real rulers to reel in Bubble Boy! They ordered him to retract the bizarre statement that we will reduce our dependence on Middle Eastern oil by 75%. So the harem slave boy immediately obeyed. Yes, massster. Gads. Arrest Bush. He is a traitor to our great nation.
One day after President Bush vowed to reduce America's dependence on Middle East oil by cutting imports from there 75 percent by 2025, his energy secretary and national economic adviser said Wednesday that the president didn't mean it literally.

What the president meant, they said in a conference call with reporters, was that alternative fuels could displace an amount of oil imports equivalent to most of what America is expected to import from the Middle East in 2025.

But America still would import oil from the Middle East, because that's where the greatest oil supplies are.
Gads, all those Americans who think this wailing, weeping, drunken canaba boy, this "please stick it to me again" kissing, hand holding, prancing, mincing little autocratic baby is standing strong and protecting us...HAHAHA.
Please. Another proof who runs America! Bush's minions won't trumpet this news across the country so 90% of the people will be clueless just like they were when Bush had to kiss the Chinese and apologize, on his knees, not once but thrice! Over the spy plane incident which was never mentioned in the news after the kow towing was finished.
Here is an example, suggested by one of my readers, of another diplomatic disaster that was caused by blustering diplomats misjudging their relative power. From the BBC:
India has summoned the US ambassador to Delhi after comments he made over India's relations with Iran.
US Ambassador David Mulford had warned that a deal giving India US nuclear technology could collapse if India does not back a UN motion against Iran.

He was told his comments were "inappropriate and not conducive" to US-India relations, India's foreign ministry said on Thursday.

Mr Mulford earlier said his remarks were taken out of context.

The US State Department said Mr Mulford was voicing his "personal opinion".
After this blunderbussing, did Bush recall the ambassador? Heck, he can't recall what he did from 1972 to 1975! Why didn't the media scream, back in 1999, Bush was unqualified to be President when he asserted he was suffering from amnesia? Huh? Brain dead=America dead, guys!
Here is Mr. Amnesiac himself, squirming while his arms are being twisted by the oil giants: From Associated Press:
President Bush defended the huge profits of Exxon Mobil Corp. Wednesday, saying they are simply the result of the marketplace and that consumers socked with soaring energy costs should not expect price breaks.

In an interview with The Associated Press, Bush also addressed oil's future, offering a more ambitious hope than in his State of the Union speech for cutting imports from the volatile Mideast.
Yay! We get to suffer the full blown effects of high fuel costs and eat dirt! Way to go!
Americans want a magical solution to the Hubbert Oil Peak. This reminds me of "The Sorcerer's Apprentice." We have Mickey Bush as the Foolish Apprentice trying to fix things only they get monumentally worse. Greenspan is the magician and he will wave his wand and all will dissappear. Poof.
All of our wealth, our country, everything. Way to go.
*************************************************************
Bush Talks Big On Biofuel And Windmills Then Cuts Their Funding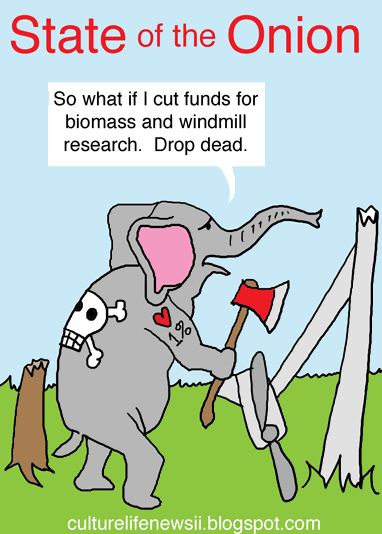 By Elaine Meinel Supkis
Republicans continue the "talk like liberals act like assholes" plan. Nearly every declaration in the latest Bush Speeccch was a blunt lie. Now, Bush is either backpedalling like crazy and falling on his rear end, or sticking his pink tongue out at us and laughing as he does the exact opposite. Like cutting staff and funds for wind and biofuel research the same day he claims this will be the wave of the future!
From the New York Times via Facti, one of our readers::
Congress and the administration have at times sent conflicting signals about their priorities, further complicating Mr. Bush's prospects of pushing through his proposals.

The Energy Department will begin laying off researchers at the National Renewable Energy Laboratory in the next week or two because of cuts to its budget.

A veteran researcher said the staff had been told that the cuts would be concentrated among researchers in wind and biomass, which includes ethanol. Those are two of the technologies that Mr. Bush cited on Tuesday night as holding the promise to replace part of the nation's oil imports.

The budget for the laboratory, which is just west of Denver, was cut by nearly 15 percent, to $174 million from $202 million, requiring the layoff of about 40 staff members out of a total of 930, said a spokesman, George Douglas. The cut is for the fiscal year that began on Oct. 1.
Last I looked, Congress is a bunch of craven idiots spending money like there is no tomorrow, money on war, and the are the same party and same mind and same modus operandi as Bush. So this is not an example of Congress not coordinating with our dictator, it is Congress quietly killing anything that interferes with the corporate wolves feasting on our carcasses!
Namely, they do not want us to be "free" or "self sufficient" or anything, they want us trapped and forced to work for nearly nothing and get as little back as possible while they live like emperors and kings and can laugh at us.
Bush and Rove knew perfectly well, they were lying last night. They knew this was a TV show, not serious politics. They knew they would get the support of all the media whores who would trumpet Bush as some dawning hero instead of the Yellow Dwarf (refering to an old fairy tale of a dwarf wizard who disguised himself).
Representative Joe L. Barton of Texas, the chairman of the Committee on Energy and Commerce, even seemed to contradict the president's alarms about high energy prices. "America runs on energy that is both abundant and available at prices we can afford to pay," Mr. Barton said in a statement.
Um, Bush himself said that high energy prices were OK and he was happy with the market setting the rates and he was utterly indifferent as to how many people suffer from this. After all, what are they going to do? Go to their Diebold polling places and vote?
This all goes back to the idea that we have a democracy which is a lie. We don't.

*************************************************************
Tribe In Pakistan Blow Up Pipeline And Shoot Rockets At Troops

By Elaine Meinel Supkis
So long as Pakistan is run by a Quisling overlord installed by the CIA, it is OK for them to have nukes but the country teeters on the edge of chaos. Today, mountain raiders blew up another gas line and when troops came in to fix it, they shot rockets at them, forcing them to flee. Meanwhile, the Pentagon plans more wars based on using Quislings to serve our empire stealthily.
Tribesmen have blown up a gas pipeline in Pakistan's troubled southern province of Balochistan, officials say.

Armed militants also fired more than 200 rockets at a major base belonging to the Pakistani security forces in the area, they said.
Across the planet, tribal people who live where the energy is being sucked out of the ground are getting angrier and angrier, watching their patrimony dissappear while they get to be poor. As the price of energy skyrockets, the need to cheat the very poor who live where it is, grows. The chief offender is the American empire which uses more energy from poor tribal areas than any country on earth.
When Bolivia or Venezuela, for example, have real elections and a native from the lower classes is elected, they end up taking over the energy systems and use them to extend health care and education, for example and nothing, absolutely nothing enrages the imperialist more than the idea that some desert tribe has wealth.
When the Saudi Royals took over the oil wells there, we raged. But then Faisal was "unexpectedly" murdered and voila! The status quo returned except we had to share a percentage with the murderers of the previous king.
The American plan, now that we are definitely running out of easy credit from China, is to revert to the Cold War style of oppressing peasants, namely, to send in assassins, professional spies, buying the services of rulers, dirty tricks, swift palace coups like in Nepal, etc. From the Washington Post:
The Pentagon, readying for what it calls a "long war," yesterday laid out a new 20-year defense strategy that envisions U.S. troops deployed, often clandestinely, in dozens of countries at once to fight terrorism and other nontraditional threats.

Major initiatives include a 15 percent boost in the number of elite U.S. troops known as Special Operations Forces, a near-doubling of the capacity of unmanned aerial drones to gather intelligence, a $1.5 billion investment to counter a biological attack, and the creation of special teams to find, track and defuse nuclear bombs and other catastrophic weapons.

China is singled out as having "the greatest potential to compete militarily with the United States," and the strategy in response calls for accelerating the fielding of a new Air Force long-range strike force, as well as for building undersea warfare capabilities.
China will chop our chicken head off using the sharp axe called "economic advantage". We already lost to China. True, their trade deficit with us isn't like Japan which has a huge deficit thanks to huge trade barriers they have erected, the Chinese trade deficit is due to them having cheaper labor because, as Marx assured us, labor is wealth. The Chinese plan is to never ever confront us directly, militarily. Unlike the comfortable American attitude towards world wars, namely, they are strictly fought far from our own homes, the Chinese have vivid memories of WWII which was fought the longest on their own lands, starting in 1932.
In the 2001 strategy, the U.S. military was to be capable of conducting operations in four regions abroad -- Europe, the Middle East, the "Asian littoral" and Northeast Asia. But the new plan states that the past four years demonstrated the need for U.S. forces to "operate around the globe, and not only in and from the four regions."
Namely, we need to reinvade many South American nations that are one by one, slipping the leash, thanks to China. Just yesterday, the Chinese successfully approached Morales of Bolivia to make a deal concerning the energy systems there. They slyly said they aren't going to provide military aid but we all know how this operates! The Pentagon is very alarmed about this but can't go to Beijing and ask for another $100 billion so they want this assassin/stealth team style palace coup force that can wiz in and murder people like Morales, hopefully paying one of his generals to seize control for us.
Like we did in Pakistan. Aren't we popular there? Our huge embassy there sits in an isolated desert, surrounded by miles of defences so they can't shoot rockets at us and the military scours the land, seeking anyone sneaking up to our embassy to nail us. Meanwhile, we can't walk the streets in that country without millions of people screaming at us and throwing things at us. Hearts and minds!
Yet, although the Pentagon's future course is ambitious in directing that U.S. forces become more versatile, agile and capable of tackling a far wider range of missions, it calls for no net increases in troop levels and seeks no dramatic cuts or additions to currently planned weapons systems.
Lovely. The plan is to use rockets and missles and spies to protect America from all the outraged tribal people who hate our guts because we send in teams of assassins and coup supporters who destroy democracy and steal natural resources! Only this doesn't work as Atta cheerfully showed us.
For example, the active-duty Army will revert by 2011 to its pre-2001 manpower of 482,400, with the additional Army Special Operations Forces incorporated in that number, defense officials said. The Air Force will reduce its strength by about 40,000 personnel.

Moreover, the review's key assumptions betray what Pentagon leaders acknowledge is a certain humility regarding the Defense Department's uncertainty about what the world will look like over the next five, 10 or 20 years, as well as its realization that the U.S. military cannot attain victory alone.
Alone. Nope, we conspire with the shredded remains of the huge British "sun never sets" empire, the parts that have overwhelmingly Anglo/Saxon settlers who have completely destroyed the natives, those places support the American Empire's struggle to steal from peasants who are darker skinned or speak other languages.
"Things get very fuzzy past the five-year point," Henry said of the review in a talk last month.
We can't peer five years into the future? What ails them? Blind as bats, they set us off in a direction that isn't going to end with America ruling the world. The Brits thought they could do this with the Expeditionary Forces using many natives, often moving them from Nepal to Africa and Africans to China, to hold onto power with minimum cost to the home islands. Then WWI broke out and the system had to be scrapped.
The Pentagon is seeking broad congressional authority to spend tens of millions of dollars on military assistance to unspecified foreign countries or "indigenous forces," authority that traditionally has rested with the State Department.
Here we go, off the cliff. No longer does the State Department, using the CIA, pull coups and do assassinations, now our military gets to decide if and when they do this sort of dirty stuff.
So why are we walking down the exact same path Britain strolled, straight into WWI and WWII? Isn't this a wilful blindness to history that can't be tolerated?
*************************************************************
Bush Pushes For War With Venezuela

By Elaine Meinel Supkis
Thanks to our out of control trade deficit and total dependence on foreign oil reserves, we are now thrashing around, trying to start wars with anyone sitting on oil wells. Once again, the target is Venezuela. Nothing irritates our overlords more than the thought that any oil pumping country gets to keep the profits so the people can get services and build a better country. Look at how the oil overlords are systematically destroying America! Why would they want to allow any country to thrive?
Venezuelan President Hugo Chavez warned on Saturday he could shut his government's U.S.-based refineries and sell oil to nations other than the United States if Washington decided to cut diplomatic ties, as relations between the two countries continue to worsen.

Chavez said he did not want to take such measures after he expelled a U.S. military attache earlier this week on spying charges and Washington responded by ordering out a Venezuelan diplomat in a tit-for-tat retaliation.

"If the U.S. government wants to break relations, then they have to take that decision over there, over there. I could easily order the refineries we have over there closed," Chavez told a large crowd of supporters.
You know, when Israel is caught again and again, spying on us, we don't demand they stop nor do we recall their ambassador or remove Israeli citizens who run Homeland Security. Nothing at all happens except for a parade of politians running to the Israeli lobby to apologize for catching them and promising we will ignore their syping in the future much more carefully.
Well, Venezuela doesn't have a powerful lobby here so they can't play that game. Instead, we spy on them and then use the uncovering of traitors betraying Venezuela, a crime. We demand Venezuela apologize to us for catching our spies! Of course, everything is backwards when it comes to the USA and those who sell us oil.
We are like bank robbers buying gas so we can make more heists. We itch to shoot the gas station owner and not pay. After all, we are well armed! We have nukes! We have the biggest gibbering military on earth, why can't we just hold up gas stations, too?
Venezuela sells most of their oil to the USA. Just this last week, Bush yapped about how we are going to cut purchases from Saudi Arabia by 75% which caused them to yank our leash very hard. All they have to do is call a Fatwa on us and we are history in the Middle East. This is why they can attack us with impunity when it serves them and Bush like when Bush family friend, bin Laden, worked with Bush to drive America into a vast war for oil.
In public, the US government has to pretend we don't lust for Venezuela's oil which is why we keep our little conspiracies hidden from view as we try every trick in the book to undermine and destroy Venezuela's government. The Pentagon already has trumped the CIA which is under legal controls to not assassinate world leaders, now we are using robots to assassinate people and don't be surprised if this is attempted against Venezuela's popular President.
Our refusal to change the way we use energy is at the root of all this. From Associated Press:
Defense Secretary Donald H. Rumsfeld pushed Saturday for unity in the fight against terrorism, telling a meeting of the world's top security officials that "a war has been declared on all of our nations and on our people."

Rumsfeld pushed U.S. allies to increase military spending to defeat the threat of a "global extremist empire" he said terrorists hoped to create.
See how this is going to be a world war? We want everyone to be hyper-armed because of terrorism? Isn't that insane! Even as we openly encourage an arms race, we race to disarm potential victims of our quest for cheap oil or at least, we get the oil profits channeled exclusively to the very rich in America and Europe.
"The Cold War wasn't won through fate or good luck — freedom prevailed because our free nations showed resolve when retreat would have been easier, showed courage when concession seemed simpler and more attractive," Rumsfeld said.
The fake story that we won the Cold War because we were hypermilitary and military spending is what made us victorious is insanity.
Russia went bankrupt fighting Muslims. They ran out of money! And the USA can't boast on this front, we are way out of money now and the new Bush budget gives more and more money to the military while cutting services to Americans, a total repeat of the Soviet State. We have a military that eats over $500 billion a year and our budget deficit is ....over $500 billion a year! So guess what?
We are following the Soviet path, perfectly. Even to the point of spending futile dollars on Eastern European backwaters, trying to hold them down for our empire.
Which is pissing off Russia, an oil pumping nation! The alliance of several big oil countries are slowly forming around China. China, unlike the USA, pays cash for oil. The USA has to first get loans from China in order to purchase our oil which terrifies our leaders which is why we want to buy that oil from ourselves, and this means war.
*************************************************************

IMF Demands Iraqi People Pay Them Full Price For Oil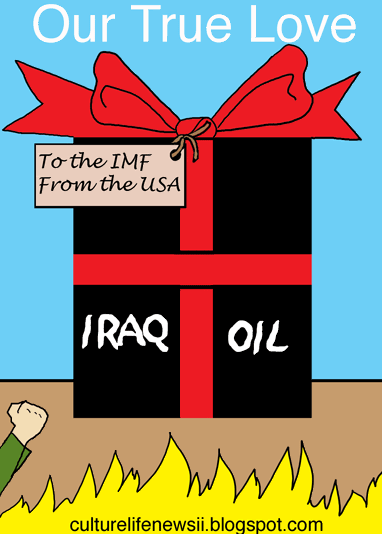 By Elaine Meinel Supkis
The IMF has seized the oil revenues of Iraq and are ordering huge price hikes for the oil in the ground. Unlike Venezuela, the Iraqis are now totally disowned. Eventually, the IMF plans to take over America, too. We will pay through the nose when this happens.

Iraq will gradually increase state-controlled domestic fuel prices tenfold in 2006 to meet International Monetary Fund demands, an Iraq official said on Monday.

The move is likely to spark public protests. Iraq already increased prices by 200 percent in December, igniting protests and creating a rift between the oil ministry and the government over external political pressure.

"We have to meet demands from the IMF, they said the prices should be equal to the prices in neighboring countries," another source in the oil industry said.
The royals in Saudi Arabia nearly lost their heads but for the rise in world oil prices thanks to the Bush wars which we launched after Saudi citizens and one Egyptian attacked America. Isn't that a coincidence?
The plan for Iraq is to turn over the oil profits there to Americans. We will administer the oil in such a fashion so that Iraqis get none of the profits and none of the oil for themselves. They will be divorced from their own natural resources. Like making farmers serfs by taking all their crops except for enough to keep them barely alive. This overlord style of running countries is very unpopular with the victims, witness Nigeria which is spiralling down in to civil war over the depletion of oil only for Americans.
Iraq won a crucial loan accord with the IMF in late December and a $14 billion debt swap with private lenders.

The $685 million IMF standby credit arrangement was the fund's first ever with Iraq and is designed to support the economic program over the next 15 months.
The Quislings running Iraq aren't using this money to build anything. We already have seen story after story about the corruption and venality of all parties involved in this Iraq mess, American companies as well as Iraqi, they are all on a looting expedition, they funnel all this money to their own bank accounts in places like Switzerland.
This is why there are IMF riots all the time. When the bankers want their money they always end up conspiring with the corrupt rulers, often put in places of power via American military force or conspiracies, and to pay up always involves squeezing the peasants in a thousand, nasty ways.
Former oil minister Ibrahim Bahr al-Uloum protested against the increase in December and was ordered to take one months leave by the prime minister. Uloum tendered his resignation, which was accepted in January.
He saw the writing on the wall. Under Saddam, the oil blackmarket was encouraged because it was the only way to do business while under the American sponsored boycott, it was one way to earn foreign credit.
Now it is out of control since everyone is in a scramble for themselves. There is no national unity nor a nation, for that matter.
Kind of reminds me of America.
*************************************************************