Picture on left courtesy of Earl Bockenfeld
By Elaine Meinel Supkis
As oil prices climbed to nearly seventy dollars this week, unrest grows. At one gas station, a self-centered man decided to become a criminal so he tried to steal the gas, his feeling of entitlement, I suppose. When the station owner ran out to stop him, he ran him over, killing him. This story is a metaphor for America.
For we are running over a lot of people in our quest to secure oil.
This week's other story about Robertson suggesting we murder the duly elected leader of Venezuela simply because he interfers with the oil company's dominance of that country, is another sign of how mental illness is destroying American minds thanks to the Hubbert Oil Peak. The other photo here is about an anti-oil company, anti-Bush demonstration in LA hosted by a hip hop star. Of course, he wants cheap energy. And the right to be very fat. And drive all over the place, mindlessly.
This lust is a problem.
A million spoiled enfants, Americans are taking their rage out on the employees working at low wages for the oil companies. This rage will be directed towards the GOP which is why various articles in the news fret about this. Unfortunately, the realistic solution, to retrofit our country so it can survive the really deadly downslope of the Hubbert Oil Peak, isn't popular. Nor will it ever be popular. Even as everyone complains about the high cost of fuel, very few are changing anything at all. So the true weight of all this is like a feather balanced on the scales of desire. Obviously, despite the pain, we want to gain.
Just yesterday there was this news story about a very obese woman who was angry with her doctor because he told her very forcefully that her gluttony was going to kill her. Her feelings were so hurt, she filed a complaint about him and he was disciplined by the board that controls doctor's licenses. She didn't want to be told bad news, she wanted to be catered to.
This childish attitude about reality is where things can go off the rails hugely.


King Henry VIII was part of a new movement in politics in his time: the absolute monarch who could defy even the Church and create anything he wanted and he wanted to slough off an undesirable wife and so he started his own religion. He killed more than one wife in his quest for the perfect spouse and he ate like a pig, feeling that there should be no limit to anything he desired.
As his body deteriorated, he suffered from dietary diseases and was increasingly enraged and murderous as reality closed in on him. When his bloated, monstrous remains collapsed, his country was on the verge of collapse. After many struggles, his daughter, Elizabeth I, took over. She was a strict eater because of her loathing of what happened before but she was very vain and her vanities put England into serious trouble repeatedly (refusing to marry was at the top of the list). Her reign was glorious but vain. Everything fell apart upon her death.
The world isn't limitless and the price we pay for our appetites can be severe or even fatal. The recent energy bill passed by the lunatics running this nation was one big fat, vain, ugly exercise in childish denial. It made things significantly worse. One of the things Americans could do to recapture all our money that is flowing out of our pockets now is to tax oil companies heavily.
Instead, we cut their taxes even more!
So all our wealth will slither into the oil companies' hands and they will use it to drive us all into madcap wars as they use American lusts and vain delusions to whip us into neo-fascist wars of conquest to give them control of all the world's remaining oil. They will do this as cheaply as possible, note how they still won't bother with giving our troops armor! This isn't accidental, it is deliberate.
They want us dead, in the end. This is why Cindy Sheehan's quest in Texas, the heart of the oil/ruler conspiracies, troubles them so greatly. They need to direct American anger to the targets they choose and the Antiholy Wars that are raging are a side issue because they also want to kill Christians in Venezuela (and Mexico and Canada!) if this is needed in order to control world oil.
In other words, we took over OPEC or rather, the Saudis and Bush have conspired to change America into the OPEC strong arm enforcer. The entire world is mad at us for this. This is why we are increasingly unpopular. We parade our gluttony and vanity by the mere fact that we are growing huge, massive, our massive cars aren't disappearing, we cling to them just like we cling to our lust to eat nonstop. We don't want any limits.
This week, Chuck Hagel, a Republican Senator who wants to be President, talked about changing our approach to oil by conserving and using alternative energy systems. Unlike me, when I talk about this, I am bracing and full of confidence, and I tell everyone, change isn't bad for us! It will probably save us from ourselves!--he looked scared. Like he was giving us medicine without the sugar.
Well, we don't need sugar. We need the bracing effects of a dash of bitter medicine. It won't hurt!
Hagel won't go far with this. He can't ask for belt tightening when the very rich want to lord it over us. Like Queen Elizabeth's successor who wanted to ape his family's bad habits, the reaction can be severe. This is what the Puritan ethos was all about! The commoners chopped off the head of the king! The English went on to create an empire and was able to go back to wild spending, unfettered appetites which still run strong today in the royal family. Despite the death of the empire, they live as if they rule the earth, which they do, via the American oil companies. Like the Saudi royals.
Limits are coming! The earth isn't a ball of oil!
When the limits come, it won't be pretty. I expect American lust and gluttony to drive us to use nuclear weapons to reduce competition and gain power over resources. The desire to pull that trigger to get what we want, the outlaw ethos, is very strong and will grow stronger.
The greatest temptation is always the powerful abusing the weak. Ask any child molestor.
Ask any ruler.
LET THERE BE LIGHT....NOT
By Elaine Meinel Supkis
It never seems to end, the inhumanity, the incompetence. Already, I have posted here stories about how Bush travels in a bubble that turns on the lights where ever he or Cheney goes and then they flicker out again after they pass through. The tragedy of this Potemkin light show is obvious and sickening.
But it always gets worse, doesn't it?
From the Hattiesburg American:
Shortly after Hurricane Katrina roared through South Mississippi knocking out electricity and communication systems, the White House ordered power restored to a pipeline that sends fuel to the Northeast.

That order - to restart two power substations in Collins that serve Colonial Pipeline Co. - delayed efforts by at least 24 hours to restore power to two rural hospitals and a number of water systems in the Pine Belt.

At the time, gasoline was in short supply across the country because of Katrina. Prices increased dramatically and lines formed at pumps across the South.

"I considered it a presidential directive to get those pipelines operating," said Jim Compton, general manager of the South Mississippi Electric Power Association - which distributes power that rural electric cooperatives sell to consumers and businesses.

"I reluctantly agreed to pull half our transmission line crews off other projects and made getting the transmission lines to the Collins substations a priority," Compton said. "Our people were told to work until it was done. "They did it in 16 hours, and I consider the effort unprecedented."
So, getting water to the hurricane victims was a low priority item, getting electricity to two hospitals whose patients were dying was low priority.
Keeping people from standing in line with their gas guzzlers and stopping price gouging by restoring the gas feed line...top priority!
Gah. This, dear readers, in a nutshell, is what the "Great Die-off" is all about. Servicing the ever smaller pool of energy users while killing off the weak and powerless is what it is all about. Already, the gas we pump in our cars ought to be stained bright red to represent the dead bodies of those unfortunate people living on oil rich lands or fighting to steal this oil.
Indeed, in Iraq, due to the hurricane and the troops being very near muntiny now, the troops are in near "lock down" mode, hoping to limp along which is why the death toll within Iraq has shot through the roof, hundreds being blown up each day now, the attackers operating more and more in the open.
&spades From WLTV:
Frustration is growing among more than 100 sidetracked truck drivers who set out with water and ice for Hurricane Katrina victims but were diverted to a Federal Emergency Management Agency staging area in western Maryland.
FEMA spokeswoman Deborah Wing told the Cumberland Times-News on Thursday that the trucks were moved to Cumberland for possible response to Hurricane Ophelia after water deliveries to the Gulf Coast outpaced demand.

"We are accommodating them as much as we can," Wing said in response to complaints from some drivers and their federally contracted employer that they didn't know why they were in Cumberland or how long they would be there.

Driver Bill Lutz said he and the other drivers felt lost.

"I asked this morning, 'Are we going to follow the hurricanes until the end of the season?'" Lutz said. "I sound angry, and I am, but I hate inefficiency."

Speaking to a reporter Thursday at the Rocky Gap Lodge & Golf Resort, where drivers were taken aboard local school buses for showers, Lutz said his odyssey began Sept. 6 when he left Wisconsin with a load of water and ice for Meridian, Miss.
He said he arrived on time but was told not to unload; instead, the drivers were sent to Columbia, S.C. Barred from unloading their freight there, they were directed to Cumberland, arriving Wednesday evening, Lutz said.

Angie Breckenridge, logistics coordinator for North Carolina-based Vondrak Farms Logistical Services, has been managing the deliveries for the U.S. Army Corps of Engineers through FEMA. She told the Times-News that other drivers were dispatched to Allentown, Pa., and another 30 were sent to Missouri.

"I can't get anyone to answer my phone calls," she said.
Time to either deport Chertoff to his home country or arrest him. This lunacy is ridiculous. No one was calling for help from hurricane Ophelia but many thousands were begging for help NOW from Katrina. You service those who are in line first, dudes! Indeed, one can see that Bush and his crew are more frightened of red staters getting riled. New Orleans voted Democratic so they don't count, obviously.
&spades From Business Week:

SEP. 18 5:19 A.M. ET Qatar's Oil Minister Abdullah bin Hamad al-Attiyah warned Sunday that OPEC shouldn't raise production just for "increase's sake," saying there were indications that oil prices were decreasing because of low demand.

Ministers from the Organization of Petroleum Exporting Countries meet Monday in Vienna to discuss ways of stabilizing the market after Hurricane Katrina drove prices to new highs -- including possibly raising the group's production ceiling by 2 percent.

The group is widely expected to increase the production ceiling by 500,000 barrels a day.
But previous OPEC moves have done little to ease market fears over supply, however, and any increase is widely regarded as meaningless because it merely sanctions existing production.
Saudi Arabia's Oil Minister Ali Naimi has said he supports a ceiling hike, but that he also did not see demand for more crude. He did not specify the size of the increase.

"We'll listen to the Saudi proposal but we shouldn't increase just for increase's sake," al-Attiyah said Sunday in Doha, Qatar.

Al-Attiyah said the problems with U.S. refineries being offline since Katrina hit were temporary, but the capacity "will take a few months to get back to full production."

"If there's no demand, how will that affect prices?" he said.

With oil prices about 50 percent higher than a year ago and motorists feeling the increase at the gas pump, the ministers have repeatedly said that OPEC is concerned and are doing all they can to keep the market well-supplied and prices stable.

But concern that high prices have weakened oil demand has dampened prices, which had soared above $70 a barrel on concern about production outages caused by Hurricane Katrina, instability in Iraq and the upcoming winter season.
It is most amusing seeing article after article in the regular press including yesterday's rash of articles, all screaming that OPEC will pump more oil so we don't have to wait in lines to fill the bellies of our beasties, those monstrous SUV/trucks that we love so dearly (more than we love our fellow Americans, that is certain!)
This is typical of the sort of hysteria one expects to see at the Hubbert Oil Peak. Namely, the price soars, the poor fall out of the bottom of the market, people will probably freeze to death in the coming years, the poor will be increasingly without either food or transportation to poor paying jobs and the price will fluctuate wildly depending on any set of factors, mostly upwards.
It will be like starting a car in a very cold winter, the starter making the engine cough and die, cough and run then sputtering out.
&spades Now, lastly, about the mosquito spraying. Some idiot had this bright idea that to save the nonexistent population of New Orleans that has been scattered to the four winds, they should spray the city to kill mosquitoes because of all the stagnant water.
The water, of course, is covered with a pretty thick coating of oil and gasoline! In the old days, they used to put a layer of oil on water, I even remember this!--to prevent mosquitoes from using it to hatch larvae. So I seriously doubt there is any need to spray anything. And lo and behold, here is an article about that!
From Promed Email
Report On Mosquitos - Post Hurricane For New Orleans

US Military Actions On Mosquitoes After Hurricane Katrina, New Orleans

By Dean L. Winslow

I served as the US military coordinator for public health and force protection for the combined National Guard task force performing rescue and relief operations in the 13 most heavily affected parishes from 5-15 Sep 2005. Our major logistics hub was being built up at NAS New Orleans, across the river in Belle Chasse, Plaquemines Parish. All 14 000-plus Guardsmen being tasked to go out into the parishes to provide SAR, security, and infrastructure rebuilding passed through Belle Chasse on their way to the Area of Operations (AO). The base also became home to over 4000 military personnel involved with the logistics, command and control and support functions.

Early on, one was struck by the eerie silence and absence of birds as well as seemingly few adult mosquitoes. Since the parish-based vector control systems were not functioning yet, and the civilian contractor responsible for vector control on base had evacuated, we needed to rapidly assess and control the situation.

US Navy SeaBees came in to remove debris and eliminate as much standing water as possible. In addition, Navy and Air National Guard military public health technicians examined undrainable collections of standing water for mosquito larvae and pupae and found none. Light-traps placed around the base early on showed relatively low numbers of adult mosquitoes, but as many as 9 different species were present in one trap.

Louisiana DHH working with an entomology consultant from CDC coordinated with us and prioritized aerial spraying of the most heavily affected parishes, which began last weekend and is continuing.

Dean L. Winslow, Col, MC, CFS
Delaware Air National Guard
deanf015@yahoo.com
Indeed, New Orleans will be lucky if anything can live or grow, besides slime, in the flooded areas for quite a while. Want to kill a tree or lawn?
Pour oil on the ground. Works like magic.
GULPING GULF OIL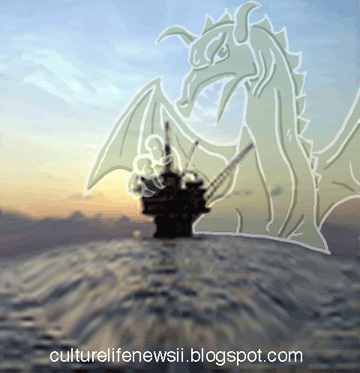 By Elaine Meinel Supkis
They overshot their goals. The oil men. They wanted to put Bush in power so they could double or even triple their profits but Bush's bad luck and clumsy handling of the ship of state has brought unbelievable wealth into the hands of the oil sellers. All of them, the traders, the pumpers, the lease holders, the refiners and movers, all are unbelievably rich.
And they got dispensations and tax cuts, why, just two weeks ago, they got a big present from Bush's energy bill which shovels even more money into their maws.
Fed up with price gouging and federal inaction on energy, four out of five Americans - including 76 percent of Republicans -would support "a tax on the windfall profits of oil companies" if the resulting revenues were devoted to alternative energy research, according to a new Opinion Research Corporation (ORC) national opinion poll conducted for 40mpg.org (http://www.40mpg.org) and the nonprofit and nonpartisan Civil Society Institute.

Other key survey findings include: nine out of 10 Americans (87 percent) think that oil companies are gouging gasoline consumers today; four out of five adults (81 percent, including 74 percent of Republicans) say the federal government is not doing enough about high energy prices and America's over-reliance on Middle Eastern oil; almost three out of four Americans (73 percent) believe that recent gasoline price hikes now make it more important that the federal government impose higher fuel-efficiency standards; and four out of five adults say that U.S. automakers should follow the same path as Toyota, which intends that "all of its new cars going forward will use fuel-saving hybrid technology."
Japan has no oil so this is not good, letting oil run up in price so fast. Russia sells oil abroad so they love the high prices. It is giving them a great boost. Ditto Iran.
But all is not well.From TV New Zealand:

More than 100 armed militants on Thursday stormed a US-operated oil platform in Nigeria, the world's eighth largest exporter, in response to the arrest of a militia leader.

Armed with assault rifles, fighters in speed boats invaded the Idama platform operated by Chevron in the southern Niger Delta, while in the capital a judge ordered Mujahid Dokubo-Asari to be held in jail for two weeks pending treason charges.

"Eight boats, each carrying 15 armed people, occupied the Idama flow station. Six government security forces had their weapons taken from them," a source close to Chevron said.

"Apparently the militants are now heading for more stations. The situation can only get worse."

Only 8,400 barrels per day were shut down at Idama, Chevron said, but industry officials said the impact could rise dramatically if the attacks spread.

Commanders of Asari's Niger Delta People's Volunteer Force (NDPVF) threatened to blow up oil facilities across the delta, which accounts for almost all of Nigeria's 2.4 million barrels per day production, unless their leader was released.

"We are going to blow up all flow stations and pipelines from Warri to Calabar if Asari is not back in 48 hours," said Dakuro Princewill, a NDPVF commander, in reference to the eastern and western extremities of the vast wetlands region.
Last month, in Equador, this same sort of thing was happening. It isn't happening in Venezuela because the oil there was captured by the populace so the oil companies can't pump at will and give them nothing like we are doing in Iraq, of all places.
More oil pipelines were blown up this week. This is never, ever, ever reported in the USA which is also why Robert Fiske isn't allowed to visit "the Land of the Free and the home of the brave." Now for really bad news, everyone. I will make this as clear as possible. From Le Monde, France:
"Le pétrole, c'est comme une petite amie, vous savez depuis le début de votre relation qu'elle vous quittera un jour, résume M. Birol. Pour qu'elle ne vous brise pas le coeur, mieux vaut la quitter avant qu'elle ne vous quitte." Aussi adresse-t-il un double message aux pays consommateurs, beaucoup plus ferme que dans le rapport annuel publié à l'automne 2004 : "Economisez l'énergie, économisez le pétrole ! Et diversifiez-vous, s'il vous plaît. Sortez du pétrole !"

Pour Claude Mandil, directeur exécutif de l'AIE, "il y a bien un problème si on se limite au pétrole conventionnel" . Il rappelle cependant que le brut non conventionnel (offshore profond, sables bitumineux du Canada, huiles lourdes du Venezuela...) offre des perspectives prometteuses. "Je ne suis pas alarmiste sur les ressources globales, poursuit-il, même si nous serons de plus en plus dépendants d'un nombre de pays de plus en plus réduit" , comme l'Arabie saoudite, l'Iran, l'Irak, le Koweït et les Emirats arabes unis. Le patron de l'AIE se dit en revanche "alarmiste sur le changement climatique" qui se profile.
OK, got the message? Pleeeease diversify energy systems! Use petrol more economically!
For non Frenchies, here is the English version: From Truthout:
"Oil is like a girlfriend - you know from the outset of your relationship that she'll leave you one day," Mr. Birol sums up. "So that she doesn't break your heart, it's better that you leave her before she leaves you." Thus he addresses a double message to consuming countries, one much firmer than that in the annual report published in the fall of 2004: "Economize on energy; economize on oil! And please diversify! Get out of oil!"

For Claude Mandil, Executive Director of the IEA, "there's certainly a problem if you limit yourself to conventional oil." He reminds us, however, that non-conventional oil (deep offshore, bituminous sands in Canada, heavy oils in Venezuela ...) offers promising perspectives. "I'm not alarmist about global resources," he continues, "even if we are more and more dependent on an ever more reduced number of countries," like Saudi Arabia, Iran, Iraq, Kuwait, and the United Arab Emirates. On the other hand, the IEA boss characterizes himself as "alarmist about the climate change" that is shaping up."
I like it better in French. Of course, viewing oil as one's lover is better than viewing it like a pig looking at swill.
Now, our dear rulers, in between fucking with Girl Friend Olive Oyl, want us to not be restive natives so they watch and gage carefully just how much they can squeeze from us without us reacting unfavorably. This is a delicate operation. From the BBC:
Finance ministers from the Group of Seven leading industrialised nations are meeting in Washington to discuss the economic impact of high oil prices.
At about $66 a barrel, crude prices have risen more than 50% this year.

At Friday's meeting, they are also due to consider enlarging the group to take in major emerging economies such as China, Russia and India.
I would suggest the actual meetings will be very different. According to my Chinese news, China is going to be a "guest" at the meetings and will discuss the delicate relationship between Hu and his fickle mistress, Bush. Bush wants more money. Being a careless whore, he blew through all the money his sugar daddy gave him and now he needs much more.
He has oil. Lots of oil. China wants this oil to be cheap but not Russia. But China is willing to pay Russia more if Russia sells them military stuff but it is even better to get America to sell this military stuff. So many choices! Eeny meany miney moe.

About half that production still hasn't been restored since Katrina hit, and further damage is possible from high seas. So while oil futures were showing some relief, analysts said prices would stay volatile.

As was seen after Katrina, that energy shock could be felt across the full range of businesses and consumers.

Two major airlines, No. 3 Delta Air Lines and No. 4 Northwest Airlines, were forced to file for bankruptcy after Katrina sent jet fuel prices soaring.

And while analysts said they don't necessarily expect other major airlines to file bankruptcy they couldn't rule it out, especially if jet fuel prices stay high longer they did after Katrina.

But it's not just transport companies that will see problems from higher energy costs.

No. 1 aluminum maker Alcoa (Research) warned third-quarter earnings would be as much as 39 percent below Wall Street estimates on lower aluminum prices and higher energy and raw-material costs -- news that sent its stock skidding Friday.

The hit to earnings
And further earnings warnings are likely in coming weeks as companies start to close their books for the third quarter and look ahead to fourth quarter costs and revenue.

"All these companies are getting hit by (natural) gas," analyst Charles Bradford of Bradford Research/Soleil Securities told Reuters, speaking about the metals industry. "The problem is we know what they are getting hit by but it's impossible to put a number on because you don't know (about long-term fuel contracts)."
The snake has swallowed a goat and it will take a long time to pass through the digestive system.
Is this the beginning of the Hubbert Oil Peak?
I would say, not quite.
But we are rushing towards it! The snarly mess in Texas, the evacuation of a city using SUVs and pick up trucks, was a total farce. I saw Sen. Cronlyn crowing about how great it was, only a few dozen needless deaths...but this wasn't due to cleverness but to the fact that we don't know what is going on yet in many places because it is still a violent storm there, and the simple fact that the storm missed the city unlike Katrina! Duh.
Lady Luck rolls her dice and calls the shots yet again. The gas guzzlers made evacuation nearly impossible because they take up too much room per capita, they use up way too much gas, I can drive 40 miles per gallon while 90% of the vehicles I saw on the news were 15 mpg or less clunkers! And you can't use airconditioning when stuck in traffic or when trying to conserve gas to get somewhere.
This need to live inside a perfect bubble is creating the monster that is tearing out our shells from the outside! We can weave and dodge only so long before She delivers the knock out punches. As our cars became bigger and bigger bubbles, we expanded to fill them, growing very fat and inert. The more we move around with cars, the more we look like the bubble we live in.
When it is very hot, the act of turning on airconditioners makes the air fouler and fouler and it raises the outdoor temperature, go feel the air coming out of the exchanger that cools the air inside. Ouch.

We are in a race against time and in the end, we are doomed to lose unless we renounce living in a bubble. Maybe we should all live in tents..heh. I did, for years and years.
BIG RIGS IN BIG TROUBLE
By Elaine Meinel Supkis
Right smack in the middle of Hurricane Rita, the mass media and the Bush machine and everyone connected with all the conspiracies and horrors that have overwhelmed America this last five years went into high gear, lying. Unlike Katrina that caught them with their panties around their ankles, this time they had all their levees and defenses up and ready to go. "No damage, no casualties!" they all crowed in a loud chorus even as Rita's bulldozer was flattening huge swaths of buildings and facilities and killing people.
I said during the hurricane, they are lying. And those bastards did lie and why does anyone go to them for information?
I got censored by NOAA over some of my hurricane postings, you know. Big Brother is a big bother! They don't want you to know squat diddly, especially how drought/hurricanes interact and why they are twin indicators of global warming!
So...here is the news, we already know that Houston was spared terrible annihilation by the quirk of the hurricane going to the east but all the talk on TV and radio about how it spared the oil fields was pure lies. I saw myself how they showed Houston's far fewer wells untouched and shouted, "See, no damage!" but there are ten times more wells and rigs where the eye of the hurricane actually passed and guess what?
Hurricane Rita has caused more damage to oil rigs than any other storm in history and will force companies to delay drilling for oil in the US and as far away as the Middle East, initial damage assessments show.

Oil prices eased on Wednesday over concerns that demand for crude would be hit by the continued shutdown of refineries. US crude fell 27 cents to $64.80 a barrel by 06:444 GMT after losing 75 cents on Tuesday.

ODS-Petrodata, which provides market intelligence to the offshore oil and natural gas industry, said it expected a shortage of rigs in the US Gulf this year.

"Based on what we have right now, it appears that drilling contractors and rig owners took a big hit from Rita," said Tom Marsh of ODS-Petrodata. "The path Katrina took was through the mature areas of the US Gulf where there are mainly oil [production] platforms. Rita came to the west where there is a lot of [exploratory] rig activity."

Ken Sill of Credit Suisse First Boston said: "Early reports indicate numerous rigs are missing, destroyed or have suffered serious damage and several companies have yet to report. Rita may set an all-time record."

The US Coast Guard said nine semisubmersible rigs had broken free from their moorings and were adrift."
This is from the European news! It wasn't headlines in America. Robin, one of our readers, emailed this story to me. Thanks a great deal! I really appreciate it.
Earlier in the day, Ali Naimi, Saudi Arabia's oil minister, said the market had not taken up the 2m barrels a day of spare capacity the Organisation of the Petroleum Exporting Countries offered last week. Speaking in Johannesburg, he blamed high oil prices on a lack of industry infrastructure, including rigs and refineries, rather than oil reserves. Rigs, which are movable and are used for exploration and development, were in short supply before hurricanes Katrina and Rita blew through the US Gulf in late August and September.

High oil prices and the desperate search for new oil supplies needed to meet rampant demand from the US and China have made rigs difficult to find and expensive to hire. Rigs cost $90m-$550m to construct, depending on how sophisticated the structure and how deep the water in which it will drill. A rig ordered today is unlikely to be ready before 2008 or 2009, analysts said.
Of course, with oit prices soaring, everyone is treasure hunting. Of course, this is merely one more very strong indicator of being at the Hubbert Oil Peak. A peak is when everyone is pumping oil like mad, the existing wells go down much faster than in cheap oil times because everyone ones to make as much money as fast as possible and so, instead of hanging steady and conserving and being careful, a free for all ensues as everyone tries to get or use as much as possible as fast as possible.
This is why car mileage is so terrible now. Fifteen years ago, the cheapest cars were also very efficient. 50mpg! Now the cheapest cars are all gas guzzlers, even the small ones don't get the milage small cars got fifteen years ago. Expensive cars get the same milage my cheap-o Geo Metros got but whoopee doo. They cost an extra $12,000! So lower income people have to buy the gas guzzlers so they get hit coming and going.
Around 50 rigs now have disappeared or are so damaged they are useless. The backlog for rigs is enormous so few will be restored for years. Indeed, some had their blow out pipes destroyed so they are leaking oil or gas. The pollution from all this is ferocious. Sea life won't recover for at least three generations.
Unlike tankers that sink, oil wells leaking can do this for years and years unless capped and capping them is done only be a small cadre of very hard working, brave professionals. It is a dangerous trade just like building sky scrapers is very dangerous or tunnelling and coal mining. Ergo, it won't be finished for several years. And this is only if there are no more huge hurricanes which flies in the face of predictions of many more such in the next ten years, minimum.
Bush and his cadre have asked us to conserve fuel but has put forwards exactly nothing to deal with this. How will we conserve? Evidently, it is by being priced out of the market and a whole bunch of Americans will soon find themselves locked out of the energy market due to lack of income.
This is a fancy way of saying they will freeze or burn or starve to death in the coming years.