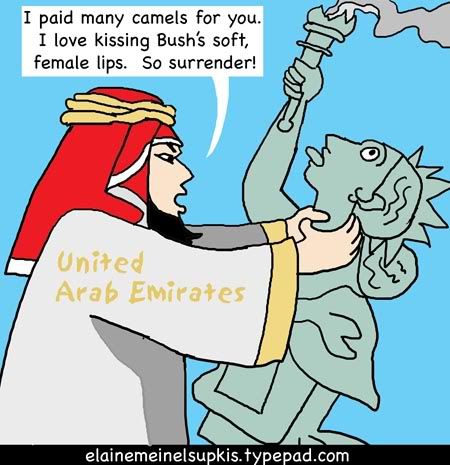 Elaine Meinel Supkis
For the last month, the traitors in the media as well as in the GOP have been screaming nonstop that the UAE is our allies despite their deep involvement in the 9/11 attacks and we should trust them. When the American public still said, "No," to the port sale, the UAE bares their fangs and threatens us.
A number of Middle Eastern central banks said on Tuesday they would seek to switch reserves from the US greenback to euros.

The United Arab Emirates said it was considering moving one-tenth of its dollar reserves to the euro, while the governor of the Saudi Arabian central bank condemned the decision by the United States to force Dubai Ports World to transfer its ownership to a 'US entity,' the UK Independent reported.

"Is it protectionism or discrimination? Is it okay for US companies to buy everywhere but it is not okay for other companies to buy the US?" said Hamad Saud Al Sayyari, the governor of the Saudi Arabian monetary authority.

It didn't take long for these guys to switch from oily used car dealer mode to dark threats! This is exactly why we can't trust them! It is so painfully obvious. As well as infuriating. Throughout the Middle East, all the powers there view our nation as a whore that can be bought and sold on street corners.

No better than a camel, a piece of livestock. They bark orders and we plod along. The Japanese view us the same way. Heck, this is becoming nearly universal. Since we are the world's beggars going from bank to bank, capital to capital, seeking spare change, huge loans, donations, something, anything.

We need money! Now! Lots of it!

And this is why. Bloomberg News:
The House approved emergency funding that includes the military spending last night by a vote of 348-71. The measure authorizes $72 billion for war costs and almost $20 billion for hurricane relief. The Senate is expected to pass it next month.

Congress already has approved $50 billion in supplemental war funding for the current fiscal year, which ends Sept. 30, after spending $100 billion last year. To date, Congress has approved about $337 billion for the wars since Sept. 11, 2001.

The administration has said it also will seek $50 billion in war funding for fiscal 2007 to serve as a bridge fund until needs are assessed. That will be on top of the $439.3 billion defense budget the president submitted.

The request the House approved last night includes $67.6 billion for war operations, much of it in costs for personnel and repair and replacement of equipment; about $4.9 billion to train and equip Afghan and Iraqi security forces; and about $2 billion for defenses against roadside bombs, which have been a leading cause of death for U.S. servicemen in Iraq.

Good grief. Just look at those numbers. Congress raised the debt ceiling nearly a trillion dollars and you can bet, they will have to do this again in less than two years! This level of extreme carelessness has opened our nation to deep penetration by hostile entities who are not our friends or neighbors. Why do we want this?

We just handed over the trigger for war to Israel with Bush's open declaration that anyone fighting Israel will be fighting us and Israel has a long history of provoking wars!---Now we are to hand over the security of our ports to people who don't wait even three weeks to dish out threats and blackmail?!

America's rulers have been in bed with the wrong foreigners for far too long. This is patent antiamericanism, this is very definition of "traitor"! Traitors sell their homelands to foreign princes! Our very Founding Fathers were so disturbed by this possibility they included it as a reason to remove anyone from office!

So why aren't all these traitors being impeached?
Hard to do when they are the majority in office. The free-for-all firesale of American security has sucked in nearly our entire political system. Cleaning up this mess will be well neigh impossible under present circumstances. The first step is to recognize "what is a traitor" and then work off of that. One can work with allies without selling out one's home nation. There is a simple rule: "Is this good for the USA?"

The answer to that is also simple. What is happening now, in trade, in finance and in diplomacy, is hurting the USA. The proof is the tidalwave of red ink on every ledger. Trade. Tax revenues. Sale of assets.

All other countries should do the same, by the way. The path to friendship and good relations is to have equal partnerships. Thus, the need to dismantle the American Military Empire.