Elaine Meinel Supkis

Panic and hysteria continue as markets react wildly to any news tidbit. It seems obvious now that the US government and the Federal Reserve will wave their magic wands yet again and save everyone from the messes they made in the first place. Does this mean reforms? HAHAHA. Nope. It means more funny money! And more than one reader has sent me emails with links about how the inflation rate is manipulated. Of course, it is fake most of the time except in one way: it crushes people on fixed incomes and the weaker members of the working class as will as being the chief engine behind our ballooning trade deficit.
"The president will discuss a number of initiatives and reforms intended to help homeowners with subprime mortgages keep their homes," the official said. "He will also discuss reform efforts to prevent these kinds of problems from arising in the future."

Bush will direct Treasury Secretary Henry Paulson and Housing and Urban Development Secretary Alphonso Jackson to team up to help troubled mortgage holders get the services and products they need to avoid defaulting on their loans, the official said.

He will also push Congress to pass Federal Housing Administration legislation that will give the agency more flexibility to assist mortgage holders with subprime loans, the official said.

A profound misunderstanding what is going on infects everything. The manipulations needed to deal with the effects of previous easy-money, funny-money loans won't fix anything. What this does is push forwards the date of the collapse of the American empire. The US has had this long propaganda story that our economic system is superior to every other system on earth. Such as socialist systems, for example. We point to our homeless, the millions living with no health insurance, the widening gap between rich and poor and yell, 'Land of opportunity!'

This ideological stance is part of the problem for in order to justify the present regime here, it has to appear to be a wonderful advancement for humanity and a shining example all must emulate because it is good. When the US won WWII and we did win it, nearly totally, the US was the only intact major manufacturing base left in the world. Russia's military triumph was nearly as great except their home base took a huge hit in WWII and thus, they started an ideological war with the US, the other victors, starting at a much weaker base. The wealth we earned from WWII and its aftermath when we wisely decided to revive world trade and help our trade rivals rebuild, was considerable.

When our revived trade rivals became stronger again, two things dragged the US off of its great triumph and record accumulation of wealth. One was the Korean and then the Vietnam wars and the military build-up of the Cold War. The other was the need to prove the communists wrong and the tool for this was to develop 'consumerism' and wave this as the flag of Capitalism's Triumph.

The kitchen debates between Nixon and Khruschev was the opening shot in this ideological struggle. Nixon was VP back then and he pointed to the consumer goodies Americans were buying thanks to consumer loans and cheap loans on housing. Our nation, that didn't get invaded nor had any cities annihilated from the air, was on a housing boom binge. And on top of this, was spending like crazy on consumer items such as the new-fangled TVs, for example. I remember my parents getting the first one in the astronomer community at Yerkes Observatory. Everyone came over to watch until all the families had a TV.

Back to these debates: Khruschev couldn't show the advantages of socialism because Russia was not a true socialist state but was a classic dictatorship that tried to imitate true socialism just as Naziism was a preversion of socialism because it coupled it with ethnic cleansing and racism. The advantages of socialism are collective. The advantages of capitalism is individual. For example, all my life, I prospered from capitalism but both my husbands ended up disabled due to work so the para-socialist sectors of our system allowed me to nurse both of them instead of throwing them out to die and struggling on by myself. Socialism makes nations stronger because it ties everyone together and to survive no longer is a dog-eat-dog world but is a group effort. This strengthens a nation's purpose and moves it forwards as a unified front rather than being a home base for pirates out to loot not just the world but the home base.

The triumphalist capitalist consumerism of the post-WWII United States created a mindset that we call 'shop until you drop'. In early 1960's cartoons like the 'Flintstones', Betty Rubble and Wilma Flintstone would grap ahold of their husband's credit cards and yell, 'Charge it!' as they rush off to buy knick nacks. I would date the beginning of the Great Credit Bubble to the year this happened which was about 1962. The other force at work was Christmas. In my granddaddy's day, it was a small affair. One ate a feast and went to church. And if one was a good boy or girl, the parents would buy a 'Christmas Book'. I have a number of these, they have 365 days of reading fun and actually, they are really nice books! I love them. Lots of science material, projects to do, inside looks at how things work and stories from around the world as well as the rememberances of past times. Also, a child might get a Noah's ark or marbles or a baseball mit. The limit to toys was about 2 per child for the upper middle class.

When I was a child, this was our limit, too. Even so, my grandfather would grumble about spoiling us. If I wanted things, I had to earn it and I wasn't poor at all. Earning money was easy, I worked for my parent's upperclass neighbors and friends. By the time I was 16, I could buy my own clothes and my own vehicles. The hysteria about raining gifts on Christmas coincided with the ideological debates with Russia and the invention of TV which, unlike the radio, could show wonderful ads for buying all sorts of things. So Christmas grew into the ugly monster it now is, the buying of gifts for children went totally out of control and the need to make Christmas a huge consumer orgy has risen higher and higher, egged on by TV. I remember when they began the 'Scrooge' hysteria. It was a socialist story whereby the rights of workers were shown to be moral, a radical notion in the hard economic times of early industrialization! But reworked by Hollywood which worked alongside the government in re-inforcing propaganda (yes, they were and still are, often an arm of the government), the Scrooge story morphed into a story about greed being shared rather than socialism bringing together the capitalist and the worker!

Tiny Tim is very much in distress today since 50 million Americans are without health insurance! I hope this long epilogue isn't too wearisome but this leads into today's astonishing news that the US will fix the present housing boom mess by...dropping interest rates. There are lots of misunderstanding of inflation, interest rates and how they have, in tandem, dug the US into the present hole we are in and this hole is as deep as a hole can get, it goes all the way to China. We are in deep debt to all our trade rivals and some of them are our former enemies in WWII. We are going bankrupt thanks to our ideology of consumerism being superior to socialism.
The focus for financial markets will be a speech Bernanke is due to give at the Fed's annual symposium in Jackson Hole, Wyoming at 10 a.m. ET.

Bernanke is set to speak about monetary policy and housing. Investors will be looking for clues as to whether the Fed plans to cut the target for its key short-term interest rate soon.

Traders are hoping for a rate cut, which could give investors a boost of confidence and help restore calm to the markets. But there are concerns the Fed will keep its focus on containing inflation and not bail out investors.

Of course, rates will be cut. There is no connection between rates and inflation. There hasn't been a direct connection since 1962 when Wilma and Betty yelled, 'Charge it!' The Fed and our government have to pretend there is a connection but this is all propaganda. Since the two were divorced long ago, an astonishing thing has happened that isn't astonishing at all: the US has gone deeper and deeper into debt, faster and faster. We are now totally in debt, debts outstrip savings, our equity in our assets has totally collapsed, there IS NO MORE EQUITY. Now we are in a crisis due to the severing of interest rates from inflation and will Bernanke fix this?

Of course not! He cannot. They will assissinate him. He is a front man for the guys peddling consumerism. He has to continue the consumerism forever. Only this is physically impossible. The US often boasts that we are the consumers of the world's goods and we do consume a lot compared to all other nations! But this is killing us, financially as well as morally. We are making a series of consumerist choices that are destroying our standard of living, our health and safety and of course, our empire.

Again and again, in the news are stories of poisoned Chinese toys for Santa to bring to our children. US corporations like Mattel didn't question what went on in the satanic mills in China, they wanted to make profits and they knew that selling toys in huge volumes meant selling to Americans whose wages have been stagnant or falling so they had to keep dropping prices in order to lure Betty and Wilma into stores. Easy credit for China and Japan insured that Wilma could buy toys and appliances while Fred could buy Toyotas. I watched the news last night and all the auto dealers are advertising 0% loans from Japan and $4000 off on American trucks with loans from China, I suppose. GM no longer owns its loan operation which made money for them. They sold it to a hedge fund consortium.

Consumerist ideology needs 0% loans. Badly. The closer one gets to this, the happier it is for the consumerist ideological program. Only this has been hijacked by our trade rivals! Japan has given us near 0% loans for years now! During that time, we consumed and Japan has consumed our auto industry. Toyota is now on top and still rising, faster and faster. The more we need 0% loans, the more Toyota will triumph!

Why is this? Well, Japan is the anti-consumer society. It used to be semi-socialist but they dropped that for Stalinist rule. The LDP has strangled the ability of the Japanese consumer to either yell, 'Charge it!' or to shop for cheaper goods. Fortress Japan has turned life into hell for Bettysan and Wilmasama. Both now have to play the FOREX markets in order to do some shopping later! And both bet against the yen, driving it lower than the dollar. This is a vicious cycle. And like all yin/yan pendumlum events, it grows greater each year, the dynamics are increased as both Japan, China and the US struggle to maintain the status quo which is totally unstable and terribly bad for the US in the long run!
Freddie Mac, the nation's second-largest buyer of home mortgages, said Thursday its second-quarter profit fell 45 percent, partly as a result of larger provisions for bad loans.

The government-sponsored company said it earned $764 million, or $1.02 a share, for the three months ended June 30. That contrasted with profit of $1.4 billion, or $1.93 a share, a year earlier.

Bush and Bernanke will want to plop this mess into the laps of the tax payers. Only the political dynamics here have been for consumerism paid for via IOUs and this includes our government which has been running in the red for a very long time, since our first currency collapse in 1974, it has increased right alongside our trade deficit which took off after that point. The currency collapse was supposed to increase our trade advantage but we can now see that this is false: there is NO ADVANTAGE to dropping the value of the dollar if we undo it by having fake interest rates so we can encourage consumerism!

The lower interest rates always wins out over the cheaper dollar. Always! And we are trying this again. And do note that the dollar is NOT weak against the trading partners who are giving us the super-cheap loans! DUH. This is now painfully obvious. The US either commits group hari-kari or we stop this cheap loan game and begin rebuilding our nation on different principles. I don't want Victorian capitalism which was based on a very violent form of imperial invasions of other manufacturing bases (thus, WWI and WWII) but instead, I am suggesting increasing SOCIALIST CAPITALISM is our only hope.

We are already near that in a negative sense: our military/industrial complex is anti-competitive as well as very expensive. The Pentagon eats up over half a trillion a year. All of this, red ink. We are rapidly becoming a clone of the Soviet Union which was mostly military manufacturing using state funds. China is now spending more on their own military and the US is worried about this yet this is due entirely to the US needing China for getting rid of our inflation so we can say there is no inflation and ergo, we can grant ourselves cheap loans. Which causes housing bubbles which we plan to fix by offering ourselves even cheaper loans which means we need China more than ever.

There is a big push going on for changing our inflation statistics to reflect housing bubbles. This is all very wrong-headed and anti-socialist, I must explain the errors of this thinking and why it can't be fixed by incorporating the price of housing.
As you can see, the year-over-year change in home prices has gone from almost 20 percent a few years ago to low single-digit negative numbers just a couple months ago. During this time OER has remained flat by comparison, effectively taking home prices out of the consumer price statistics.

So, what would happen to the consumer price index if real home prices were substituted for the much maligned OER?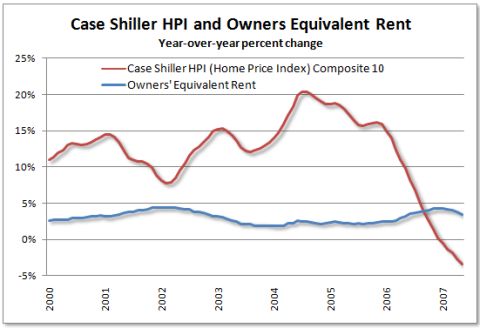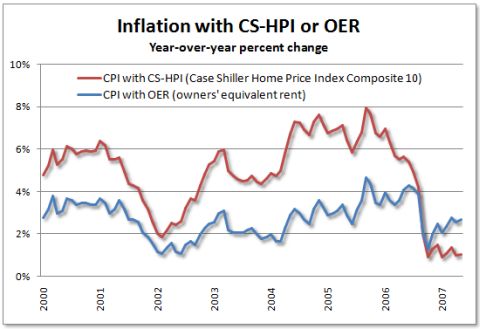 Setting interest rates based on inflation statistics is a con game. Japan has manipulated the statistics of the consumer end of the numbers by crushing the buying power of the masses. If they can't buy anything, prices drop! Thus, the lovely depression the Bank of Japan and the industrialists love so very much, they will move heaven and destroy the world's banking system in order to keep the world's #2 economy roaring while killing the value of the yen. This regime is so vicious, the population of Japan is falling and they don't care. I hope the government falls but the LDP dictators are using every trick in the book to keep in power. Including violent moves via the right wing nationalists and the Yakuza.

The entire US didn't have housing inflation. Every year, in good times, housing values do rise around, say, 3% if the GNP rises this much. But the hyper-hikes in housing prices was due entirely to the Federal Reserve dropping rates to 1% when inflation of consumer NEEDS were rising and have been rising. Namely, food and fuel. This is quite simple: people normally don't buy houses but maybe three or four times in their lives. If that. But they buy food and fuel every day. Same with health care: not only should that be given great weight in the inflation statistics, it should have a penalty for LOSS of health care. Namely, when people are forced out of the system due to high costs, this is a gross effect of inflation!

Many years ago, my brownstone was in the register for judging inflation. It was chosen long ago under Roosevelt's New Deal. It was kept secret and when I answered the door one day and a Federal Reserve agent was there with his briefcase, asking to talk to me about my purchases, I was floored. Whoohoo! I was part of the process! I planned for his visits every year and we went over the fuel bills, grocery receipts and other things and discussed inflation a lot. I told him, the cost of taxi service, the cost of subway service wasn't enough. Our lighting in our neighborhood collapsed because the City of New York ceased changing light bulbs! That was due to inflation! And my husband was mugged at night and that was due to inflation!

Volker listened and he raised interest rates very high to kill inflationary expectations. America began to stabilize and this ticked off all our trading partners who had already figured out, the road to success was to get Americans to 'Charge it!' So there was a great push all around to party and we got 'Morning in America' Reaganism with its union breaking, free trade and a collapsing dollar yet again. And the red ink in DC redoubled and redoubled again as everyone let loose and inflation returned, always running somewhat ahead of interest rates. For years and years. And proof of this is simple: our debts increased.

Seeking Alpha:
Second, in early 2004, while the Fed funds rate was still only one percent, home prices began to take off - the CPI would have been over seven percent using the Case-Shiller data instead of only about three percent with OER.

In summary, the Greenspan Fed didn't have to take rates as low as they did or leave them there that long.

Home prices were booming during this time and if they were properly accounted for in consumer prices, monetary policy would not have become too easy and stayed that way for too long - what an increasing number of observers are citing as the genesis of the current housing problems.

It pays to remember why Greenspan dropped rates suddenly. He did this in order to enable the Bush tax cuts. With no tax cuts, the economy still had balloons which is what caused the .com bubble and collapse. But even at 4%, the .com bubble grew because the rate of real inflation was higher. When Greenspan raised rates to 6%, the bubble popped. And that would have been the end of it except Greenspan and the Republicans desperately wanted Bush in power so they could feast on tax cuts. So the same week Bush was sworn into office thanks to the Supreme Court ripping up our rights and saying we can't count the votes (our democracy died that day), Greenspan began to drop rates rapidly. When Congress passed the first of the many tax cuts, Greenspan should have raised rates! This is because rates have NOTHING to do with 'inflation' and everything to do with lending money to people so they can consume. If they spend too much on speculation, this leads to bubbles and crashes and the entire excuse for the Fed existing at all is to prevent bubbles and crashes! They said so themselves back in 1913! And the purpose of income taxes was to flatten out the wealth curve so there would not be excess liquidity!

The excuse was, governments would want inflation and cheap loans at the same time so a gang of Federal Reservists would prevent this since they would not be politicians. This foolish claim is obviously a lie. Greenspan not only didn't raise rates when taxes on the speculator class was dropped, Bush also cut taxes to everyone and so there was a consumerist buying frenzy in early 2001 going through to um, June, when it collapsed as the working class found out, their 'tax cuts' were FAKE. They were 'loans' from the government and the next year, would not appear in the taxes one normally got back! ARRRGH. I was pissed off, of course. My children were shocked and annoyed that they had to increase the their withholding taxes to pay for this and the economy went into a tail spin around August, 2001.

We all know what happened next: Bush's ratings were collapsing. On 9/12/1, the NYT, WP and WSJ were going to release the real vote count in Florida and I heard via a reporter in NYC, Gore won Florida. So on 9/11/1, we were attacked. The news media refused to release the numbers showing Gore won by 20,000 votes on top of winning the national popular vote and when they released it two months later, it was massaged to make those numbers vanish, all numbers being magical, of course. And Greenspan massaged the numbers, too. We had the real first shots of the coming inflation with oil prices rising as Putin gained control of the natural resources of Russia which is why oil prices were so low. And the economy here was collapsing so Greenspan said, openly, 'To HELL with the inflation rate, I will drop interest rates to BOOST CONSUMERISM.' This was a group effort for Bush said, 'Go to Disney World and go shopping.' Right when he also said we had to go to war with the entire Muslim universe.

This proves my point that the interest rate has absolutely nothing to do with 'inflation' and everything to do with the Federal Reserve lying about its mission and instead, spending the last 50 years, inflaming consumerism. This latest bout is the stupidest, most moronic example of this process. When Greenspan dropped rates, the US had to expost-facto drop inflation so we did this by turning to China and Japan for help. And the outsourcing of America took off. People groused about the -$50 billion a year trade deficit suddenly fell silent as it shot through the roof. The increase in this deficit from -$50 billion to an astonishing -$800 billion in a mere 4 years is just...incredible. During this time, as it took off, Greenspan kept rates at 1%. Only after handing off the mess to Bernanke, did a shocked Bernanke begin to re-animate the rates back to 6% where it should have been all along only this was way too late and since he had to make it climb in steps, too ineffective.

For the market was addicted to easy rates and adjusted accordingly and this is where the plethora of funding schemes comes in: to keep the balls rolling, everyone had to scheme. People have gotten mad at me when I inform them, there are no 0% car loans. If I come with cash from elsewhere (yes, this is how we buy our cars every ten years), the price drops $2000 to $4000 dollars! The 0% loans are built into the price of the car. So it is with housing: the lower rates were incorporated into the price of the house! Namely, it is painfully obvious that as the ability to buy with standard mortgages dropped as interest rates rose, the schemes to buy forced prices UPWARDS. In other words, to close, the seller and buyer would conspire with the real estate agents to find mortgage brokers who would offer special deals which would raise the valuation of a house in order to get an extra 20% which could then be used for a fake down payment which then qualified increasingly unqualified buyers for lower rates! Another vicious circle in this hell of consumerism!

This led to a frenzy of increasingly ridiculous loan schemes that undid the Federal Reserve rate hikes! But lo and behold! All this collapsed! Many, many loans written only a year ago under these conditions have collapsed. They are now the crisis we face. Did raising interest rates stop this bubble?

NO! This is because banks circumvented the Federal Reserve and went to... hold on to your hankies, everyone...CHINA AND JAPAN FOR LOANS! When China began raising interest rates starting in February of this year, the whole system began to break down JUST AS I PREDICTED (HAHAHA)---I'm always right---because China is no longer lending cheap money to us to spend on housing. And as I said in the past, Japan can't supply all the money so long as China is sucking down 30% of our trade deficits. The system has been fatally destabilized and this is why international banking is now in distress, I will address that later today, big, big news from China.
The present subprime credit crisis can be directly traced back to the BLS decision to exclude the price of housing from the CPI. It is now clear that the "benign" inflation figures reported over the last 10 years in no way reflected the skyrocketing rise in home prices, with states like California experiencing annual home-price increases of as much as 30 percent. With the illusion of low inflation inducing lenders to offer 5 percent and 6 percent loans, not only has speculation run rampant on the expectation of ever-rising home prices, but homebuyers by the millions have been tricked into buying homes even though they only qualified for the "teaser" rates that quickly escalated to unaffordable levels. As long as home prices continued to skyrocket, buyers could refinance based on the increased value of their equity as collateral; but once home prices stabilized and even declined, many families were forced into foreclosure.

If economic history were a required subject in our public schools, borrowers would be aware of the dynamics of such frequent bubbles that have occurred in the past. In 1624 in Holland, frenzied speculators saw that the price of tulip bulbs was rising and rushed to buy them on the expectation that the price would rise even further and they could make an easy profit. Banks were eager to lend money to such speculators, because they, too, stood to make handsome profits. Oblivious to the underlying value of the bulbs, more buyers entered the market, pushing the price of a single bulb to the preposterous price of 3,000 guilders (equivalent to perhaps $100,000 today).

Here is yet another attempt at pretending the housing values were excluded from the stats so this is why we are in this fix. As I noted above, housing values ROSE AFTER the Fed announced a long regime of rate hikes. We all knew the rates would return to 6%! But the one year of 1% rates had set targets in housing very high and developers were going nuts, building, so all this had to continue IN THE TEETH OF A RISING WIND FROM THE FED ITSELF! Loans were backed not from the Fed but from the 'carry trade' money in Asia! The only way the Fed could fix this was with tariffs and barriers aimed at stopping the flood of imports that were flooding into America to keep interest rates down. A vicious cycle. Again and again. This is why struggling when in quicksand means sinking faster.

The Fed is supposed to look after the whole nation's interests but using it to control trade is stupid. No nation did this in the past and the present experiment with 'free trade' is pure insanity and it is coupled with our interest woes. Dropping prices via letting in a flood of imports so housing values can climb is insanity but it can't be fixed via interest rates, the other tools in the national tool box for keeping an even keel are tariffs and barriers. Why did they exist in the past?

Beause they work! DUH.
In 1983, the Bureau of Labor Statistics was faced with an awkward dilemma. If it continued to include the cost of housing in the Consumer Price Index, the CPI would reflect an inflation rate of 15 percent, thereby making the country's economy look like a banana republic. Worse, since investors and bond traders have historically demanded a 2 percent real return after inflation, that would mean that bond and money market yields could climb as high as 17 percent.

The BLS's solution was as simple as it was shocking: Exclude the cost of housing as a component in the CPI, and substitute a so-called "Owner Equivalent Rent" component based on what a homeowner might "rent" his house for.

The result of this statistical sleight of hand was immediate and gratifying, for the reported inflation index quickly dropped to 2 percent. (This was in part because speculators needed to offset their holding costs by renting out their homes while their prices skyrocketed, thereby flooding the market with rentals that pushed down the cost of renting a house or apartment.)

My dear inflation checker from the government vanished in 1982. I was gloomy. 'Reagan is going to toy with the inflation statistics to make it magically vanish,' I said and as usual, was right. We never saw him again. Inflation was cancelled and my savings began the long process of dying while sitting in the bank. I have been pissed about this for many years now. This began the savings and loan debacle which ended in 1987 with another massive collapse in the dollar, the Plaza Accords, the stock market seeing its biggest one day drop in a century and so on. Many elderly people lost everything because they were forced to take their savings out of safe banking accounts and put them in riskier schemes in order to make more than the rate of inflation.

We are exactly in the same fix today! GADS. Will we never learn? Everyone has put money in increasingly risky schemes in order to beat inflation. These schemes, like before, are collapsing. Like the savings and loans mess under Reagan, they began with tax cuts and super-cheap interest rates and the repudiation of Volker's attempt at killing inflation via interest rates rather than imports. And the giant sucking sound of American jobs leaving the country continues, a Niagra Falls of red ink drowning our working class. Fixing this will be very hard. Expecting the Fed and the President to do something sane is insane.
Culture of Life News Main Page