A very old cartoon I did when Bernanke first walked into his new office. I always hated him.
June 15, 2008
Elaine Meinel Supkis

A very special treat tonight! The Washington Post decided to explain the entire housing crisis from the beginning to the end. Since they were party to creating and enabling this mess, they tell nonstop lies about it. What they really should do is run all my cartoons starting with February, 2006. These clearly show that one human in this realm figured out EVERYTHING exactly right! My news service was as clear as a bell and the cartoons from back then are hilarious and frightful because they are so perfectly exact. Not that the WP wants to know this. They hate my guts. So off we go, to laugh it up: the collapse of the housing bubble and the clueless criminals who created this!

Let's review the past today with the Washington Post but first, we should look at an old cartoon I drew back in March, 2006:
The Fed will meet again and raise interest rates even as they discount the sudden downturn in housing since their sole function is to prevent inflation from showing up on business ledgers. Of course, this means co-ordinating Federal fiscal policies with policies designed to kill unions and prevent any workers from ever getting any pay raises no matter how tiny.
This cartoon references to the change China made in their banking relations with the West. They were no longer going to buy our mortgages! This was the beginning of the 'drying up of liquidity' that drove the US insane with fury. We wanted the money to flow back home in the form of cheap loans. But the Fed was being forced into raising interest rates because inflation was beginning to seriously rage out of control. Oil prices in April, 2006, hit a new record of $73 a barrel. Doesn't that sound quaint? That is almost half of what it is this month! But this restriction of money making introduced by the Chinese infuriated the G7 nations that wanted dearly to continue making money for free. As my old cartoon from spring, 2006, clearly shows:
These were some of several 'housing bubble' cartoons I drew from 2005-2008. I will focus only on the four months of March to June which is the time frame of much of today's Washington Post article about the housing bubble bust up. The key parts of this article are several:

The fact that much of the housing bubble was due to ALIENS, often illegals but this detail is glossed over.

The fact that Greenspan had NO IDEA what the hell he had unleashed on us with his 1% interest rate cuts coupled with huge tax cuts sponsored by Bush.

The fact that Bernanke had NO IDEA what the effects of his own actions were concerning the evolving bubble blow up.

My main point here is, someone had a most excellent idea what was going on. I detailed each step of the evolving mess one by one. Did rather a remarkable run of cartoons which were mostly ignored by the general public since the mass media does not exist to enlighten but rather, is a propaganda machine designed to be more like smoke and mirrors and fuzzy numbers. The media exists to LIE about pertinent matters. The biggest lies they can tell is, 'NO ONE could see into the future! NO ONE could figure out how this works! NO ONE could understand it, not even the top economic geniuses could fathom what was going on!'

Well, call me stupid, but it is painfully obvious, if we all read or look at my cartoons from this key critical time frame of when Bernanke took over from Greenspan, I knew PERFECTLY well, what the hell was going on. It was painfully obvious. How could anyone NOT see reality? Or so I would rage on a daily basis. Back then as well as today.

For it is very vital for these criminals to pretend they are dumber than a box of tampons in a men's bathroom. They have to convince us that they are unable to look forwards in time and weigh the future results of their machinations. They seriously need to impress us with the idea that we are all leaves flowing down the gutter and into the drain, they are not the ones who control the fire hydrants that are flooding the streets.

Here is an early March, 2006 story about the housing bubble collapsing that is truly awesome considering that I am not running anything aside from this little blog:
This is inevitable. Seems the home-ATM machine truly is shut down. Just like one can deplete all the money in one's bank account, so can one run up to an upper limit in taking on loans. Loans against the value of real estate are tremendously cheaper than unsecured loans. The merchantile boom was due entirely to this effect. Now it will all crash down.

I did a number of cartoons about the Home ATM machine and this one illustrates how falling wages due to Free Trade and the Friedman Flat Earth New World Order was going to destroy the value of real estate. This cartoon was drawn when the housing price falls had barely begun. It was so far from obvious, most news stories from that time period were all about how there was NO housing bubble and it did NOT pop since it didn't exist. The expectation was, the Federal Reserve would stop raising interest rates and housing would take off again.

But across the planet, the central bankers coordinated the raising of rates and the US, starting from the end of 2004 at a mere 1% rate, had the most to climb! Only Japan refused to raise rates despite obvious global inflation caused by the Bank of Japan's carry trade. Back to the Washington Post article:

Washington Post story about the mortgage bubble: Staff writers David Cho and Neil Irwin and staff researchers Richard Drezen and Rena Kirsch contributed to this report.
Greenspan puzzled over one piece of data a Fed employee showed him in his final weeks [2006]. A trade publication reported that subprime mortgages had ballooned to 20 percent of all loans, triple the level of a few years earlier.

"I looked at the numbers . . . and said, 'Where did they get these numbers from?' " Greenspan recalled in a recent interview. He was skeptical that such loans had grown in a short period "to such gargantuan proportions."

Greenspan said he did not recall whether he mentioned the dramatic growth in subprime loans to his successor, Ben S. Bernanke.

Bernanke, a reserved Princeton University economist unaccustomed to the national spotlight, came in to the job wanting to reduce the role of the Fed chairman as an outsized personality the way Greenspan had been. Two weeks into the job, Bernanke testified before Congress that it was a "positive" that the nation's homeownership rate had reached nearly 70 percent, in part because of subprime loans.

Gads. Mr. Magoo sees better than this dumb duo. Proof of this lies in my cartoons! Here are some from news stories on my blog from the winter of 2006: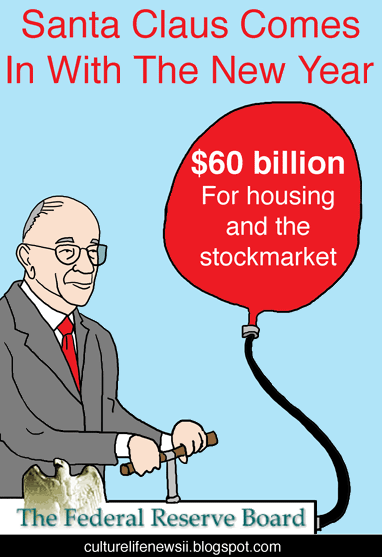 Here is my article with the above cartoon from back when Greenspan was scratching his balding head over all these mysterious things:
So, the government printing presses (all computerized "money", actually) injected $60 billion make believe bucks into the system this week in order to reinflate the stock and housing markets! What happens next? Wouldn't you like to know!

Note that I drew Greenspan pumping a bubble bigger and bigger. The machine he is using for his pump is the Federal Reserve Board. Note the quaint amount he pumped into the system causing greater inflation: a mere $60 billion! Today, the Fed pumps in trillions and then marvels at the inflation this causes!

Bernanke, the same month he took over this mess, was very loud about how all was well. "The economy is on track", he assured us. I quickly drew the above cartoon and snarled, 'Bridge out!' Note that in the WP article, Bernanke assured Congress that the 70% home ownership rate that included an army of illegal aliens, we very good for America. Now, I have this ugly habit of talking about verboten things. Throughout this housing mess, few people dare to shine a light on the dark topic of how many illegal aliens bought houses. The majority of people who vanished swiftly and left the keys behind are from this group. This is vital for the US to talk about this since it is one of the huge social forces at work and we can't fix this mess while lying about this matter.

Here is my cartoon from back then: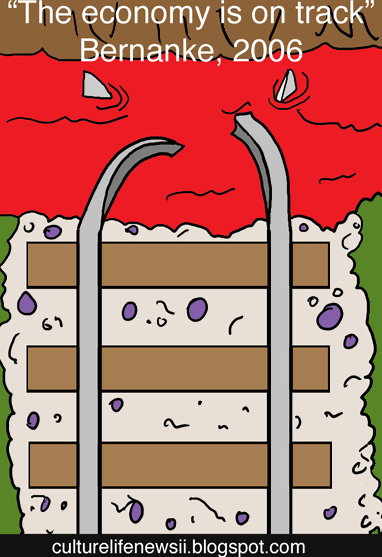 March, 2006, I attack Bernanke who says the economy is 'on track':
Bernanke told Congress what they wanted to hear: everything is coming up roses and the economy is "on track" and we are going to grow and grow and the Chinese can't sink our ship since they "only" hold around a quarter of a trillion plus in government bonds (!!!!!) so they can't deep-six us. I suppose this is part of the war plan to make the Chinese laugh to death?
And no one mentioned "Japan".

When Helicopter Bernanke stepped up to the plate to bunt the ball into the catcher's mitt, Bush got rid of Snow, the Treasury Secretary. He replaced hims with a pirate!
Here is an article I wrote during the month of April, 2006:
Bush keeps shoving out one Secretary of the Treasury after another whenever they give him bad news such as the one who warned him the war in Iraq would cost at least $250 billion. Now, Snow has to go because he is worried about the sea of red ink and the popping housing bubble.
*snip*
New York Times: "Names circulating in Republican circles as possibilities for the Treasury job include Stanley O'Neal, the chairman and chief executive of Merrill Lynch, and Henry M. Paulson Jr., the chief executive of Goldman Sachs."

Hahaha. Last time we did this we got the Great Depression. Isn't this going to be fun.

Again, I was right. I hit homers while the pros bunt into the backstop.

Back to the Washington Post story:
Then came the 2001 terrorist attacks, which brought down the twin towers, shut down the stock market for four days and plunged the economy into recession.

The government's efforts to counter the pain of that bust soon pumped air into the next bubble: housing. The Bush administration pushed two big tax cuts, and the Federal Reserve, led by Alan Greenspan, slashed interest rates to spur lending and spending.

Low rates kicked the housing market into high gear. Construction of new homes jumped 6 percent in 2002, and prices climbed. By that November, Greenspan noted the trend, telling a private meeting of Fed officials that "our extraordinary housing boom . . . financed by very large increases in mortgage debt, cannot continue indefinitely into the future," according to a transcript.

First of all, Greenspan did NOT begin lowering interest rates after 9/11. He began instantly the same week Bush walked into the White House via Supreme Court coup. Not only that, the tax cuts did NOT begin after 9/11, they began nearly a year earlier. The very first thing Bush and GOP Congress did was wildly cut taxes even as Greenspan opened the taps wide by granting massive rate cuts. Why did they do this?

Wall Street! As my earlier cartoon showed, Greenspan was more interested in pumping up stocks, not saving the American people. And I also have shown that as rates dropped starting in January, 2000, interest rates on mortgages did NOT fall very fast at all and indeed, the spread between that and the Fed rate grew greater and greater! So it wasn't cheap money that fed the housing bubble.

It was THE SPREAD BETWEEN RATES. All other avenues to make money easily were slammed shut by the 1% rates by the Fed BUT NOT HOUSING. Housing was HIGH! Comparatively speaking. So it was PROFITABLE. This little fact is of course, glossed over by everyone, it seems. Except for us online writers who never appear in the news.

Back to the Washington Post's bizarre history:
On that winter night in 2005, the company hosting the gala honored itself with an ice sculpture of its logo. Pinnacle Financial had grown from a single office to a national behemoth generating $6.5 billion in mortgages that year. The $100,000-plus party celebrated the booming division that made loans largely to Hispanic immigrants with little savings. The company even booked rooms for those who imbibed too much.

The reporters are obviously aware of the illegal alien angle to all this. By Xmas, 2005, people deep inside of the banking system knew that many of these loans especially in California and Florida were made to a group of people that were 'non-people' in the sense that they had no civil standing in any courts of law except for deportation or criminal courts. Lending half a million to someone who is illegally in a country is pure insanity for any bank! There is no way in hell, this should happen! The entire point of lending is, you know the person will honor their contract as best they can! But if they are illegal aliens, they cannot do this even if they wanted to do this.

This issue irritates Hispanic politicians so it is not talked about in Congress nor will the media so much as hint at it. Indeed, this article is unusual since it does allude to this important fact! But it isn't the main point in this story. No, the story rattles on in ways designed to lull us to sleep. The 'nobody had a clue' story is being retold over and over so the true criminal minds don't get hauled to court.
In the Washington area, the housing boom coincided with a surge in the immigrant population, especially Latinos in places such as Prince William County. For many of them, subprime and other unconventional loans were the only way to attain the American dream of owning a home. Pinnacle's customers included construction workers, house cleaners and World Bank employees, who "saw an opportunity to get into a house without putting much money on the table -- to save money to buy furniture to decorate the house," said Mariano Claudio, who in his late 20s was helping run Pinnacle's emerging-markets division, which was dedicated to immigrants.

Pinnacle ran ads on Spanish-language television and radio, set up booths at festivals and sponsored soccer matches at George Mason University.

Again: no mention of ILLEGAL immigrants. The suggestion is very careful. We are supposed to think, the buyers using the subprime loans had green cards or recently became citizens. The subprime 'no questions asked' were utilized by illegals because....NO QUESTIONS WERE ASKED. This is why the fees didn't matter. The structure of the loans were unimportant. If the illegal aliens could resell the home and make $100,000 in cold hard, cash...they left the country! They were there to 'flip' these houses and then run back home before Homeland Security nailed them at work!

To demonstrate how Bernanke operated back in the spring of 2006, here is another old article that is pertinent to the issues of today as we drown in inflationary red ink:

CNN---April 27, 2006: Bernanke: Energy a threat
But Fed chief says the economy is healthy and that central bank may pause to assess new reports.
By Paul R. La Monica, CNNMoney.com senior writer

Federal Reserve Chairman Ben Bernanke told Congress Thursday that record high oil prices remain a concern that could pose a risk to both economic growth and the inflation outlook.

"Increases in energy prices have pushed up overall consumer price inflation over the past year or so," Bernanke said. But he added that the inflation outlook is "reasonably favorable."

Federal Reserve chairman Ben Bernanke told Congress that energy prices were an inflationary concern but that the Fed may still soon pause in its interest rate-hiking campaign.
Special Reportfull coverage

Bernanke said the economy has rebounded "briskly" after Hurricane Katrina last year but warned the pace of growth would slow a bit as the year progresses.

"The economy has been performing well and the near-term prospects look good," the new central bank chief told the Joint Economic Committee of Congress.

The price of oil shot up that week to new records. This was thanks to the US turning down a UAE bid to buy ownership of our main ports. Here is my article about how the UAE made threats after Congress backed down on the deal to sell all our ports to them.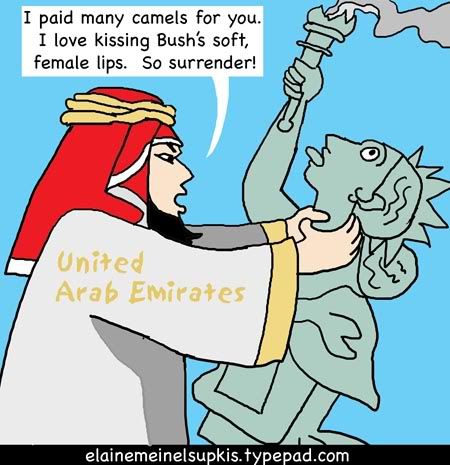 And the cartoon. Below is another cartoon from that week. Showing how well Miz Liberty recovered from Hurricane Katrina, note the patched umbrella, she flounders in a sea of raging red ink. Back in 2006, the US was pushing hard for wars with Iran! The price of oil reflected this. The need to minimize the dire effects of raging oil hikes was most important and Bernanke joined his bosses in pooh-poohing the whole threats of war against Iran=>higher oil prices=>inflation.
Below is a cartoon showing Congress spending like a drunk elephant. China is the one lending money back to us so we could misspend it on war threats against Iran.

The same month Bernanke and Greenspan were so utterly clueless [right!] about the effects of their suddenly hiking interest rates after leaving them at 1% for over a year, the frightful effects of the 1% regime was now blazingly obvious. The value of the penny, even debased as it was, now it cost more to mint pennies than they purchased. This meant, pennies were now flowing to China to be turned into copper and zinc.

Free trade went on and on and in 2006, hit an all time record of nearly a trillion dollars. This was pure insanity. All parties at the top should have noticed this hideous fact but they refused to talk about it or do anything about it.
And this is because the US was at war in Iraq and spending there was totally out of control just like our budget deficits and our trade deficits.
That spring, I finally had enough proof that the Japanese desired a very weak yen and thus, were tenaciously clinging to their sub-1% interest rates no matter what. I noted that the Nikkei goes up when the yen goes down.
If I were an international trader, I would be very rich playing that obvious game. It is still going on and there are armies of pirates and hell hounds who watch this dynamic like hawks. This is a serious point of inflation creating Funny Money@ that ravages the planet.
From spring, 2006: the Bretton Woods II Accords was now on fire due to inflation. Note the black river of oil in this cartoon.
This one irritates me. The DNC pretended to be horrified by wild tax cutting while spending on wars and talking about attacking Iran, causing global oil prices to shoot upwards. But alas, the DNC is as eager as the GOP to do the exact same things.

The New World Order Pyramid of Power and high oil prices! HAHAHA. Back then, this cartoon was spot on and today it is twice as spot on! Notice the prices: already, I pay $5.17 for diesel! And there it is in this cartoon which was predicting the future. The black cat arcing its back with the twin towers burning is from the official DARPA badge made after 9/11. We made fun of this badge back then and it was hastily withdrawn. But I will always remember it.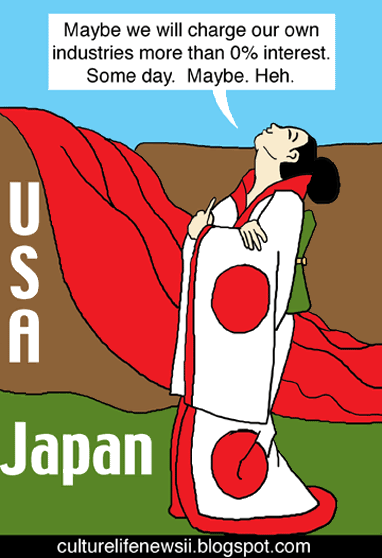 My pathetic news service in early May, 2006:
After the press got Wall Street excited about no more interest rate hikes, the Fed raises interest rates yet again. This is because, as usual, wars and oil together create tremendous inflation and it has barely begun. This is why the price of gold is shooting up in value.
*snip*
Investors confused? Hahaha. Like horses when a barn burns down, they can smell the smoke and see the flames but safety is inside the barn. This is why one has to blind the horses by throwing towels over their eyes in order to lead them away. Often, they escape and run back to the barn.

And finally, some more cartoons from that rather busy spring blogging here:

The graph below is an artistic rendition explaining how the easy lending regime unleashed by the Federal Reserve, Fannie Mae, Freddie Mac and the US government drove the US public deep into debt: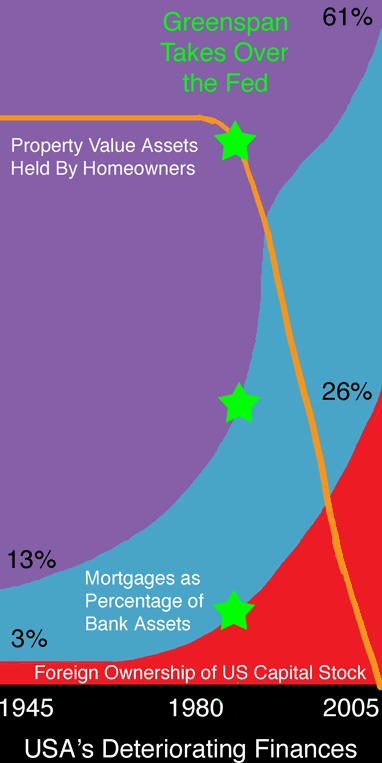 Assets held free and clear by homeowners plummeted. True, 70% of the residents both legal and illegal, now 'owned' homes. But they didn't! The BANKS and LENDERS owned more and more of America, not the supposed home owners. Recently, there was this scandal of all the US government representatives who ran off to Countrywide for easy term loans. They all decided to 'cash in' on their rising home values. To use the Home ATM machine. So many of them went very deep into debt. This is why they don't really mind inflation. They get to pay off all this with debased currency. THEY ARE NOT SAVERS. They are DEAD BEATS.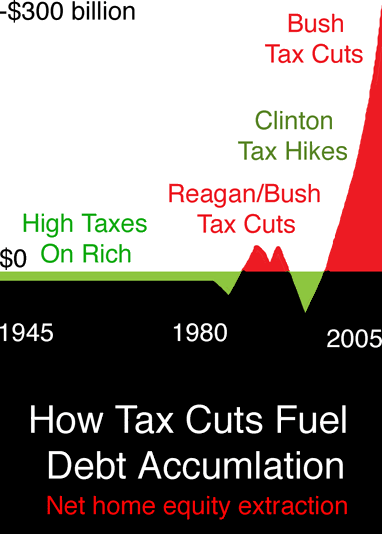 And this graph shows clearly how tax cuts create inflation and fuels debt accumulation. Both are bad. We are not a nation of savers, we are a nation of grifters and drifters. And we don't want to clean up this mess. We want to be Las Vegas! And we are, alas. And the Cat Houses are Congress. And the juggling/card sharp casino act is the President and the vanishing lady with the magician is our courts and the Federal Reserve.