June 26, 2008
Elaine Meinel Supkis

The stock market is diving below the lows that were the lowest lows this decade. Now, we go into pure negative territory. The CDS trade is about to collapse totally. Inflation is hammering Japan and the US while both central banks cling increasingly to the slender straws of pretending there isn't sufficient inflation to trigger rate hikes. We go to the Fed in 2005 to discover the truth about all this and what Volcker said back then: RAISE THE RATES OR ELSE. For US savings began to collapse in 1982 under Reagan and are now deep in the basement, negative. And now our banks are collapsing too. And stocks. And housing values. And Volcker is in this old 2005 report. As the Grim Reaper.

MBIA Insurance CDS trade close to default levels
(Reuters) - Credit default swaps on MBIA Inc's (MBI.N: Quote, Profile, Research, Stock Buzz) insurance arm leaped to a new record on Tuesday as investors hedged their exposure to the insurer and concerns grew about the company's ability to reinvigorate itself after the loss of its top ratings.

Credit default swaps on MBIA Insurance Corp surged to 46.5 basis points upfront, or $4.65 million to insure $10 million in debt in addition to annual premiums of 500 basis points, from 39.5 basis points at Monday's close, according to broker Phoenix Partners Group.

Based on Monday's close, MBIA Insurance Corp's credit default swaps are trading at levels that imply the world's largest bond insurer is one step away from default, according to the credit strategy group of Moody's Investors Service.

What happens, dear readers, when the WORLD'S BIGGEST INSURER goes down the tubes? I must say, Bear Stearns was just an appetizer for the Derivatives Beast who is now setting out to munch down the world's biggest debt insurer. What does this mean? Well, when banks and others lend money, they need insurance so they don't get stuck with the entire amount if the debtor defaults. This insurance stuff was based on bankers being cautious about who they lent to. They knew there could be defaults due to happenstance. But these had to be kept to a minimum.

Back when the US created the Floating Currency monster, they destabilized the banking business. This opened the doors to much mischief. The bankers concocted the Derivatives Beast and then put it in charge of protecting them from INTEREST RATE VARIABLES. These, in turn, were a source of great wealth for the bankers discovered this allowed them to introduce endless new magic Funny Money™ into the world's monetary systems. They then played around with this concept and instead of using it to protect themselves from instability and change...they used it to ENRICH themselves.

Greed being infinite, the transformed Derivatives Beast which was less than a billion dollars when Volcker left the Fed, it grew and grew, faster and faster, doubling in size. Eventually, we can see it today if we squint our eyes and see the shimmer of its shadow on the distant mountains, it is huge. We crane our necks to see into the very heavens, how big this monster has become. It now dwarfs in size the entire economies of all the planet TIMES TEN. It is over a quadzillion dollars, an unimaginable sum. Add more zeros if we value this thing in yen. 100 quadzillion yen.

If the world's biggest insurer of debts goes to debtor's prison, what happens next? WE DON'T KNOW! Well, actually, if we visit that bloody bitch, History, She will set down Her quill and sneer at us. 'It is obvious, what happens next. The US, being the world's biggest financial power and the one that owes the most money and is causing all this, will do under. Period. End of story.' The US banking system is bankrupt. Here are some charts from the Fed itself. One would think, if the Fed looked at these charts, they would be screaming, running around in circles and howling at the moon. They would be before the US public with the President and Congress in tow, yelling....HAHAHA. Yelling like who? Hello, Ron Paul, take a bow!
Is M'bishi Benefiting Too Much From Resource Boom?
TOKYO (Nikkei)--Executives at Mitsubishi Corp. (8058) have spent the past few weeks countering criticism that the company is raking in too much profit by taking advantage of spiking prices of resources. It is not just that Japan's top general trading company is on track to post its sixth straight record profit; what is also raising eyebrows is the size of the profits it is racking up.

"We have invested in the metallurgical coal business for as long as 40 years to provide a stable supply of the raw material to Japan, and it's only recently that the prices have begun climbing," said President Yorihiko Kojima. Chief Financial Officer Ichiro Mizuno, meanwhile, has responded to the criticism by emphasizing the severe state of the firm's non-resources businesses.

Mitsubishi is refraining from trumpeting its record profit forecast because it will soon enter negotiations with steelmakers and other core customers over transaction terms, and it does not want the customers to cite the robust profit outlook in order to win terms deemed unfair by the trader, observers said.

Inflation is destroying Japan. Japan is destroying the US in world manufacturing markets. Japan's exporters need cheap commodities to keep in power. They want inflation....of their own products, not the raw materials used in making these export items. So the LDP and MITI are twisting arms in Japan hoping to artificially depress the pricing power of Mitsubishi so they can have cheaper steel than the US can make here. Just for example. And when will we impose trade restrictions on Fortress Japan? HAHAHA. Never. We need them as 'allies' against China who they are secretly negotiating with and intend to be allies with when we go bankrupt. Eurp. So much for friends.

In world trade, there are no friends. England is not a friend. England's Queen has all these financial pirate islands that are destroying our banking system and leeching away tax revenues. Germany is rapidly building a massive empire in Europe with the help of France. And is furious with the Irish for voting down the 'Constitution' which will consolidate more power at the top and reduce nations into US-style states. This is NOT a friendly gesture towards our own empire which is bankrolling most of Europe's military protection.

Fed Keeps Rate at 2%, Cites `Upside' Inflation Risks
(Bloomberg) -- The Federal Reserve left its benchmark interest rate at 2 percent, ending the most aggressive series of rate cuts in two decades, as higher energy costs threaten to boost inflation.

``Although downside risks to growth remain, they appear to have diminished somewhat, and the upside risks to inflation and inflation expectations have increased,'' the Federal Open Market Committee said in a statement today in Washington.

Fed Chairman Ben S. Bernanke and his colleagues refreshed their forecasts at their two-day meeting and reported that the economy continues to expand. At the same time, crude oil prices have almost doubled in the past year and the cost of commodities from wheat to tin jumped to unprecedented levels.

``The Committee expects inflation to moderate later this year and next year,'' the Fed said. ``However, in light of the continued increases in the prices of energy and some other commodities and the elevated state of some indicators of inflation expectations, uncertainty about the inflation outlook remains high.''

So, the world's biggest debt insurer is going bankrupt, our banks are bankrupt and the Fed is bankrupt and our government is $10 trillion in the red and is going bankrupt and the 'downside risks.....remain...'? HAHAHA. The Derivatives Beast is far, far more dangerous than any civilian Muslim 'terrorists.' How, pray tell, will 'inflation' moderate this year if the Bank of Japan and the Federal Reserve are keeping rates at 0.5% and 2%? So long as going into debt is cheaper than savings, if the rates are below the obvious inflation rates as well as the fake government rates, then we will have...INFLATION. Period. Of course, if we destroy global trade, the US financial markets and all commerce, inflation will vanish. And we will have a depression.

Bernanke's studies about the Great Depression are so dumb, I wonder. What went through this idiot's brains as he read about the history of the Great Depression? I bet he thought he was smarter than our ancestors! I bet he thought, 'Geeze, all they had to do was create infinite Funny Money™ and there would be money! How easy is that?' Being a fool, he didn't think about the consequences of this sort of irresponsibility. Now, we get to learn the obvious lessons the hard way. Even with Zimbabwe leading the way with nearly infinite inflation, total social chaos, open coups, destruction of the infrastructure, Bernanke wants to see if this won't harm the US too.

From the Federal Reserve circa November 10, 2005---yes, almost 3 years ago!
In September 2005, the personal saving rate out of disposable income was negative for the fourth consecutive month. A negative saving rate means that U.S. consumers are spending more than 100% of their monthly after-tax income. The recent data are part of a trend of declining personal saving rates observed for two decades. During the 1980s, the personal saving rate averaged 9.0%. During the 1990s, the personal saving rate averaged 5.2%. Since 2000, the personal saving rate has averaged only 1.9%.

This Economic Letter discusses some of the factors that appear to be driving the secular decline in the personal saving rate. These factors include rapid increases in stock market and residential property wealth, which households apparently view as a substitute for the quaint practice of putting aside money each month from their paychecks. Rapidly rising stock and house prices, fueled by an accommodative environment of low interest rates and a proliferation of "exotic" mortgage products (loans with little or no down payment, minimal documentation of income, and payments for interest-only or less) have sustained a boom in household spending and provided collateral for record-setting levels of household debt relative to income.

Going forward, the possibility of cooling asset markets and rising borrowing costs may cause the personal saving rate to revert to levels which are more in line with historical averages. While such a development would act as near-term drag on household spending and GDP growth, an increase in domestic saving would help correct the large imbalance that now exists in the U.S. current account (the combined balances of the international trade account, net foreign income, and unilateral transfers).

At the height of the bubble madness, the Fed got this report. Fixing the lack of savings was supposed to be via the method of crushing the economy! Note the last sentence! Cooling the asset markets which is housing and stock markets, why, there will be an increase in savings! And increasing savings will correct the trade imbalance because people won't be spending money on imports and it would have other effects. With this paper, the Fed voted to raise interest rates. It had been set for a year at 1% but they figured, they would rapidly, in a series of obvious steps, raise it back to the rate of inflation and thus keep up the fiction of having savings. I would have suggested back then, all this would do is cease the Funny Money™ creation rate, not increase savings. People couldn't save much anymore due to the high cost of housing, the high debt load and the rising cost of food and fuel.

Since then, all these got much, much worse. And to 'fix' all this, the Fed has retreated to making more Funny Money™ via sub-inflation rate lending to big speculators and investment houses. During the previous low interest rate cycle, the housing bubble, rates didn't drop all that much for mortgages. Indeed, the spread between the Fed rates and the mortgage rates were at a record high! When the Fed raised rates, mortgage rates barely moved upwards. So the spread vanished and banks began to lose money! Ah! That is why THEY went into trouble! This is why the rates were dropped by the Fed. So the bankers have cheap loans from the Fed to THEM. NOT TO US. The differential between the Fed rates and mortgages was restored. At the cost of the Fed losing its own shirt. As we see in the graphs.
This graph is exhibit A in the case of 'the collapsing US savings business.' The collapse of the Federal Reserve's reserves began in 1982! Isn't that um, interesting? Ronnie Reagan entered the White House, we had 'Morning in America' and with it, all the statistics tracking the true health of our banking, finances and government systems suddenly destabilized and began to collapse into the deep red zone of death! Far from getting stronger, better and more powerful, we got weaker, deeper in debt and losses began to pile up like crazy, faster and faster! The Fed knows this, this graph is from them, after all!

This graph is from the 2005 report. Savings collapsed back in July, 2005, exactly 3 years ago. The Fed fretted about this enough to encourage the spendthrifts who run the joint to raise rates rapidly. Far too late, of course. The graph shows exactly how late it was three years ago. It is worse today. For this graph stops at 2001 when the worst happened, when the debt rate grew to over 110% of GDP.
Ratio of household debt in 2004 was already 120% more than income. And it got worse in 2005-2007. When I bought my first house in 1970, it was only 60% which is half of what it is today. Note that after 1982, it takes off like a rocket. It stayed between 55-70% for over 20 years. Then the next 20 years, it deteriorated by 100%. It doubled. It didn't bounce up and down like since my birth. No, it shot straight upwards! This is very important. Any graph showing this sort of 'shoot to the moon' dynamics is preparing for a crash.

This present-day Fed graph shows clearly how the interest rates shot up from 1974-1980 while the debt ratios remained between 55-70%. And savings shot up as interest rates on mortgages shot up. Then, after 1982, interest rates on mortgages fell and fell and fell. And US debts soared.
While measurement issues can influence the computed level of the saving rate on a given date, the basic claim that household saving activity has been declining over time remains valid. Other evidence supports the idea that U.S. households are becoming less saving-oriented and more consumption-oriented. The ratio of nominal U.S. personal consumption expenditures to nominal GDP has been trending up since the early 1980s and is now hovering near an all-time high of 70% (Figure 1). The U.S. consumption binge has been accompanied by a parabolic rise in household debt; the ratio of total household debt to personal disposable income now stands at an all-time high of 118% (Figure 2).

Much of the recent run-up in household debt has been mortgage-related; low interest rates have spurred a refinancing boom that has allowed consumers to extract equity from their homes to pay for a variety of goods and services. According to data compiled by Greenspan and Kennedy (2005), borrowing against home equity generated an average of $425 billion per year in spendable cash from 2001 through 2004—more than twice the average of $177 billion per year over the preceding four-year period.

The economists who wrote this report are correct. I remember the news back then. The US media tracked spending like crazy. If consumers didn't rush out and buy the junk advertised on TV or online, the media would set to howling and the politicians would try to see if more 'liquidity' could be produced and anyone saving money was hammered by artificially low rates. Every time this happened, I would write, 'What about savings? We need savings, not more consumer spending!'

From my blog, April, 2005: It All Falls Apart
For weeks we have been treated to a virtual Mississippi river of propaganda explaining how high energy costs no longer matter and doesn't effect the markets and interest instability doesn't matter either, housing values will rise forever in a hyper inflated fashion which isn't really a bubble....pop.
*snip*
They pray for cheap loans below the rate of inflation. It benefits others to keep the cheap loans going. This is why we pretend the Japanese and Chinese are forcing us to have cheap money so the export/import merry-go-round won't stop turning. We are addicted to this unreal funding. After five years of the economy "not being in recession" we are forced to treat all events as emergencies. Under Clinton, the cost of lending rose and rose relentlessly yet the economy hummed. Since the GOP took over our entire government, the economy limps along with a thousand crutches all of which are breaking now, one by one.

Any tiny event destroys it all. Like a rotted oak that still stands but has been hollowed out by termites and carpenter ants, even the tiniest breeze can bring it crashing down.

I nailed it on the head back then, didn't I? And I wasn't the only one. But the people able to do this were all online and unrecognized or ignored by the mainstream and many others.

Here, the next day in April, 2005, I got in a big fight with Samuelson of the WP: America Pretends to be a Helpless Baby
Samuelson writes: 'We are all taught that saving is good -- indeed, Americans are often chided for spending too much and saving too little. But what if the problem of today's global economy is that people elsewhere -- in Europe, Asia and Latin America -- are saving too much and spending too little? Former Princeton University economist Ben Bernanke argues that this is precisely the case. He calls it "the global savings glut." '

There is no "global glut in savings". There are many billion and millionaires who squirrel massive amounts of money out of country so it won't be taxed or traced. We see how they operate like at the trial of the CEO of Tyco. he wails, "I didn't know where the money came from or where it went, the kids over there made me lose all that money and bankrupt my company!" Of course, the kids over there were all in his pay and under his supervision.

Modern supervison in America: far from super like Superman seeing through walls, this super vision is blind as a bat. Especially when committing crimes.

You can bet the millions this childish CEO "lost" became lost when it flew overseas to dissappear into that vast stew of semi legal or outright illegal slush funds. This money doesn't come from an army of grannies saving pennies and carting them to the bank every week. This money comes from drug lords, international terrorists, military/industrial contractors especially in America, gun runners who do business with everyone and movie moguls.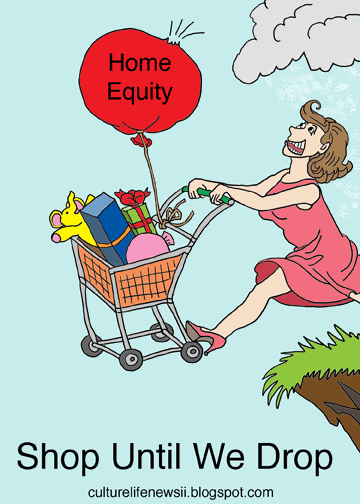 And here is November, 2005, Shop Until We Drop:
Just one day's shopping and stocks are way up because everyone thinks there is a pot of gold here somewhere. I examine the truth of what is going on and why this day's shopping is a disaster in disguise.
*snip*
Every year, the discounts and sales grow bigger and bigger and the profit margins smaller. Comparing dollar amounts versus last year is a totally false reading of events. For inflation has set in, places where it can't be easily cut. To fill and run the big box stores costs more this year. To make up for this, no pay raises for the workers at any level.

Indeed, workers are losing jobs at an accelerating pace, most spectatular being Delco and now General Motors as well as Ford. This is bad, very bad. The high energy costs are lurking there right behind it all. The entire planet is cutting back on energy use and trying to keep the energy inflation out of the things they plan to export to America who is now running an amazing trade deficit. From Yahoo:

The internet helps us all keep track of history. The Fed released this report, the Fed began to raise interest rates way too late and just the tiny hike to a measly 4.75% caused our fake consumer economy to fall off the cliff. Note the lady's red balloon popping. Her madcap expression showing total disbelief. The cliff she is striding off of: all of this was crystal clear in 2005. Back then, on regular economics forums, people were debating if there was a bubble and if it MIGHT pop. I was the earliest to say it WAS popped. Even if housing prices at the top ranks continued for another year, the bubble in general was deflating at the end of 2005.

I also accurately explained that spending was up only because INFLATION was taking off. Not because consumers had more money to spend. The most disastrous loans were handed out from September, 2005 to January, 2007. Nearly all loans during that time frame were the Alt-A and Subprime loans. These were the ones that turned a downturn that was obvious in 2005 into the raging inferno of today. And the Fed KNEW this would happen. The Fed's own economists could see it coming just as I could for we were reading the same charts and graphs back then.

The head of the banking system wanted a fake bubble. He wanted a fake rally on Wall Street. Politicians were screaming for more Funny Money™ and this was wildly popular in Congress, the nation at large and the warmongers in the Pentagon.
Figure 4 suggests that the decades-long decline in the U.S. personal saving rate is largely a behavioral response to long-lived bull markets in stocks and housing together with falling nominal interest rates over the same period. Since 2000, the rate of residential property appreciation has been more than double the growth rate of personal disposable income. In many areas of the country, the ratio of house prices to rents (a valuation measure analogous to the price-earnings ratio for stocks) is at an all-time high, raising concerns about a housing bubble. Reminiscent of the widespread margin purchases by unsophisticated investors during the stock market mania of the late-1990s, today's housing market is characterized by an influx of new buyers, record transaction volume, and a growing number of property acquisitions financed almost entirely with borrowed money.

According to the model, the personal saving rate would be expected to halt its decline and start moving up if stock or housing markets sagged, or if long-term interest rates jumped, say, due to inflation fears. An increase in the personal saving rate would slow the growth of household spending which, in turn, would have negative implications for the derived demands of business investment, inventory accumulation, and business hiring. But, on a positive note, a pickup in saving activity in the household sector would help offset the ongoing deficit spending in the government sector. A rise in net domestic saving would reduce the U.S. economy's reliance on foreign capital inflows as a source of saving. At present, the U.S. current account deficit stands at more than 6% of GDP, implying that the U.S. economy must draw in around $3 billion per day from foreign investors to finance domestic spending.

Recently, the Washington Post's economics advisor lied about our account deficits. He claimed the Pentagon 'only' ate 3% a year. He didn't mention that the other half, another 3% was being eaten, too. And together, they made an unacceptable 6% per annum. Back in 2005, the Fed said this was bad. It is worse today. And if our GDP drops in a recession, this number rises due to the drop! It could easily become 12%.

Also note the first sentence here: The report REVERSES REALITY! HAHAHA. Typical of them. They pretend the psychology of savings changed when markets shot up. Money flowed to there, not into savings! Dropping interest rates super low had little to do with all this, eh? But was there a 'long lived bull market' from 1982-2005? HAHAHA. NO!!!! NO!!! The crash of 1987, the crash of 1991 and certainly the crushing crash of 2000....are these guys stupid or liars. They had to still remember the 2000 crash! Instead, savings shrank continuously during this long cycle! And interest rates fell. Period.

This graph makes my point. They could see this graph and could have included graphs showing the housing collapse of 1990, for example and then looking at all this, they would have said, 'Hey, there is a connection between us artificially dropping interest rates, the rise of debts, the collapse of savings and the despair of the savers who get reamed out in housing and stock markets but still have to seek profits there because we are depressing the return on savings!' Wow. The light turns on at last. Except they lied so it stayed off. We remained in the dark back then.
The decline in domestic saving activity and the accompanying increase in the U.S. current account deficit have been labeled "unsustainable" by many analysts and commentators. To help bring about a smooth, orderly adjustment of the imbalance, former Federal Reserve Chairman Paul Volcker (2005) has called for the United States to undertake a combination of policy measures to "forcibly increase its rate of internal saving, thereby reducing its import demand."

Policy options to increase internal saving include: (1) a decision by lawmakers to restore fiscal discipline in the government sector, (2) tax reforms that encourage saving by shifting the tax base towards consumption, and (3) the use of monetary policy to lean against asset price bubbles, since these stimulate consumption at the expense of saving. The first two options face hurdles of political feasibility, while the third remains somewhat controversial; it is an unsettled question whether central banks should take steps to prevent or deflate asset price bubbles (see Lansing 2003 and Rudebusch 2005). There is widespread agreement, however, that forward-looking central banks should address the expected impacts of asset price movements on spending, inflation, and the allocation of resources. Federal Reserve Chairman Alan Greenspan (2005) recently acknowledged that: "Our forecasts and hence policy changes are becoming increasingly driven by asset price changes."

There was NO fiscal discipline. There was NO tax reforms to encourage savings instead of spending. There was a small, feeble move to cut down on the bubbles by the Fed itself raising rates only to see this falter and then retreat to fantasy Funny Moneyland™ by the middle of 2007 as the entire banking system of the West was predicated on Japanese carry trade working hand in glove with US wild consumer spending and easy lending. Changing things failed due to the length of time this false cheap lending regime ran. We have to go into a savings depression where savings are rebuilt for at least 20 years in order to fix 20 years of wild misspending.

Also, note how Volcker enters the room like the Grim Reaper in 'Monty Python's Meaning of Life' movie! 'I--Am---The---Grrrrimmmm--Reaper,' he announces. He was correct back then and probably before then which is why he was never in the news or mentioned by Greenspan or Bernanke. Who should be visited by the Grrrrimmmm Reaper.