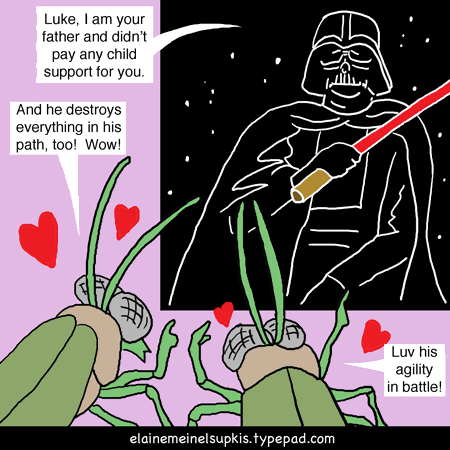 Elaine Meinel Supkis
Volvo commissioned a study of insects watching Star Wars movies to see how they react to the near collisions during the various space battles. Seems the insects are very tuned into colliding with stuff while flying and react chemically to this stimulus. There is no study about if they like Darth Vader but considering their reputation for mercilessly destroying everything in their path, I am betting he is their hero.
Another star of this year's tour is Claire Rind, of Newcastle University, who won a 2005 Ig Nobel for her work showing edited extracts of Star Wars to insects.

The reason? In research part-funded by car-maker Volvo, Dr Rind was trying to track whether locusts - whose neuro-circuitry have, apparently, been extensively mapped - could detect imminent collisions. What with all the battles between X-wing fighters and Tie fighters, there are lots of those in the original Star Wars.

"We were studying the responses of visual stimuli. We found locusts have dedicated nerve cells specifically to detect collisions," says Dr Rind.
I wonder if they had orgasms watching this stuff. The space craft looked like super bugs to their eyes. Bet even Leila's hairdo was attractive since it looks like bug eyes.
And of course, Darth Vader is totally bug eyed. Pin up material in the bug burrow.
I bet my beehive would like this movie. I just got "Space Balls" on sale. Maybe I should play it for them some rainy day when they can't buzz about the neighorhood stealing pollen and terrorizing people by flying close to their faces.
I will not show any movies to "no see-ums" which are very tiny gnats that like to fly into my eyeballs when I am doing backhoe work. I wear a veil during midge mating season. A really obnoxious insect. They go up the nose and into the eyeballs....heh. Bet I have no more readers here? Hey!
OK, insects are our friends when they are far away. Lady bugs move inside in winter and so do those stupid stink bugs that live in rotting wood and then there was this giant, big black SPIDER I vacuumed up in the kitchen this morning. It was big.
Gah. Hello? Anyone here?
Will locusts learn from spying on Star Wars movies? The world awaits in fear.