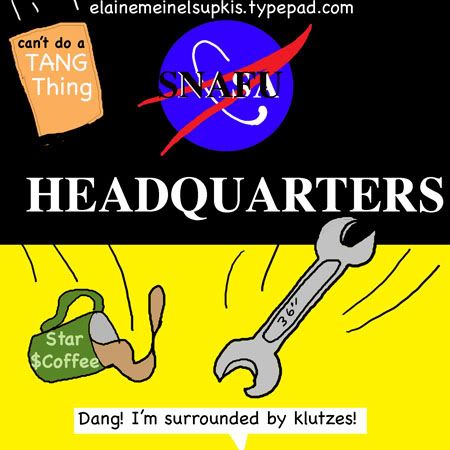 Elaine Meinel Supkis
A sign of disgruntled employees is how people become clumsy. So it is no surprise to see launches cancelled due to butterfingers all over the place. The butter side of the launch always falls face down, you know.
Kennedy Space Center employees returned to work Friday with orders to be more careful a day after a stand down was ordered following a spate of recent accidents.


James Kennedy, the space center's director, ordered work stopped for two hours Thursday while he addressed nearly 15,000 employees on safety issues over closed-circuit television.


He warned that a major accident could derail NASA's plans to complete the international space station and begin exploring the moon and then Mars.
Um, this certainly fills one with a sense of security! It is funny how nearly everything is turning into Potemkin Props. Our military is a paper Potemkin pumpkin that never turns into a coach anymore but stays a pumpkin even before midnight strikes!

The lastest great victory in battle turns out to have been the frying of a couple of sheep, the bombing of two tents and the arrest of a dozen teenagers.

Meanwhile, battles rage in Paris. Seems nothing works anymore, eh? Back to NASA, the top slots are filled with men (white men, I must add) who think capitalism solves all crimes and the best way to run things is to oppress workers, fire top nerds in their staff, kill off critics and loot the bank account. And we are going to Mars?

Seems the Rover broke down. Got a flat on the Intergalactic State and no troopers have shown up to call for road assistance.

Meanwhile, scientists beg NASA to launch the many observatories and probes that have been sidelined so we can go to the Moon and then Mars after we stop dropping tool boxes on the hood or punching holes in the tire.

The most alarming accident was setting the roof of the building holding the huge, filled with high explosives, tanks for the Space Shuttle. Now that is something that could have shot all the way to the Moon, Alice!

Well, back to attacking Iran. Something's got to work.