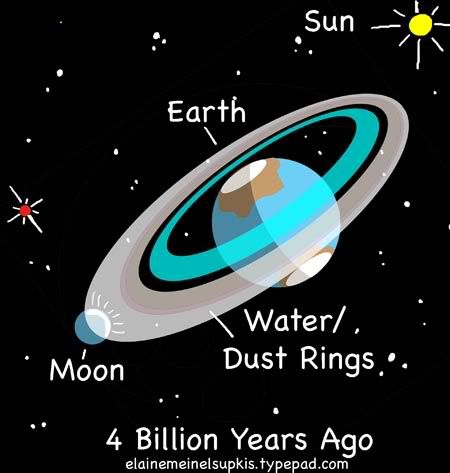 Elaine Meinel Supkis

The source of Saturn's rings seems to be one of the moons which is mostly H2O. The side of the moon facing Saturn has water volcanoes that shoot out a fine mist which is why the rings are so etheral.
One of Saturn's moons is sending geysers of water into space that fall back to the moon as snow, a joint U.S.-European exploratory space mission reports. The plumes of icy water also replenish the water particles that make up Saturn's largest ring - the E-ring, the scientists have discovered.


Data from the spacecraft Cassini obtained during a close flyby of Saturn's moon Enceladus show that large amounts of water are spewing into space from the tiny moon's surface. This water originates near "south polar hot spots on the moon, possible locations for the development of primitive life in the solar system," the scientists said.


"We realize that this is a radical conclusion - that we may have evidence for liquid water within a body so small and so cold," said Dr. Carolyn Porco, Cassini imaging team leader at Space Science Institute, Boulder, Colorado. "However, if we are right, we have significantly broadened the diversity of solar system environments where we might possibly have conditions suitable for living organisms."


Enceladus is a small moon, just 505 kilometers (314 miles) across, but it is highly reflective due to the fresh layer of snow and ice on its surface, the scientists said. The icy geysers at the south pole, erupting from a series of cracks, appear to be pumping a continuous flow of water particles into the area above the moon. Much of the material falls back to the surface as snow.
Along side this revelation comes a much more interesting idea, one that utterly charms me:
An international team of scientists has found that the source of Saturn`s outer ring is water vapor from the planet`s moon Enceladus.


In an article in the journal Science, the researchers say that a plume of water vapor from Enceladus`s south pole has also given the moon a water-based atmosphere. They believe that internal processes within the moon are generating heat to produce the vapor.


The outer ring, known as the E-ring, stretches between the orbits of the moons Mimas and Titan. It is composed of microscopic particles.


The atmosphere was found during three fly-bys by the Cassini unmanned spacecraft in 2005. After researchers examined data from the first two fly-bys, they convinced the Cassini Project to bring the probe within 105 miles of Enceladus on the third.


'It was extremely exciting to have all the other instruments confirm our initial discovery, particularly when it was found that the atmosphere was changing from flyby to flyby and was closely linked with the subsequent plume observations at the South Pole,' said Michele Dougherty, a professor at Imperial College in London.

One of the most beautiful sights in the solar system. As one can observe here on earth, fine ice crystals light up so brilliantly, when it is below zero at night and only stars are shining, the sparkling ice crystals light up dark fields so much one can walk around safely in the faintly lit snow.

I always wondered how the rings, so thin and fragile, keep going and it probably is because of the feed coming from this moon. All the moons near the giant planets seem to be very active due to the intense interaction with the planets that hold them captive. One wonders if the moon did this with the earth when it orbited much closer. Did the moon, too, have water? Did this water fall to the earth over a billion years and during that time, did the earth, too, have a lovely ring around it? Questions like these are quite an interesting concept because we can only guess what went on so long ago. The fact that our planet has successfully captured a great deal of water and manages to keep it is most amazing when considering the probabilities of this happening. All the accidental happanstances of our good forture is why we were able to evolve into water consuming, water retaining life forms!

Of course, "intelligent design" people get this all backwards. Since our planet, out of the probability of billions if not megatrillions of chances, is habitable for water using lifeforms isn't due to someone sitting down and figuring out how to manage this but by the simple fact that this happened and life forms of our sort happened. If there are other planets in this same, happy situation elsewhere in creation, is very likely. In the same galaxy and same vicinity, that is, arm of the same galaxy, this is less and less likely. Since there are an amazing number of galaxies, time and space, the probabilities are good that similar planets spawned similar life forms over the last 16 billion years.

How much water was available during the formation of our solar system? We know that H20 is prevelent throughout the universe in varying amounts, unevenly distributed. It is much rarer in liquid form. Just this week, a planet has been discovered orbiting a red dwarf and it was probably mostly water until the star collapsed into a dwarf long ago. One wonders if life had evolved there before the eternal ice age set in? And why didn't the water disappear when the sun died? So many riddles!

The more we observe the universe, the more questions. I know many scientists are eager to proclaim victory in decifering the information we gather but this seems pretty hasty to me, the verities of astronomy seem less and less, not more and more stable over time. We see a tiny bit and then think everything is that same thing simply by assuming all things are the same when they aren't.

For example, the deep space probing done this last year was amazing and showed clearly that the universe is much more diverse and odd than our assumptions.

I remember when the first space probes went out. Actually, when we landed on the moon, the sight of our own home planet struck the astronauts with awe. Truly, a gem. As we get a closer look at our own backyard, we realize we know virtually nothing and as we learn more, none of it fits what we assumed years ago based on the earlier observations done at observatories.

My grandfather spent years detailing "canals" on Mars, for example. Now we have a good idea of what Mars looks like and it looks like the Sahara except it has no obvious life forms.

Speaking of water and the Sahara, Libya is mining fossil water that filled underground reservoirs 40,000 years ago during the great melt-off that coincided with the sun spitting out some really violent activity back then. BBC News:
It is hard to fault the Libyans on their commitment. The country has spent almost $30bn (£17bn) on the Great Man-made River Project. That money has bought 5,000km of pipeline that can transport 6.5 million cubic metres of water a day from over a thousand desert wells.


As a result, Libya is now a world leader in hydrological engineering, and it wants to export its expertise to other African and Middle-Eastern countries facing the same problems with their water.
Our exploitation of water is reaching back in time as well as capturing more and more water that is being generated by the present meltdown of the glaciers and condensation from the oceans. Water is a finite resource but luckily, is one that can be recycled. But volume is part of the equation. We are recklessly using water stored from previous sun/geology events and like fossil fuels, this can't be done for very long. In America, we are rapidly drawing down water from the same ice age melt down event.
And did Venus have water, too? BBC News:
On most planets and moons, impact craters tend to be clustered on very old parts of the surface, due to the heavy bombardment that is believed to have taken place in the early Solar System.


But craters on Venus are distributed randomly over the whole planet. This has led some scientists to the conclusion that most of the surface is of similar age.


One way to arrive at this result is by rapid resurfacing - the model long accepted by planetary scientists.


Timothy Bond and Mike Warner of Imperial College London have now thrown that theory into doubt.


Using computer modelling, they came up with a suite of possible scenarios that were compatible with the planet's cratering record and surface features.


They concluded that there was no need to invoke massive outpourings of lava over a short period. Instead, the planet's present-day surface could be compatible with a slow decline of volcanic activity, they argue.
Why is the earth so tectonically active? Mars is completely dead now. It did have activity long ago. The surface of Mars has a number of obvious impact craters just like Venus. But ours has few visible ones due to the activity of plates crashing and tearing into each other and lots of volcanic/subduction activity. One should assume this was much more active in the past. It is actually rather amazing that life forms were able to exist during the early years. Perhaps this greater degree of activity on the part of the planet enabled evolution to fast forward. We do know that uncertainty in the climate leads to great changes in life forms. On all levels, our planet looks more and more awesome and surprizing the more we look at other planets which seem to have a much shorter geological "life span."

This is why I am still outraged that NASA bent to Bush and his minions' political will and killed the Earth Observatory. The major planet to study is this one. It is the most interesting, important and vital planet in this system if not the entire galaxy! Talk about insane.

Culture of Life News Main Page