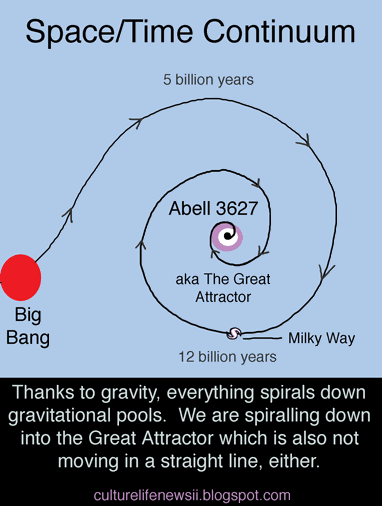 By Elaine Meinel Supkis
Astronomers wonder about all the contridictory data concerning the time/space continuum. Tons of data flow in and makes hash of assumptions. Einstein was right, he was wrong, he was right about being wrong, actually, we have to think about our journey in time as a spiral, not a straight line. Then some things might make sense, sort of.
As Steven Weinberg of the University of Texas said, Einstein's biggest blunder was believing the cosmological constant was a blunder.

Since the 1998 discovery, astronomers have been racing to chart the history of the expansion of the universe more precisely to pin down the properties of dark energy. Observations by Dr. Riess and his colleagues with the Hubble Space Telescope two years ago have determined that the universe hit the gas pedal about five billion years ago.

Dr. Schaefer used as his mileage markers 52 gamma ray bursts, which are 100 to 1,000 times as powerful as Type 1a supernovas, and can thus be seen much farther away, or back in time. The bursts, which can be seen only from space, have been studied by satellites like the High Energy Transient Explorer, or HETE.

The most distant burst, at 12.8 billion light-years, occurred when the universe was 6 percent of its present age, Dr. Schaefer said.

His measurements put the dark energy in a controversial category named phantom energy, which if it continued unabated would rip apart the cosmos in a few billion years.
Well, we will be "ripped apart" when our little galaxy is sucked into the Great Attractor! You see, pretend we are a little bug on a wine glass. When we look at a glass, we see straight through to the other side but if we transit the exterior of the glass, it is a long journey. We can't understand how it can be curved when, from our limited view front and back, it looks pretty flat but we can see perfectly well where we were in the past and where we want to go. Thinking about our TRAVEL in time vs where we can see things today, we traveled in a vast spiral. From point A to point B. Our spiral travel is inside a mega bubble of the Big Bang. So there are two images here, the expanding balloon with all elements spiralling towards greater elements which punch ever deeper gravity pools in the fabric of the balloon.
Mother Nature absolutely loves spirals.
The logarithmic or equiangular spiral was first defined symbollically by Descartes in 1638 by the equation

r=ka

which relates the polar coordinates of any point in the spiral and expresess an exponential growth pattern. In nature it is usually associated with the growth of dead tissues forming structures, like shells of many invertebrates, corals and several horns found in mammalian species, by an accretionary process.
Ever wonder about the structure of reality? It is most marvelous. Many systems follow many laws, seems Mother Nature is a megomaniacal mathematical tinkerer. This is what "intelligent design" really means! The forms of nature repeat themselves on many levels. Hurricanes and Nautilus shells and galaxies, big and small, follow the same mathematical formula.
And if our galaxy's path through time and space left accretions like a trail, why, it wouldn't surprize me at all to see it is the same pattern a mere sea creature makes, growing progressively larger.
Mother Nature knows that simplicity creates an infinite range of effects when different materials and scales of action are applied. And She delights in this which is why we get to riddle everything out, as we learn Her many tricks, we should remember that the same things stay the same no matter how big or small. Why would the Universe "blow apart" by shooting out to nowhere when we are in a spiral down into another, greater black hole? Doesn't sound like we are going in the opposite direction, does it????
Eh?
Well, no one will listen to me. Maybe I should go back to listening to one giant black hole's B flat 5 million octaves below Middle C!
*************************************************************************************


By Elaine Meinel Supkis
Years ago, I figured out my own scheme describing how the space/time continuum works. Since all these wonderful terrestrial and space observatories have been pouring in raw data, astronomy has been relentlessly pulled away from what I believe is a the false "universe is expanding faster and faster" storyline to a new model which is, the universe is sliding down steeper and steeper gravity pits created by increasingly gigantic black holes and that we are in a collapsing universe, not an expanding one, the fabric of the PAST is getting stretched more and more, the FUTURE is being compressed.
A spinning black hole in the constellation Scorpius has created a stable dent in the fabric of spacetime, scientists say.

The dent is the sort of thing predicted by Albert Einstein's theory of general relativity. It affects the movement of matter falling into the black hole.

The spacetime-dent is invisible, but scientists deduced its existence after detecting two X-ray frequencies from the black hole that were identical to emissions noted nine years ago. The finding will allow scientists to calculate the black hole's spin, a crucial measurement necessary for describing the object's behavior.
I have exchanged emails over all this stuff with my parents who are well known astronomers as well as many other things, they being the ultimate polymaths.
I don't do the numbers crunching of physics but my dad said, I was probably on the right path only he didn't want to think about this too much, a common problem with cosmic matters, namely, it is all about thinking about the End of Time.
It is curious to me how the infinitely expanding universe model keeps its grip on most astronomer's cosmos. My grandfather warned me about this, he knew Einstein and was pre-einsteinian, having gotten his degree before Einstein became famous. It seems, most humans like to cling to whatever they learn no matter what which is why astronomic changes are called "revolutions" after the great Copernicus book De Revolutionibus Orbium Coelestrium. The facts on the ground are being misinterpeted by observers who are reluctant to revise old ideas. Eventually, the accumulated information will force everyone to rethink, what is the space/time fabric and how shall we represent it, graphically as well as in numbers.
One can't do the numbers unless one can do the artwork for imagining things is the first step towards describing them.
************************************************************************************


By Elaine Meinel Supkis
Yet another study of what is now known to be a very common event: galaxies colliding with each other. This latest paper by Prof. Merritt is tries to explain why smaller galaxies sometimes don't have a black hole core anymore. At the same time this work has been done, astronomers in Britain claim they have located a major galactic black hole split event at HE0450-2958. There is some dispute about this.
Virtually all galaxies are believed to contain supermassive black holes at their centers. According to current theory, galaxies grow through mergers with other galaxies. When two galaxies merge, their central black holes form a binary system and revolve around each other, eventually coalescing into a single black hole. The coalescence is driven by the emission of gravitational radiation, as predicted by Einstein's theory of relativity.

Merritt and his colleagues determined how fast a black hole has to move to completely escape a galaxy's gravitational field. They found that larger and brighter galaxies have stronger gravitational fields and would require a bigger kick to eject a black hole than the smaller systems. Likewise, less forceful impacts could jar the black hole out of its home at the center of a galaxy, only to later rebound back into position.

The kicks also call into question theories that would grow supermassive black holes from hierarchical mergers of smaller black holes, starting in the early universe. "The reason is that galaxies were smaller long ago, and the kicks would easily have removed the black holes from them," Merritt says.

According to Merritt and his co-authors, it's more likely that supermassive black holes attained most of their mass through the accretion of gas and that mergers with other black holes only took place after the galaxies had reached roughly their current sizes.
Right on the heels of this paper being published came this news out of Europe.
From World Science:
A collision between two galaxies may have led them to spit out a colossal black hole that's still soaring through space, some astronomers have calculated.

If correct, the proposal would be the first evidence of a possibility astrophysicists have theorized for years: a black hole's expulsion from a galaxy.

Indirectly, it could also shed light on how some black holes became as big as they are—a longstanding puzzle that's also entangled with the question of how galaxies formed.

A team of researchers describe the results in a paper to appear in an upcoming issue of the Monthly Notices of the Royal Astronomical Society, a research journal.

They claim an enigmatic object known as HE0450-2958, estimated to weigh as much as 400 million suns or more, may be the expelled black hole.
I have noticed some people have mocked Europe for "weakening" and becoming a "backwater" for science. This comes mostly from Americans who like to preen themselves for our past accomplishments all of which have been in rising jeopardy thanks to the insane Bush/GOP program to dumb down America.
Prof. Merritt disputes the contention of the Europeans saying, the black hole is still inside the hot gas envelope of the host galaxy so it really hasn't "escaped". I contend, it can't escape. Indeed, no galaxy will ever escape any other, bigger, galaxy's gravitational pool because contrary to present dogma, the universe isn't expanding straight outwards, time/space isn't straight at all, it is increasingly warped as we move further away from the initial impetus of the Big Bang's outward force.


Here is the picture of one black hole spiralling away from its host.
When I was a child, Walt Disney used to produce "science" films and cartoons. One of them was about the space program and tried to explain gravity and how rockets don't fly straight away from the earth but have to spiral away. My parents were asked to view the film before it appeared in public to critique it. Since our family had seven children, we were asked to watch, too. I remember vividly the parts where they illustrated physics by using billiard balls and a cue stick. After the showing, we demanded our father get us a pool table and we played it so much, I used to amuse myself as an adult, knocking those ivories about in bars, astonishing men who thought women couldn't play well.
The main thing was, using the billiard table model gives a totally false mental picture of the cosmos. For it isn't flat. Carl Sagan gave a much better presentation explaining gravity on his famous TV series for PBS. He understood, the critical nature of time/space around any physical body is warped and the only way most items operate in this medium is to spiral in or out. Indeed, comets and rockets skim down into gravitational pools in order to pick up speed as they skim back out again. It seems as if they then fly off, forever, except they don't, for the most part. Most of the rocks that fall down the sun's gravitational pool shoot back into deep space only to return. This was first noted about Halley's comet, a recent spectacular visitor who comes back like clockwork, it being trapped in the inner la Grange orbits of the sun.
Rocks trapped on the sun's galatic plane seldom degrade in orbit. But those which fall down the pool from other angles do degrade and they are a tremendous danger to us since they can hit the planets that orbit the sun. One should suppose, the angle of movement determines whether or not a body "merges" (crashes).
Back to billiards and black holes: it seems pretty certain, the universal rule of thumb in the universe is, all black holes will fall into the gravitational pull of all bigger black holes and since they sometimes crowd in, more than one at a time, it is like 3 D billiards, the new incoming galaxy will act like the cue ball and striking two galaxies that are near to merging, can "kick" one of them outwards. Only this doesn't mean the escaping galaxy is dissappearing into the wild blue yonder.


Here is my schematic drawing of a non-flat billiard game.
If the cue ball hits very hard on only one of the two balls, one of them can be sent spinning away while the cue ball and the remaining ball stay "stationary" vis a vis each other, in other words, the cue ball displaces the second ball. But absolutely nothing in the universe is "stationary" except in relation to only one body at a time. The multi-level complex movements of various bodies makes the fabric of space a very complex entity. If we could see this visually, the ripples, waves and whirlpools would make an ocean in spring flux off the shores of New Foundland look placid.
It is amusing and scary to me, watching scientists riddle out this business of gravity because of course, Einstein first theorized that all things move relative to each other and this relativity warps light and fools the eye of the beholder. This caution has been overcome by using the magic of numbers to express the relative movements. But as always, one has to have a visual image to dump this data into and mine happens to be spiral/circle/round rather than open space that stretches to infinity.
Just like if we shoot a cannonball, it goes x number of meters but eventually falls back to earth. If we shoot a rocket, it goes x numbers of miles and then goes where? We haven't done any studies of this, yet. We have some probes that are eventually going to clear our solar system, they being exceedingly light and thus, able to escape the gravitational pool of the sun which isn't that great, cosmically speaking. Of course, Bush and the political tools running NASA have cut funding for tracking Voyager, for example, which is, to my mind, really stupid.
One thing is certain, in my mind, there is no way Voyager or anything we send out, will escape our galaxy any more than our galaxy can escape all the others going towards the Great Attractor. Which takes us back to the whole business of visuallizing the universe. I would posit that many astronomers are like "flat earth" people, unable to understand emotionally, that the earth isn't the center of the universe. Thinking about space as essentially flat is wrong.
And thinking there is some "dark attractor" that isn't the Great Attractor which is "tearing apart the universe" and all that ripping of the cosmos talk is desperation, trying to think of things as if there is no gravity at work here, on a mega/mega scale.