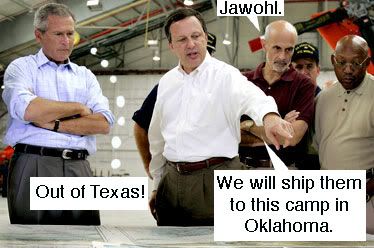 Cartoon by Elaine Meinel Supkis
By Elaine Meinel Supkis
Via Posters at Atrios, a great bunch of people!--more urls: From Time Magazine:
When President Bush nominated Michael Brown to head the Federal Emergency Management Agency (FEMA) in 2003, Brown's boss at the time, Joe Allbaugh, declared, "the President couldn't have chosen a better man to help...prepare and protect the nation." But how well was he prepared for the job? Since Hurricane Katrina, the FEMA director has come under heavy criticism for his performance and scrutiny of his background. Now, an investigation by TIME has found discrepancies in his online legal profile and official bio, including a description of Brown released by the White House at the time of his nomination in 2001 to the job as deputy chief of FEMA. (Brown became Director of FEMA, succeeding Allbaugh, in 2003.)

Before joining FEMA, his only previous stint in emergency management, according to his bio posted on FEMA's website, was "serving as an assistant city manager with emergency services oversight." The White House press release from 2001 stated that Brown worked for the city of Edmond, Okla., from 1975 to 1978 "overseeing the emergency services division." In fact, according to Claudia Deakins, head of public relations for the city of Edmond, Brown was an "assistant to the city manager" from 1977 to 1980, not a manager himself, and had no authority over other employees. "The assistant is more like an intern," she told TIME. "Department heads did not report to him." Brown did do a good job at his humble position, however, according to his boss. "Yes. Mike Brown worked for me. He was my administrative assistant. He was a student at Central State University," recalls former city manager Bill Dashner. "Mike used to handle a lot of details. Every now and again I'd ask him to write me a speech. He was very loyal. He was always on time. He always had on a suit and a starched white shirt."

In response, Nicol Andrews, deputy strategic director in FEMA's office of public affairs, insists that while Brown began as an intern, he became an "assistant city manager" with a distinguished record of service. "According to Mike Brown," she says, "a large portion [of the points raised by TIME] is very inaccurate."

Brown's lack of experience in emergency management isn't the only apparent bit of padding on his resume, which raises questions about how rigorously the White House vetted him before putting him in charge of FEMA. Under the "honors and awards" section of his profile at FindLaw.com — which is information on the legal website provided by lawyers or their offices—he lists "Outstanding Political Science Professor, Central State University". However, Brown "wasn't a professor here, he was only a student here," says Charles Johnson, News Bureau Director in the University Relations office at the University of Central Oklahoma (formerly named Central State University). "He may have been an adjunct instructor," says Johnson, but that title is very different from that of "professor." Carl Reherman, a former political science professor at the University through the '70s and '80s, says that Brown "was not on the faculty." As for the honor of "Outstanding Political Science Professor," Johnson says, "I spoke with the department chair yesterday and he's not aware of it." Johnson could not confirm that Brown made the Dean's list or was an "Outstanding Political Science Senior," as is stated on his online profile.
So, on top of being incompetent, he is an imposter? Eh? We all know what this means:
ARREST THIS MAN
Bush is a multi-arrested criminal who not only did theft and vandalism and drunk driving but also drugs. His powerful daddy cleaned up every one of his messes. And even now, daddy is supposed to clean up this mess along with Bill Clinton's help. A big, big mess for Bubble Boy.
Alas, this mess is going to grow and grow and grown. Like Jack and the Beanstalk, all the way up to the heavens. It troubles me a lot to see so many people in power lie about our situation which is very grave.

Under the heading of "Professional Associations and Memberships" on FindLaw, Brown states that from 1983 to the present he has been director of the Oklahoma Christian Home, a nursing home in Edmond. But an administrator with the Home, told TIME that Brown is "not a person that anyone here is familiar with." She says there was a board of directors until a couple of years ago, but she couldn't find anyone who recalled him being on it. According to FEMA's Andrews, Brown said "he's never claimed to be the director of the home. He was on the board of directors, or governors of the nursing home." However, a veteran employee at the center since 1981 says Brown "was never director here, was never on the board of directors, was never executive director. He was never here in any capacity. I never heard his name mentioned here."

The FindLaw profile for Brown was amended on Thursday to remove a reference to his tenure at the International Arabian Horse Association, which has become a contested point.
More fake stuff! He lies as much as Bush lies! No wonder Brown nose Brownie gets along so well with his buddy/boss!
Brown's FindLaw profile lists a wide range of areas of legal practice, from estate planning to family law to sports. However, one former colleague does not remember Brown's work as sterling. Stephen Jones, a prominent Oklahoma lawyer who was lead defense attorney on the Timothy McVeigh case, was Brown's boss for two-and-a-half years in the early '80s. "He did mainly transactional work, not litigation," says Jones. "There was a feeling that he was not serious and somewhat shallow." Jones says when his law firm split, Brown was one of two staffers who was let go.
Why does it not surprize me to learn this lunatic is also tenuously connected to Waco? Just like Bush just had to buy his ranch so it would border on the back side of the property line of the Dravidian compound. You know, they were working to launch the Apocalypse.
Here is Brownie's much shortened but still lying resume:
From CNN, more details about how FEMA/HS prevented the Red Cross from helping:
Louisiana officials rebuffed American Red Cross requests to enter New Orleans with relief supplies last week because of concerns over logistical difficulties, Red Cross and state officials said Thursday.

The Red Cross never launched its relief effort in the city.

The national president of the American Red Cross, Marsha Evans, first made the request to undertake the operation during a visit to the state on September 1, three days after Hurricane Katrina struck, a local Red Cross chapter official said.

Vic Howell, chief executive officer of the agency's Louisiana Capital Area Chapter, said he renewed that request the next day to Col. Jay Mayeaux, the deputy director of the Louisiana Office of Homeland Security and Emergency Preparedness.

"We had adequate supplies, the people and the vehicles," Howell said at a news conference in Baton Rouge. "It was the middle of a military rescue operation trying to save lives. We were asked not to go in, and we abided by that recommendation."

Mayeaux, appearing at the news conference with Howell, said he had asked the Red Cross to wait 24 hours for conditions to be "set" for the operation.
The clown obviously is related to Thornston Howell of "Gulligan's Island"! You don't wait three days to feed and water 12,000 + people. Geeze. Fire him, arrest him. Whatever. We have a camp in Oklahoma. Put all the Bush/Homeland Security/FEMA people in that darn camp and don't let them out and feed them only twice a day.
For this is the plan. To feed these Americans only twice a day in this camp. Gads.
Former US Secretary of State Colin Powell had tough words for federal, state and local authorities on their response to Hurricane Katrina in a television interview to air Friday.

ADVERTISEMENT

"I think there have been a lot of failures at a lot of levels --- local, state and federal," Powell said in an interview with the ABC News program "20/20," to air late Friday.

"There was more than enough warning over time about the dangers to New Orleans. Not enough was done. I don't think advantage was taken of the time that was available to us, and I just don't know why," he said.

Powell was asked if the slipshod government response to the disaster was due to racism, since the overwhelming majority of the victims are poor African-Americans.

"I don't think its racism, I think its economic," Powell said.

"When you look at those who werent able to get out, it should have been a blinding flash of the obvious to everybody that when you order a mandatory evacuation, you cant expect everybody to evacuate on their own.

"These are people who dont have credit cards; only one in ten families at that economic level in New Orleans have a car. So it wasn't a racial thing --- but poverty disproportionately affects African-Americans in this country. And it happened because they were poor," he said.
Perhaps Powell should read some books. Maybe he will learn why blacks are disproportionately poor. And the poor whites, well, everyone has heard the term "trailer trash", no?
Alas, I am not the only one to fret about earthquakes! From LA Times:
Seismologist Lucy Jones remembers attending an emergency training session in August 2001 with the Federal Emergency Management Agency that discussed the three most likely catastrophes to strike the United States.
First on the list was a terrorist attack in New York. Second was a super-strength hurricane hitting New Orleans. Third was a major earthquake on the San Andreas fault.

Now that the first two have come to pass, she and other earthquake experts are using the devastating aftermath of Hurricane Katrina as an opportunity to reassess how California would handle a major temblor.

Jones, scientist-in-charge for the geological survey's Southern California Earthquake Hazards Team, and other experts generally agree that California has come a long way in the last two decades in seismic safety.

In Los Angeles, all but one of 8,700 unreinforced masonry buildings — considered the most likely to collapse in a major quake — have been retrofitted or demolished. The state spent billions after the 1994 Northridge quake to retrofit more than 2,100 freeway overpasses, reporting this week that only a handful remain unreinforced.

Despite these improvements, however, officials believe that a major temblor could cause the level of destruction and disruption seen over the last week on the Gulf Coast.

More than 900 hospital buildings that state officials have identified as needing either retrofitting or total replacement have yet to receive them, and the state recently agreed to five-year extensions to hospitals that can't meet the 2008 deadline to make the fixes. More than 7,000 school buildings across the state would also be vulnerable during a huge temblor, a state study found, though there is no firm timetable for upgrading the structures.
Falling buildings are annoying but the real problem, the one that will destroy the city of LA or any other city if it is a big blowout is water. All the water to almost all the cities in California cross the San Andreas. And this fault line is increasingly active, very similar to the situation that developed with the Indonesian fault break.
Today, the earth gave a general shudder. Many fault lines had significant earth quakes across Europe, the Pacific, Atlantic ridges, where Australia jolts against Asia, South America and the Central American hinge point around Panama.
This is a bad sign. This means the earth is still heaving and shaking from the long series of Great Quakes this last winter!

Last week, the Legislature sent to the governor's desk a bill that encourages local governments to develop retrofitting programs for "soft story" wood-frame apartment buildings.

There are an estimated 70,000 such structures in the state, and experts worry that they could sustain major quake damage, because they often have tuck-under parking and lack solid walls at their bases.

The danger of this kind of construction was illustrated in the 1994 collapse of the Northridge Meadows apartment complex, in which 16 residents were killed.
My sister, Mary, lived in that building. Her grand piano held up the ceiling.
A state study published last year on hazard reduction paints a sobering picture of California's earthquake danger. About 62% of the population lives in a zone of high earthquake danger, including 100% of the population of Ventura County, 99% of Los Angeles County and 92% of Riverside County.
Um, the Northridge quake was because a piece of the crust suddenly shot up from below! There was no record of a fissure there previous!
My grandaddy used to tell us, "LA is one toilet bowl away from destruction" meaning, most people have little more than that in the house, that and some drinks, and if LA is cut off, there is no way anyone can bring in enough water fast enough. No way at all. People will have to immeadiately flee if the main water is cut off. In my granddaddy's days, this happened once which is why Salton Sea exists. This is where all the water flowed when the earthquake blew out the system of canals!
If water is disrupted, the city will burn down. Like the Great Tokyo or San Francisco earthquakes. Fires often follow great quakes unless, like this last winter, tidal waves wipe out everything which makes fires impossible but are much deadlier.
Oh, and Ophelia can't make up her mind. Will she go north or cross Florida and repeat what Katrina did. Will we see a Xerxes hurricane this year?